This November, California will answer the question that has haunted its commuters ever since the last Red Car was put out of its misery: How much are we willing to pay at the pump?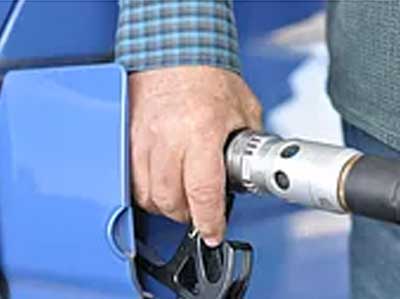 A referendum on last year's Senate Bill 1 (SB 1, or the Road Repair and Accountability Act of 2017), Proposition 6 aims to repeal California's $130 billion plan to fix its crumbling infrastructure. To achieve this monumental goal, SB 1 enacted the state's first gas tax increase in over 20 years. That additional 12 cents on every gallon (for a total excise tax of 41.7 cents) is expected to generate over $5 billion annually to fund maintenance and repairs to California's roads and bridges.
A "yes" vote on Prop 6 would overturn SB 1 and save drivers roughly $1.50 on every trip to the gas station. It would also sever funding to thousands of road system projects that began in January 2018. "We're not talking about something that's going to happen way off in the future," Steve Smith, communications director at the California Labor Federation, said. "These things are happening now."
More than 6,500 transportation improvement projects are currently underway in California, their budgets apportioned from the tax revenue of SB 1. "We've had some long term needs that have not been addressed in California with respect to road and bridge safety," Smith said. "Finally, we have the resources to make those improvements, and this ballot measure jeopardizes all of that. We think it's a very bad deal for all Californians."
Carl DeMaio, chairman of the Republican-led activist group Reform California and the host of San Diego's radio talk show The DeMaio Report, staunchly disagrees. DeMaio is spearheading the movement to repeal the gas tax, which he calls a "blank check" to facilitate state corruption. "They want the tax increase because they want to defend their pensions in government," he said. "That's what this is. This isn't about filling pot holes, it's about filling the pension hole. And that's why unions and government officials are all locking arms trying to get into your wallet."
Politicians vs. The People?
DeMaio, a former San Diego city councilmember, frames his fight for Prop 6 as a struggle between greedy politicians and working families who are already paying too much in taxes. "We have seen a cost of living explosion in the State of California," he explained. "Working families are barely making ends meet. The gas tax and the accompanying car tax increase (tied to an annual car registration fee of between $25 to $175, based on the vehicle's market value) is a $650 to $800 increase in their tax, and they really can't afford that. Working families are already struggling. By voting yes on Prop 6 they can get breathing room immediately."
Critics of Proposition 6 warn that its passage will ultimately harm the state's economy, slashing funding for the highways, bridges and rail lines that are essential to the freight industry. DeMaio claims that California has more than enough money to fix its infrastructure if current tax dollars are spent responsibly. His Yes on 6 campaign recently released an alternative fiscal assessment that compares the current versus proposed infrastructure funding streams.
"Our fiscal assessment that we released relies exclusively on financial numbers from the Legislative Analyst's Office, which is non-partisan, and it shows $7.9 billion in funding can be provided under our plan versus the SB 1 tax hikes," DeMaio said. "The construction industry and business should be really excited because we're going to put them back to work."
However, DeMaio's call for the creation of a "lockbox" to prevent gas tax revenues from being misused may be redundant. In June 2018, California voters approved Proposition 69, which amended SB 1 to ensure its revenues can only be used for transportation improvement.
After the release of DeMaio's alternative fiscal report, the California State Association of Counties (CSAC) fired back with its own scathing rebuttal. "Once again, Carl DeMaio's fuzzy math doesn't add up, and puts the rest of us in jeopardy every day as we're driving on California's crumbling roads and bridges," said Kiana Valentine, CSAC senior legislative representative in the area of housing, land use and transportation. "We shouldn't let him play politics with our public safety – that's why California's cities, counties and public safety leaders are staunchly opposed to this dangerous measure."
California's cities and counties must also contend with political forces outside the state. Republican lawmakers in Washington have contributed or loaned more than $1 million to DeMaio's "Yes on 6, Repeal the Gas Tax" group. Among the contributors is House Speaker Paul Ryan, due to retire this year, as well as his political campaign committee.
"We've always believed that this proposition was a cynical ploy to try to energize the Republican base in advance of some very critical California congressional elections," Smith of the California Labor Federation said. "Yes, we have seen money coming in from outside the state to support the measure – we think for that very reason."
Pay Now or Pay Later
California's roadways are apolitical. Every two years, the state releases an assessment of its local streets and roads, and 2016's report was no sunnier than the last. Across California's 394,000 miles of lanes, the condition of pavement continues to decline – as do its bridges, sidewalks, storm drains and traffic signs. The average pavement condition of local roads was ranked "at risk" and, in 10 years, 22% will be in failed condition. Most bridges are built to last 50 years. Over 5,500 bridges in California are more than 50 years old, and another 2,300 are at least 40 years old.
How California will fix its infrastructure problem is up for debate, but the problem is only getting worse. A "No" vote on Prop 6 will keep the 12 cents in extra tax and contribute an annual $5 billion towards fixing roads and bridges. A "Yes" vote will eliminate the tax as well as all the road projects currently in progress.
The question seems to be: Will Californians pay now or pay later? But Californians are already paying for it every day in the damage wreaked by potholes alone – to their tires, wheel rims, shocks, alignment, exhaust and engines.
Activists like Carl DeMaio believe it was always in the government's power to prevent this hazardous state of affairs, and the taxpayers are being punished for the state's fiscal failures.
"We're about not only providing cost of living relief with 'Yes on Prop 6' but ending the fraud," he said. "We want to fix the roads, and the only way to do that is to reject the blank check tax hike and instead mandate that the existing taxes we pay go to fix roads."
Though unions and business have rallied in support of SB 1, DeMaio asserts that "They've been conned. A lot of these groups have reluctantly supported the politicians' tax increase because they've been promised a piece of the pie, but like Lucy taking the ball away from Charlie Brown, they're not going to see any of this money. The politicians are going to divert the money like they always do, whereas our initiative gives real guarantees that the money can only go to infrastructure."
Californians are currently paying some of the highest gas taxes in the nation, second only to Pennsylvania, where the revenue pays for road and bridge projects, infrastructure maintenance, administrative overhead and the state police. Twelve more cents doesn't sound like much by itself, but will it be the final straw for California voters?
It's an issue that Smith and the California Labor Federation don't take lightly. "We understand as well as anyone that a lot of Californians are squeezed," he said. "One of the concerns that we had about the measure was whether or not voters were going to see that benefit of improving roads and public safety –as opposed to, well, maybe you wouldn't have to pay quite as much at the pump. So far what we're seeing with voters all around the state is that they actually do value the infrastructure improvements that are currently underway. I think, despite some of the arguments from the other side, that voters understand the value of Senate Bill 1 and the transportation improvements that go along with it."
Californians will vote on Proposition 6 on Tuesday, November 6.