More than 200 people turned out to show their support for the Long Beach Area Convention & Visitors Bureau (CVB) as the organization made its annual presentation before the Long Beach City Council on October 2. The nonprofit organization, which runs the Long Beach Tourism Business Improvement Area in downtown and markets the city as a convention and tourism destination, announced that in fiscal year 2017-2018 ending September 30, hotels brought in a record level of transient occupancy tax (TOT): $28.6 million. That's an 8% increase from the previous fiscal year and a 130% increase since 2002.
The CVB outlined its accomplishments and those of the hospitality and tourism industry over the past year, as well as challenges presented by heightening competition. In an interview with the Business Journal, CVB President and CEO Steve Goodling noted that TOT – the room tax charged by local hotels – increased by $2 million in fiscal year 2017-2018 compared to the prior fiscal year.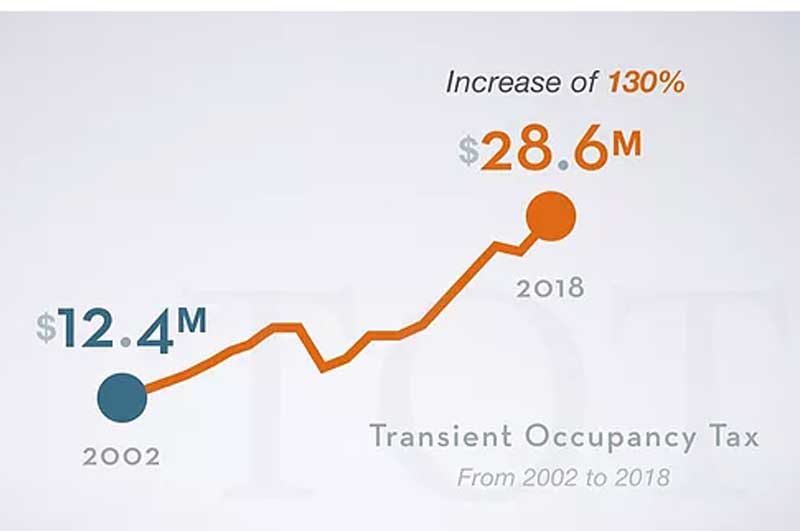 Hotels are the fourth-largest generator of tax revenue for the city, Goodling said. "The other thing is, that's just tax. That's not economic impact. That's not the jobs that are created. That's not the increase in the assessment of your real estate valuation. It's just one slice of what this industry brings in," he emphasized.
About half of TOT generated by Long Beach hotels goes to the city's General Fund. The remainder goes to the Special Advertising and Promotion (SAP) Fund. This year, the city's annual fee toward the Long Beach Tourism Business Improvement Area amounted to $5 million from the SAP fund, which is in turn used by the CVB to attract conventions and tourists to the city. According to Goodling's presentation to the council, for every $1 invested, $6.09 is generated by the CVB. The council unanimously approved the assessment.
Asked what has driven the increase in TOT, Goodling noted that Long Beach hotels are doing a good job of managing their hotel room inventory, and are able to charge higher rates. "We have continued to have higher attendance for our conventions. Those additional attendance figures have added to the compression of hotel rooms in the city," he said. The CVB has also attracted an increased number of in-house group meetings at local hotels – events that take place in a hotel's meeting space, with attendees then staying the night there.
Asked if Long Beach's hospitality and tourism industry would be able to continue its positive trajectory, Goodling said, "I always hate prognosticating because there are so many variables, such as will the economy continue its indefinite growth. As many economists have said, we are way overdue for a correction. So with the correction aside, the answer is Long Beach is still poised for further growth."
Why the positive outlook? The upgraded convention center, which Goodling often calls a "TED-style facility" in reference to the famous conference known for its eye catching décor and inviting networking spaces, is a key component. "Our new special event spaces are resonating, especially with younger attendees who are looking for those Instagram moments," he said. "In addition, the downtown is continuing to fill out with the new 3,000 residential units. The vibrancy and the energy in the downtown urban core are going to be so critical to us as well, because that means safety, and that also means different beverage and dining options."
Even though the city is well positioned to continue attracting conventions, Goodling explained that the competition is heating up. Big box hotels, particularly those run by Gaylord Hotels, are becoming an increasingly attractive option for organizations to book their annual conventions, he noted.
"If you put a glass dome over downtown, you would have a Gaylord hotel. They have on average 1,200 to 2,800 rooms under one roof," Goodling said. "They have about the same amount of exhibit and meeting space that Long Beach does. The competitive factor is you have a sales organization that focuses on the same groups we focus on because they are similar sizes. And they will try to sell them a three-year contract."
Organizations typically plan their annual conferences in different locations each year, rotating between the coasts and the central U.S., Goodling said. Gaylord hotels operate hotels in the Southwest, the Midwest and the East Coast, and are trying to break into the San Diego market, he noted. This provides the option for an organization to book with one entity for three years by moving its conferences to different hotels within the chain.
"We just booked a program for next summer. After that, their next three years are locked into a Gaylord hotel. The benefit for the client is it's one contract for everything – sleeping rooms, exhibit space. It's turnkey," Goodling explained. Gaylord offers the ability for clients to have one contract for all convention services – from hotel accommodations to meeting space to catering – rather than multiple contracts for a hotel, convention center and other services. "To book a Gaylord for three years versus booking three other cities for three years, your paperwork, your legal work is significantly reduced."
To compete, the CVB is leveraging its tried and true approach of customer relations. In addition to three sales people located in Long Beach, the CVB has staff in key locations throughout the United States who focus on bringing national business to Long Beach. "We have always been involved with relationship selling, not transactional selling. Relationship selling is important because we work with the client through the entire contracting process," Goodling said.
But the process isn't as easy as some people seem to think, he pointed out. "Many people believe that in this day and age, we get an inquiry to have their convention in Long Beach. It's actually the opposite," he said. "We have to target convention association and companies that we know have meetings, and work our way through prospecting and through phone calls and through receptions and through trade shows to meet these people." After a contact is made, the CVB works to establish a relationship with the potential client and learns more about their conference or event in order to submit a proposal to bring the business to Long Beach. If the organization is interested, the CVB arranges a site visit in Long Beach at the convention center and local hotels.
"Last year we had 122 site inspections. . . . If we get them here, we have a high conversion rate," Goodling said. "It's on average a three-year process to book a national association convention, from prospecting to closure. In some cases, we have been working five years on these accounts."
In addition to marketing the area, this is how the CVB spends its funding – bringing business to Long Beach, and going up against the big guns in the process.
Moving forward, Goodling said it is important to continue investing in the convention center. "We need to continue to monitor the horizon and invest in the building both in the front of the house, which is what the guest experience is, and the back of the house, which keeps the front of the house working. So things like chillers and other mechanical equipment," he said. In some cases, this equipment is 50 years old – so out of date that components can no longer be purchased if it breaks down, he emphasized. "Both the front and the back of the house as any commercial asset needs continued investment to remain functioning and competitive."
Additionally, interior assets need to be periodically upgraded. "The city has been wonderful in supporting the transition from a traditional convention center to the new hybrid being an uber-conference style facility. This has resonated with the Millennial planners and the Millennial attendees," Goodling said. "But we also need to realize that tastes change about every five years. And the lifespan of things like furnishings in a commercial setting last about every five years because they are so heavily used." He added, "The city has been addressing that, so I feel comfortable that we will continue to get the support that we need."