The Queen Mary is perhaps Long Beach's most recognizable icon. Having endured recessions, multiple operators and even bankruptcy, the past few years have been better for the ship, as its management team invested heavily in restorations and events and has reported steadily increasing revenues and visitor counts. And, as new life is breathed into Downtown Long Beach with thousands of residential units underway and planned, as well as a brand new civic center, the Queen Mary area is poised for a rebirth of its own, as a new leaseholder and a mayor-appointed task force team up to completely reimagine the oceanfront site.
"The Queen Mary is such an important component of our city's history, and is such an icon, that developing those parcels and that acreage is really important to economic development [and] to the success of the downtown," Mayor Robert Garcia said.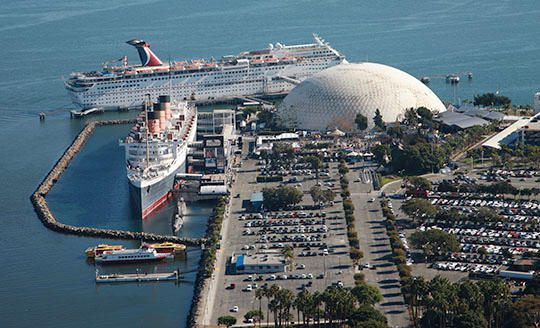 (Long Beach Business Journal photograph by John Robinson)
In September, Garcia announced the formation of the Queen Mary Land Development Task Force, a group of handpicked Long Beach leaders from a variety of backgrounds who he tasked with re-envisioning the land use around the Queen Mary. The task force's first meeting will be in early January.
"I wanted people who were creative, who were committed to Long Beach – a combination of residents and business folks," Garcia said of his criteria in selecting task force members. "There are some really great people and creative community leaders on the task force, and my hope is that they kind of come together and build some consensus about some of the ideas that are needed for the development."
The Long Beach City Council approved a new leaseholder, Urban Commons, for the Queen Mary and adjacent 43 acres of land in November. The Los Angeles-based real estate investment firm replaced Garrison Investment Group, which had served as master lessee since 2009.
Urban Commons has brought on a team of partners to assist with development plans. This team includes representatives from Gensler Architects, Aegis Development Services, Hurst Harrigan Associates, Burnham Planning & Development, CBRE, Inc., and Global Hospitality Group.
The new leaseholder will be involved with the task force from its first meeting on, Garcia said. "I think our expectation is that Urban Commons is going to work with the task force, as well as take comment from the community in bringing forward a final project before the city."
Both Garcia and Vice Mayor Suja Lowenthal, whose 2nd District encompasses the Queen Mary area, said they have met with Urban Commons and its partners. "My impression of them is that they are a really creative team," Garcia said. "They have been meeting with city staff often. They are very engaged with our development and economic development folks. So the city team is very confident in them."
"I am very impressed with the work that the different partners, as part of Urban Commons, has done," Lowenthal said. She said she has expressed to the team that "No matter what develops around the Queen Mary, clearly at the heart of it is the ship."
Both Garcia and Lowenthal hope the eventual development of the Queen Mary area results in greater connectivity to the downtown core and shoreline. "When you go over there it's sometimes confusing and people don't understand the parking. And it is hard to get to," Garcia observed. "If we really want to connect that part of the city and the waterfront to the rest of the city, we have got to fix that and create a really great project out there."
It's particularly important to Lowenthal that any new development appeals to demographics besides tourists. "The project itself cannot solely be for tourists," she said. "Nor can it be the type of place you visit once and then never come back. Some historical places are like that."
Lowenthal hopes future development plans include a walking, jogging and cyclist path encircling the site. "When we do something like that, we take a very meaningful asset and acreage of property, and it makes it accessible to anybody in Long Beach."
While neither Garcia nor Lowenthal had any other specific development components they hope to see in the plans, both noted that it's likely that the dome on site will house expanded cruise line operations. A portion of the massive white dome is currently used by Carnival Cruise Lines for passenger loading for three ships that sail from Long Beach.
"There is interest from Carnival Cruise Lines to better utilize the dome and to kind of expand some of the terminal operations we have," Garcia said. "There is an interest in expanding our cruise operations as well. So that is where I think the future of the dome is headed."
While Lowenthal said she thought the dome could potentially make a great concert venue due to its size and location, she said the priority should be supporting the "existing, thriving enterprise" already operating there.
"I just want something that is going to be a wow factor. You know, we have a little over 40 acres to build something spectacular and something that draws people," Garcia reflected. "This development has to really respect and honor the Queen Mary itself, because the Queen Mary is really the signature piece in this development."
"We are about to embark on the development of the new civic center. It's going to be the greatest public asset, in terms of size and meaningfulness too, perhaps, that we have in the City of Long Beach," Lowenthal said. "And the Queen Mary can be just as important."
Lowenthal noted that the area around the Queen Mary is one of the last large, undeveloped parcels of land in Long Beach, and as such is a "rare opportunity" for development.
While no timeline has been set for any future development, Garcia said he expects Urban Commons, its partners and the task force to spend a year refining the vision for the project and conducting public outreach. "I am really hoping sometime within the next two years or so that we are going to start seeing some type of activity," he said.