Downtown Long Beach is home to one of the nation's largest trade gateways, the Port of Long Beach, which handles more than $180 billion in cargo annually. The second-busiest seaport in the United States, the port supports more than 30,000 Long Beach jobs, 316,000 jobs in Southern California and 1.4 million jobs nationwide.
The port spans 3,000 acres of land and 4,600 acres of water, with 22 shipping terminals, 10 piers and 80 berths. Its largest terminal operator is Long Beach Container Terminal (LBCT), a division of Orient Overseas Carrier Line (OOCL).

The first phase of the Middle Harbor Redevelopment Project at Long Beach Container Terminal is complete, and features some of the world's tallest cranes. (Long Beach Business Journal photograph by John Robinson)
LBCT's facilities are in the midst of receiving an overhaul as part of the port's Middle Harbor Redevelopment Project, a $1.31 billion endeavor in which two aging terminals are being combined and upgraded with zero-emission technology, deeper water and the world's largest cranes to accommodate increasingly massive cargo vessels. The first phase of the project is expected to be fully operational during the first half of 2016. OOCL has signed a 40-year, $4.6 billion lease to operate the facility.
Also ongoing is the Gerald Desmond Bridge Replacement Project, a $1.4 billion effort to tear down an aging bridge spanning the entry to the inner waters of the port. The taller bridge will allow larger ships to pass beneath it, and will be able to handle more vehicle traffic. Plans also include a bicycle and pedestrian path. When completed, the bridge, which will feature 515-foot tall towers, will be a new icon for Downtown Long Beach and the city as a whole.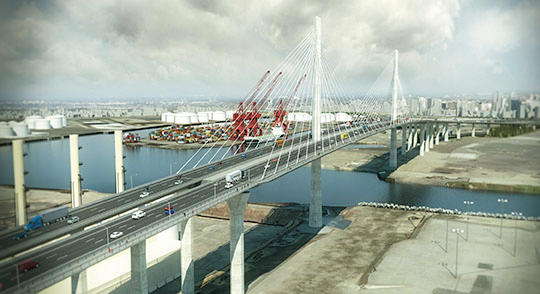 A rendering depicts the future replacement of the Gerald Desmond Bridge, which will feature additional vehicle lanes, a bike path and 515-foot tall towers. (Rendering provided by Port of Long Beach)
Business at the port is growing. Through November, cargo volumes increased for five straight months, and the port is on track to move seven million 20-foot equivalent units of cargo by the end of the year. That figure has been attained only two other times in the port's 104-year history.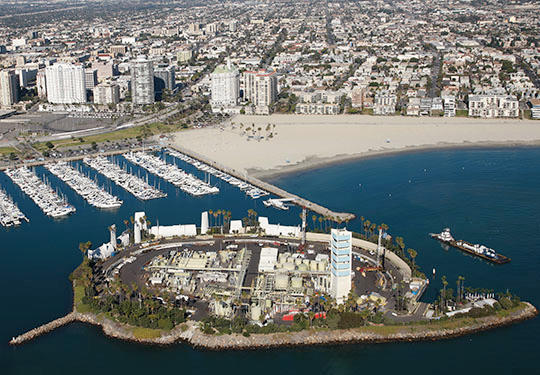 One of four THUMS Oil Islands, operated by a division of California Resources Corporation. Oil revenues fund major city capital improvement projects in the city's Tideland areas.(Long Beach Business Journal photograph by John Robinson)
With so much cargo movement and business at its facilities, the port is committed to reducing the environmental impacts of its operations. This commitment is outlined in its Green Port Policy, which includes initiatives aimed at reducing toxic air emissions and fostering good water quality, as well as community mitigation programs to reduce the negative health impacts of port operations to surrounding residential neighborhoods.
Since 2005, the port's air quality improvement efforts have resulted in a 97 percent reduction in sulfur oxide emissions, an 85 percent reduction in diesel particulates and a 50 percent reduction in nitrogen oxides.