Pacific Edge One Step Closer To Development Of USPS Site On Redondo
The Long Beach Planning Commission unanimously approved a light industrial development at the site of a former United States Post Office Long Beach Processing & Distribution Center at 2300 Redondo Ave.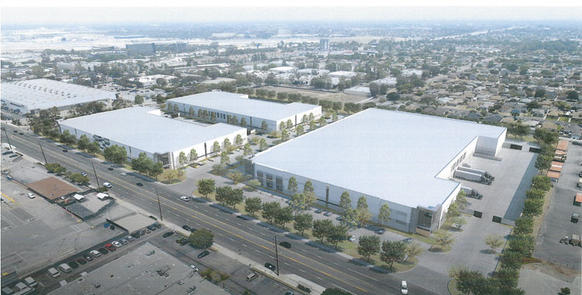 The Long Beach Planning Commission unanimously approved Pacific Industrial's proposal to building three light industrial buildings totaling 424,050 square feet at the former United States Post Office processing and distribution center at 2300 Redondo Ave. A date has not been set for the proposal to go before the city council. (Rendering courtesy of the City of Long Beach)
Long Beach-based developer Pacific Industrial proposed the construction of three light industrial buildings dubbed Pacific Edge totaling 424,050 square feet with 638 parking spaces on the more than 19-acre site. Building 1, located at 2300 Redondo Ave., totals 205,530 square feet with 286 parking spaces. Building 2, located at 3200 E. Burnett St., totals 113,800 square feet with 175 parking spaces. Building 3, located at 3600 E. Burnett St., totals 104,720 square feet with 177 parking spaces. Each building will feature a 135-foot-deep truck court and an optional 10,000-square-foot mezzanine for office use.
To move forward, the site would have to be rezoned from its current 'institutional' designation. During the commission meeting, mitigation measures were discussed related to traffic. It was noted that, if approved, the project would include traffic system upgrades and adjustments to the surrounding area, including additional signals and timing modifications.
Councilmember Vows To Fight Land Use Element
The Land Use Element update has been a controversial issue since the first maps were released in February 2017. One year later, not much has changed, as 5th District Councilmember Stacy Mungo prepares to suggest killing the proposal when it comes before the Long Beach City Council on March 6.
"After a long and sometimes frustrating process for our residents, I'm happy that this matter is finally coming before the City Council," Mungo said in the press release. "And while I appreciate the work of city staff and the state's desire to increase housing in Long Beach, any increases in density should go where they make the most sense – around our employment centers and transportation hubs, and not in our single-family, low-profile neighborhoods like the 5th District."
Echoing concerns of her constituents, shared also by many in the adjacent District 4, Mungo explained that increasing building heights to three, four and even five stories in East Long Beach would diminish quality of life in the overwhelmingly single-family home area. Another major concern is increased density that would potentially come with converting commercially        zoned centers to mixed-use PlaceTypes.
"It makes no sense to turn our suburbs into city centers or flip our well thought-out and designed single-family neighborhoods into apartments and high-rises, when such development is better suited and better served elsewhere," Mungo said. "I am committed to standing shoulder to shoulder with the residents of my district to fight for what's right."
Harbor Associates Expands
Harbor Associates LLC, a Long Beach-based property investment firm, announced the purchase of two suburban office developments for a combined $56 million on February 19.
"We continue to find compelling opportunities in suburban office locations that are out of favor with many institutional investors, through our deep network of brokerage relationships and our ability to move quickly and close all-cash," Harbor Principal Paul Miszkowicz said.
The company acquired a 156,628-square-foot campus in Valencia for $33.1 million in joint venture with Goldman Sachs Asset Management Private Real Estate. In a separate joint venture with Blue Vista Capital Management, Harbor Associates acquired a 198,478-square-foot corporate campus in Thousand Oaks for $22.9 million. The sales brought the investment firm's office portfolio to more than one million square feet.
At Valencia Gateway, Harbor plans to renovate the common areas, such as outdoor patios, and build out new spec suites. The firm also plans to upgrade the facilities with energy-saving features like LED lighting and electric vehicle charging stations. The property consists of two buildings at 25124-25125 Springfield Court, which are 81% leased to 15 tenants.
Tom Bohlinger, Ryan Smith and Justin Hager of JLL represented the seller, Barings, in the transaction.  Attorneys Albert Valencia and Elizabeth Dryden at Ervin Cohen & Jessup represented the joint venture in the legal aspects of the sale.
The Conejo Corporate Campus will have the floor plans re-engineered to accommodate 5,000 to 25,000-square-foot tenants, which are prominent in the Conejo Valley, rather than the current single-tenant layout. The campus features two low-rise office buildings originally built for Amgen in 2011 at 2380 and 2400 Conejo Spectrum Dr. Renovations also include a fresh coat of paint, drought-tolerant landscaping and new signage. The property is currently 55% leased.
Kevin Shannon and Scott Schumacher of Newmark Knight Frank represented the seller in the transaction, while Pine River Capital Management was the external manager for the lender.
Stepp Commercial Apartment Transaction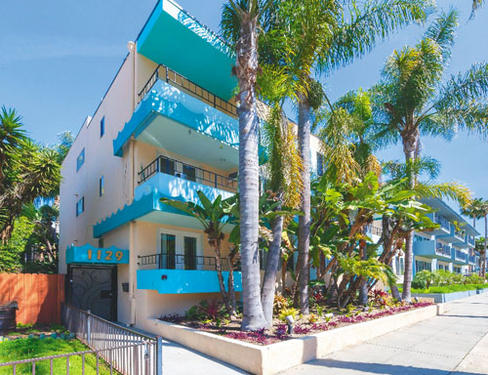 1129 E. Ocean Blvd.
Stepp Commercial Principal Robert Stepp and Vice President Todd Hawke represented both the seller and buyer, both private trusts, in the $6.2 million sale of an apartment property at 1129 E. Ocean Blvd. in Alamitos Beach. "Ocean Boulevard is a primary corridor through Long Beach, running parallel to the beaches and connecting neighborhoods from the Peninsula to downtown," Stepp said. "Assets of this quality on a major thoroughfare near prime lifestyle amenities are favored by Long Beach investors for their long-term stability and consistent cash flows. This property offered a value-add opportunity requiring cosmetic upgrades which, upon completion, will allow the buyer to increase rents to market rates." Built in 1963, the two-story, 21-unit apartment building consists of 13 one-bedroom units and eight two-bedroom units, all of which were occupied when the sale closed. Units include upgraded kitchens, laminate hardwood and ceramic flooring, upgraded bathrooms and ceiling fans. "Stepp Commercial is focused on achieving meaningful outcomes for both buyers and sellers in every transaction," Hawke said. "In this instance, we were able to position the buyer with a value-add investment as well as put the seller into the position to finalize a 1031 upleg with a new, institutional-quality asset that improved its cash flow by 88 percent."
Spring & Cherry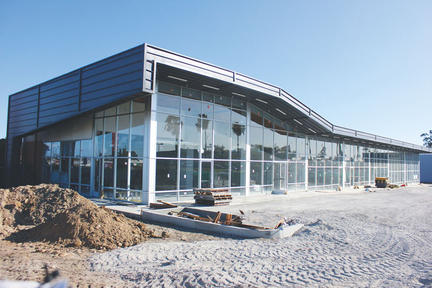 The rebuild of the small retail center on the northeast corner of Spring Street and Cherry Avenue should be completed by the end of March, according to the property owner's leasing agent. Though initial plans for the site included 7-Eleven as an anchor tenant, the agent said the property owners decided against the idea. The site currently has no confirmed tenants. The site previously was home to West Coast Firestone (Photograph by the Business Journal's Brandon Richardson)
Clark & Spring

The small retail center on the southeast corner of Clark Avenue and Spring Street, known as Time Square, has completed exterior renovations. Long-time tenant Baja Sonora already has new signage up and expects to reopen in March. Other tenants include a Chinese food restaurant, coffee shop, bakery and Steady Beer Brew Co., though leases have not been finalized. According to CBM leasing agent Aaron Guido, the center should be occupied and open by summer. (Photograph by the Business Journal's Brandon Richardson)