Long-Awaited Residential Development, Shoreline Gateway, Breaks Ground Downtown
The Shoreline Gateway tower, the future tallest building in Long Beach, broke ground on October 4. Located on the northwest corner of Ocean Boulevard and Alamitos Avenue, the building will be 35 stories tall, measuring 417 feet – 20 feet taller than One World Trade Center, currently the city's tallest building at 397 feet.
"Since 2004, Anderson Pacific LLC proposed a vision for this site which was enthusiastically shared by the community and the City of Long Beach," Jim Anderson, CEO for developer Anderson Pacific, said. "We greatly appreciate the members of the community, the city and our partners who have worked with us all these years to make this vision a reality."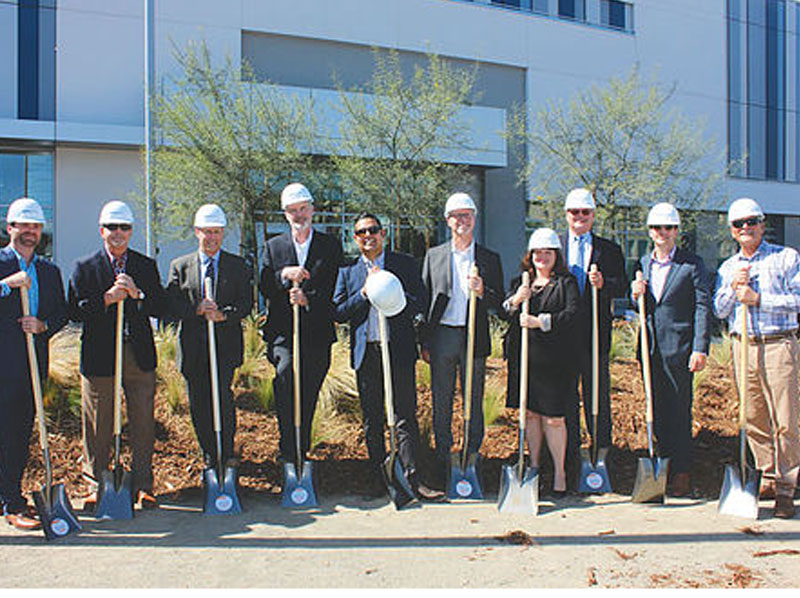 Following revisions to the initial proposal, project plans now include a mix of 315 studio, one- and two-bedroom luxury apartments ranging from 580 square feet to 2,480 square feet. Two-story penthouses will occupy the 34th and 35th floors. The ground floor of the development is set to include nearly 6,500 square feet of retail space.
Designed by Long Beach-based Studio One Eleven, the development includes five levels of subterranean parking and amenities, such as an ocean view lounge, a fitness center and a community room. Other amenities include a secure dog park, a rooftop pool and barbecue area, a "creativity studio," a bike kitchen and storage space, and a pet spa.
Shoreline Gateway is the second phase of a two-building campus by Shoreline Development Partners LP, which consists of co-developers Ledcor Properties Inc. and Anderson Pacific, with their partners Qualico and Lantower Residential. In 2016, The Current, a 17-story residential tower with 223 units, was the first phase of the campus to be completed.
"The Current was a great success for us and the community, and we expect Shoreline Gateway to honor and greatly enhance that experience," Patrick Patterson, COO of Ledcor Properties, Inc., stated. "Once Shoreline Gateway is built, it will complete the urban campus that was envisioned by planners and senior city officials more than a decade ago. It is gratifying to be here for the beginning of the end of that long process, to bring the vision into reality."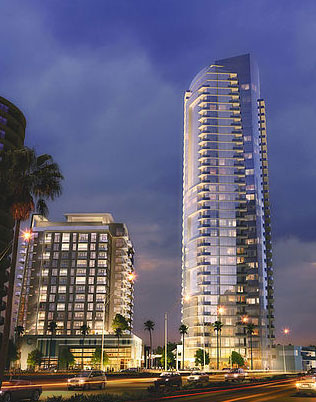 A 10,000-square-foot shared plaza will link The Current and Shoreline Gateway. The space is to be activated by retail, resident amenities and an art installation by Jud Fine and Barbara McCarren.
While The Current was the city's first Leadership in Energy and Environmental Design (LEED) New Construction Silver project, Shoreline Gateway is the city's first LEED Neighborhood Development Gold project. LEED certification is awarded to "healthy, highly efficient and cost-saving green buildings," according to the U.S. Green Building Council.
Shoreline Gateway is scheduled for completion in the fourth quarter of 2021. Mayor Robert Garcia said Shoreline Gateway will "add an icon to our skyline. We've been waiting for this project and [are] excited that it will bring over 300 new homes to Long Beach."
Downtown Creative Office Building Nears 100% Occupancy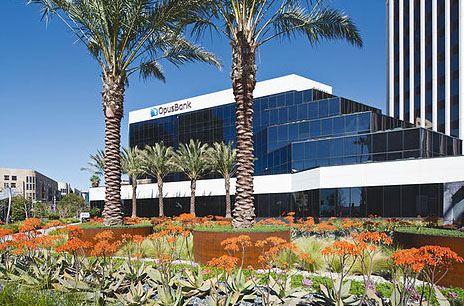 Over the last year, the office building at 211 E. Ocean Blvd. has undergone extensive renovations by owner The Ruth Group to create an open, creative environment for its tenants. Renovations were recently completed and the building is 98% leased with only one 2,000-square-foot creative suite still available, according to Vice President Brendan Lesch. There has already been "significant interest from potential tenants," he added. "We are excited about the leasing velocity that we have experienced at 211 Ocean in Long Beach. The property features an environmentally sensitive design with sustainable landscaping, collaborative open space, spacious balconies on every floor, operable windows on every floor and easy access to public transportation," Ruth Group President Bob Ruth said in an e-mail to the Business Journal. "The demand for a repositioned creative office building in Long Beach has been fantastic and we are proud to have created a desirable working atmosphere for our tenants." Current tenants include Designory, which occupies 34,175 square feet, Pacific6 (including the Long Beach Post), occupying 18,649 square feet and Novogradac, with 15,045 square feet. Other tenants include Geosyntec Consultants, Novo Fashion USA, Cargomatic, Cenveo Corporation, the City of Long Beach, Rohlfing & Kalagian, and Samuelson, Gonzalez, Valenzuela & Brown.
Signal Hill Company Inks Lease At Long Beach Airport Business Park
In late August, Signal Hill-based Traffic Management Inc. signed a lease for approximately 43,000 square feet of office space at 4900 and 4910 Airport Plaza Dr. Now, the company is leasing an additional 7,000 square feet, according to Lauren Coombs, a broker associate with First Team Real Estate. The lease includes the entire third floor of each building at the Long Beach Airport Business Park. The decision was spurred by a need for more space, Coombs told the Business Journal. Proximity to the 405 Freeway and the Long Beach Airport, and free parking were also contributing factors to the company's choice to move to the office buildings, Coombs noted. Additionally, with many of its employees living in Long Beach and the surrounding area, Coombs said the company did not want to move far. The space is currently gutted and the early stages of the buildout are underway. Traffic Management is expected to be fully moved in by the end of the first quarter of 2019. The two-building property totals approximately 150,000 square feet. A Starwood Capital Group limited liability company owns the business park, with representation by Los Angeles-based real estate advisory firm Newmark Knight Frank for leasing, Coombs said.
Final Major Douglas Park Development Underway
Pacific Pointe Northwest, the last major development at Douglas Park, is underway with construction crews grading the more than 20-acre site, according to developer Sares-Regis Group's senior vice president, Larry Lukanish. Located at southwest corner of East Carson Street and Worsham Avenue, development plans include four light-industrial buildings west of the Long Beach Exchange retail center. Building 12 is 83,823 square feet with 145 parking spaces. Building 13 is 90,607 square feet with 151 parking spaces. Building 14 is 134,109 square feet with 229 parking spaces. And Building 15 is 70,701 square feet with 144 parking spaces. With environmentally sustainable and energy-conscious design, all four buildings will be LEED certified, according to a Sares-Regis representative. Douglas Park includes 190 acres of land north of the Long Beach Airport that was previously owned by Boeing. Sares-Regis began developing the land in 2012.
Stepp Commercial Closes Two Multi-Million-Dollar Deals
Stepp Commercial Principal Robert Stepp represented the seller, Los Angeles-based 765 Cerritos LLC, in the $5.48 million sale of a 24-unit apartment building located at 138 Elm Ave. "The buyer of this property [San Diego-based La Mirage MPI LLC] was attracted to a turnkey, non-rent controlled Long Beach asset and the building's highly desirable East Village location," Stepp stated. Built in 1914, the 11,744-square-foot property includes 16 studios, and six one-bedroom and two two-bedroom units. Recently renovated, the building includes modern, updated kitchens and a furnished rooftop deck.
Stepp Commercial Senior Vice President Michael Toveg assisted Stepp in the $4.7 million sale of Sea Side Villa, a 22-unit property located at 445 E. 3rd St. "This property is a strategic acquisition with long-term upside in a prime Long Beach submarket," Stepp stated. "Long Beach has become an attractive and more economical coastal alternative for renters seeking an amenity rich, Southern California beach community." The Stepp team represented the seller, Los Angeles-based 131 Olive Street LLC. Cochise Capital of Los Angeles was the buyer. Also located in the East Village Arts District, the property was built in 1922 and includes 15 studios and seven one-bedroom units. The apartments were recently renovated and include shared balconies, hardwood floors, granite countertops in the kitchens and custom tile in the bathrooms.
New Retail Stores And Restaurants
Mark Price, Husband Of 3rd District
Councilmember, To Open Business In Belmont Shore

Construction is underway on The Lash Lounge, Mark Price's first entrepreneurial endeavor. Price, husband of 3rd District Councilmember Suzie Price, said he has wanted to own his own business since he was a teenager but he never knew exactly what that business would be. Price is a trained biomedical engineer, a profession he worked in for 25 years. After leaving his company a couple years ago, he said he used his new-found free time to research various business opportunities. Given his age, he said entering into a franchise company rather than creating a brand from the ground up was the more economically viable path toward entrepreneurship. In conducting his research, Price came across The Lash Lounge, which specializes in eyelash extensions. "It just made sense," Price said, acknowledging his lack of expertise in the field. "It is a small footprint with low inventory. The margins are good for something that isn't very complicated." The space is located at 4801 E. 2nd St. near Park Avenue at the former site of The Children's Place. The couple lives half a mile from the location, which is being subdivided into three smaller storefronts. The Lash Lounge space measures just over 1,100 square feet, Price said, adding that he expects to have about 10 employees to operate the front desk area and the seven stations. He said he is hoping for a soft open in mid- to late-November, with a grand opening in early December. "This is an up-and-coming trend, which is, no pun intended, kind of eye opening for me," Price said. "There's nothing like this on 2nd Street. It's exciting." Price said he has long-term plans to open four more locations in Los Angeles County, one of which he said is likely to be located in another area of Long Beach.
Meat, Booze And Radio Coming To Pine Avenue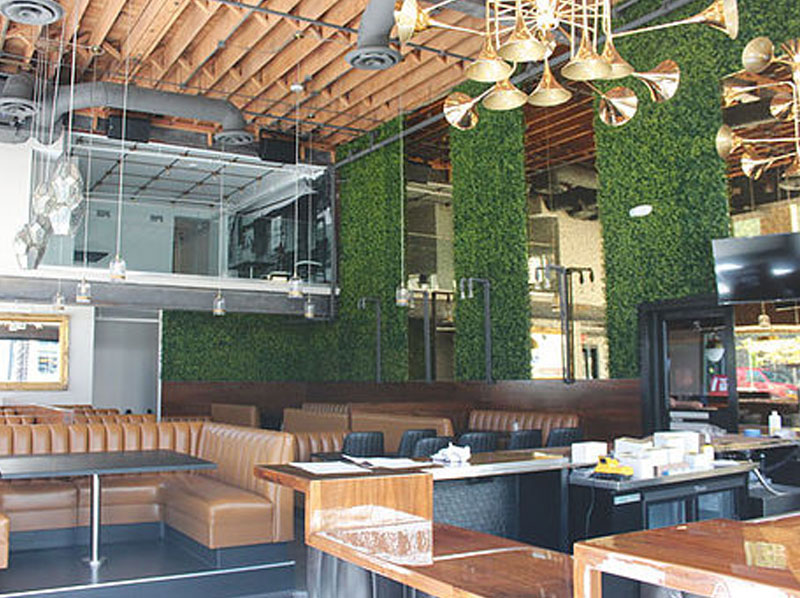 A speakeasy and a smokehouse are coming to Pine Avenue thanks to Ron Hodges, owner of Shannon's On Pine. Located on the corner of Pine Avenue and Broadway, The Carvery is expected to open its doors soon, Hodges said. The original menu concept included serving up specialty, gourmet sandwiches made with meats smoked on site. However, the menu has evolved to also include other meat specialties, such as a 40-ounce Tomahawk ribeye steak, prime rib and short ribs, as well as vegan and vegetarian options. Hodges said he knows the importance of including options for those with food restrictions, as his wife and daughter are both vegetarians. All meats will be smoked and slow roasted in-house. Buildout of the space is completed, with a few changes being made before the city approves it for opening, Hodges explained. "I'm hoping to open up next month for sure," Hodges said. "It's just beautiful." The intimate space features all booth seating and a small bar area flooded with natural light. Hodges said he has dubbed the mezzanine area overlooking the booths and bar McCarthy's Mezzanine in honor of the owner of the first saloon to operate at the location, Dennis McCarthy, who opened for business in 1890.
Hodges is also in the process of creating a speakeasy in the basement of Shannon's. Like many speakeasies, Hodges said the design and decor will be inspired by 1920s prohibition, including a long wooden bar. The space will also feature live entertainment, likely jazz, he added. With other bars such as Roxanne's having secret entrances to their speakeasies – through an old telephone booth at the back of the bar, in Roxanne's case – Hodges said he is still deciding on an entrance that is fun yet practical. The reason for a more practical approach is that the speakeasy also will house a radio studio. In exchange for utilization of the new studio space, KLBP (a Long Beach public radio station) allotted Hodges 28 hours per week of airtime during which he plans to broadcast a sports show and coverage of Long beach events and news. The space will also be used to produce pre-recorded materials and as a practice space for students interested in radio, recording and sound engineering. Large windows will allow speakeasy patrons to view the radio and recording areas. Hodges said he would like to open the speakeasy by the end of the year, but that a timeline has not yet been solidified.
New Mexican Restaurant Baja Cali Opens On Pine
Co-Owners Jaime Alvarez and Lorena Varela had a soft opening for Baja Cali Fish & Tacos on September 21 at 940 Pine Ave., with a grand opening celebration on September 29. The restaurant is the partners' fifth location since opening the flagship in Alhambra in March 2017. "We're expanding everywhere there's an opportunity," Alvarez said. "We looked at the opportunity here in Long Beach when this restaurant came up for sale. We did our homework. It's toward the end of Downtown Long Beach and the beginning of a residential area – we saw the socio economics from both ends and the surrounding community and felt that this was a good opportunity."
The fast-casual restaurant specializes in fish tacos and other seafood, but also serves up various burritos, tostadas, nachos and tortas. Other menu items include loaded fries, sopes and fresh aguas frescas. The concept originated with the desire to feature authentic Mexican recipes at an affordable price, Alvarez explained. Varela, originally from Ensenada, Mexico, is responsible for all recipes at Baja Cali. Save few exceptions, meals cost less than $10 per person, Alvarez noted. In addition to keeping menu prices low, Alvarez said members of the military who are in uniform receive complimentary meals every day. Additionally, firefighters and police officers receive a 50% discount.
Alvarez said the restaurant has received a great response from the community, adding that Long Beach's diversity becomes very apparent when examining the customer base. "People love the food. We do take pride in that," Alvarez said. "We continue to do things fresh every day. We want the best taste, the best flavor for everyone to enjoy when they're here." In the coming months, Alvarez said the company will bring vegetarian and vegan options to the menu. The greatest hurdle is fine-tuning the logistics to ensure the vegan food does not come into contact with any of the meat or dairy products throughout the entire cooking process, he added.
Aside from in-store operations, Alvarez said Baja Cali caters events such as conferences and parties. Other Baja Cali locations include the flagship in Alhambra on Valley Boulevard, a second location in Alhambra on Main Street, and locations in West Covina and Pasadena. Alvarez said he is interested in continued expansion, adding that a second Long Beach location seems likely. His goal is to eventually compete with brands such as Rubio's Coastal Grill. Baja Cali has 60 employees dispersed between all five locations.