Council Eases Path For Homeowner Development Of Granny Flats
With a 7-0 vote on April 16, the Long Beach City Council approved an ordinance that allows more homeowners to develop accessory dwelling units (ADUs), or granny flats, throughout the city.
"The local ordinance was crafted to provide local standards for the development of ADUs where possible to ensure that ADUs are developed in a manner compatible with the city's development pattern," Alexis Oropeza, planning officer for Long Beach Development Services (LBDS), said during her presentation at the council meeting.
Citywide, there are 59,803 lots in residential zones that are eligible for the development of an ADU. Since the beginning of 2017, 153 building permits have been issued for ADU construction, less than 1% of eligible lots, according staff reports. The ordinance lowers the minimum lot size requirement from 5,200 square feet to 4,800 square feet, which increased the number of eligible lots by 5,820 based on lot size.
In October of last year, city staff submitted an ADU ordinance to the California Coastal Commission for certification, as required for properties within the coastal zone. Some commission modifications to the proposed ordinance included: the removal of an exemption from coastal development permit (CDP) requirements for ADUs in the coastal zone, an exemption for ADUs from CDP public hearing requirements, and adding second-story design requirements on ADUs in the coastal zone to preserve public views.
Another impactful commission modification was the elimination of minimum lot size for ADUs created by converting an existing structure, such as garages. As required by state law, the ordinance also eliminates all parking requirements for lots within one-half mile of a public transit stop, which applies to nearly all Long Beach lots, according to city staff. The council vote enacted all commission modifications citywide.
"I think it's a good step forward," Wes Harding, president of Long Beach-based Harding Design & Construction and a 3rd District resident, told the Business Journal. "It basically opens the door for more homeowners to be involved."
Harding explained that ADUs are ideal solutions for generational housing for parents or grandparents, student housing in communities near college campuses that students otherwise could not afford to live in, and homes for small families or single parents. During the meeting, Mayor Robert Garcia noted that ADUs count toward the city's regional housing needs allocation (RHNA), which are housing unit development goals set by the state for local governments. In February 2018, the state's housing department released a list showing that 97.6% of cities and counties were not on track to meet their allotted development goals.
Garcia took it a step further, noting that the city next needs to reevaluate regulations related to the minimum size of apartment units. Currently, new units constructed in Long Beach can be no smaller than 600 square feet. Garcia said that micro-units, sometimes as small as 400 square feet, would allow for more density and be ideal for college students and those with fixed or low incomes. LBDS Director Linda Tatum explained that her staff has already begun the process of examining these regulations, which will be brought to the council in three or four months.
The previous ADU ordinance was adopted by the city council in December 2017 in response to 2016 legislation signed by Gov. Jerry Brown requiring local governments to revisit ADU regulations to promote housing development. Overall, 17 building permits were issued in 2017, 117 in 2018, and 19 in 2019, as of March 4. According to staff documents, in the same 26-month period, a total of 231 ADU applications were submitted, mostly in North Long Beach.
"I think there's a lack of awareness," Harding said. "What I'm trying to do is create awareness of [ADUs] and support affordable housing to make our neighborhoods and community better, but at the same time not over-develop. That's the fine line that we are trying to uphold."
Harding noted that there are unknown ADUs in Long Beach that were built illegally, many of which can now be legalized under the new ordinance. Shifting status from illegal to legal makes for safer living conditions for occupants, as the structures must meet the city's building standards, he explained. In addition to safety, city staff stated that the new citywide ordinance is "more equitable for property owners, creates an understandable and consistent standard, creates greater opportunity for development of housing units addressing the city and statewide housing crisis, and promotes reinvestment, which generates new property tax revenue."
"[ADUs are] a fairly new idea that not a lot of people know about. Awareness is key," Harding reiterated. "There are other things outside of Long Beach that are happening right now – pilot programs that are getting into Section 8 housing with ADUs, but it's still in development. We'll see what comes of that."
Planning Commission Approves MemorialCare Children's Facility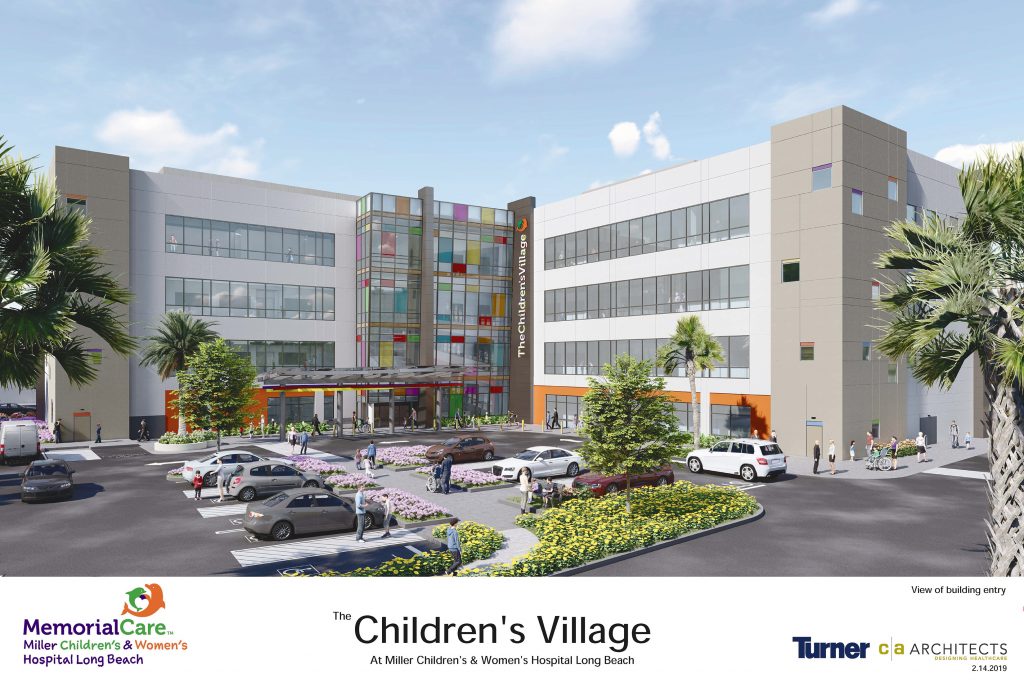 The Long Beach Planning Commission unanimously voted to approve the MemorialCare Miller Children's Village during its April 18 meeting. The four-story, 80,000-square-foot medical office building will be located on the southeast corner of the Long Beach Medical Center campus at 2701 Atlantic Ave. The facility will house all pediatric specialty clinics, which are currently located in various places on and off campus, according to CEO John Bishop. "It's much more convenient for the physicians, for the patients and for their families," Bishop said. "It'll be a beautiful new facility that is really going to help us do what's right for the community, [to] provide care in the outpatient setting so they don't ultimately end up as inpatients in the hospital." The $70 million project has been discussed for more than 10 years, Bishop said. About 50% of funding is coming from state children's hospital bonds, while the remainder is to be paid for with philanthropic donations and the hospital itself if needed. According to Bishop, the project is expected to open in early 2021.
Gov. Newsom Identifies State-Owned Parcels For Affordable Housing Development
Two weeks before the April 30 deadline, the California Department of General Services (DGS) released an inventory of all state-owned or occupied lands, including 173 Long Beach parcels. The inventory is the first step in Gov. Gavin Newsom's plan to develop affordable housing on excess state lands in partnership with cities. The state will release at least three requests for proposals (RFPs) for new housing construction within a year, with the first issued by September 30, according to Newsom's office. "Housing is a basic human right, and in California, we simply don't have enough of it," Newsom stated. "My administration is using every tool at our disposal to combat the housing affordability crisis our families face. We're working hand in hand with local leaders who are stepping up for their communities and pushing for affordability for their residents." The California Department of Housing and Community Development and DGS developed a screening tool to evaluate each parcel. The agencies will then work with local governments to determine which parcels could support affordable housing developments. Of the 173 Long Beach parcels, 107 are utilized by California State University (CSU), Long Beach, and the CSU system, while 18 are not owned by the state.
Cushman & Wakefield Release Q1 Long Beach Office Report
Lease rates for Long Beach office space continue to rise, despite slight increases in vacancy during the first quarter, according to a new report by Cushman & Wakefield. The overall vacancy rate in suburban Long Beach is 9.3%, up from 8.1% the previous quarter, while Downtown Long Beach vacancy is 19.9%, up from 18.8%. The citywide office vacancy rate is 16.3%, up from 15.3% from the fourth quarter 2018. These increases are consistent with the those in the Greater South Bay market, in which vacancy increased from 16.7% to 17.6% quarter over quarter.
"While there are plenty of reasons to remain cautious about the future, we expect demand to remain solid, especially from key industries including technology [and] financial services companies," the report states. Despite vacancy increases, suburban Long Beach lease rates increased seven cents to $2.93 per square foot, while Downtown Long Beach rents increased five cents to $2.68 per square foot. Key first quarter transactions included the renewal of nearly 43,000 square feet at 1500 Hughes Way by Fluor Enterprise, Inc. and a more than 19,500-square-foot renewal by Daylight Transport at 1501 Hughes Way.
Study Finds Median Income Does Not Go A Long Way For Long Beach Renters
In a recent study to determine how much space one can rent for 30% of the area's median income in the 100 largest U.S. cities, apartment research website RentCafé found that Long Beach is in the bottom four cities in terms of affordable square footage in California. In Long Beach, 30% of the area median income affords an apartment that is approximately 443 square feet, which is more than 150 square feet smaller than what the city's current building regulations allow. Long Beach is in a better position than San Francisco, Oakland and Los Angeles, whose residents can afford 407 square feet, 340 square feet and 333 square feet, respectively.
Recent Transactions By Local Firms
The following is a list of recent multi-family and office property transactions by the teams at O'Healy Commercial Real Estate (OC) and William Morris Commercial (WMC):
111 W. Ocean Blvd. – Toliver Morris of WMC represented the landlord in this 1,663-square-foot lease in the Landmark Square office tower to AT&T.
195 E. 4th St. – Catherine Morris of WMC represented the landlord in this 10-year, 6,026-square-foot lease at The Streets to Salon Row.
230 E. 3rd St. – Jen Long of WMC represented Mike Hong Architects in this 1,555-square-foot lease in the Arts Building.
2850 Orange Ave., Signal Hill – Pigeon Skates leased 2,850 square feet of office and warehouse space in Signal Hill Technology Park to expand its business. The lease was signed on April 10, with an expected move-in date of May 1. Patrick O'Healy was the agent overseeing the lease.
2896 Orange Ave., Suite 210, Signal Hill – PCI, a parking and highway improvement contractor, signed a 1,901-square-foot lease in the Signal Hill Technology Park to expand its business. The lease was signed on March 21, with an expected move-in date of May 1. O'Healy oversaw the lease.