Too often, a city's roots are lost in time, as most city leaders and successful businesspeople prefer to look to the future rather than the past.
When the Business Journal staff brainstormed editorial focus ideas for the new year, we kept returning to words like "history" and "legacy." We rattled off the names of several businesses we knew had eclipsed the century mark, and a few others that were closing in on that historic achievement.
Curiosity got the best of us. How many businesses in Long Beach have operated for decades and decades? What are their stories?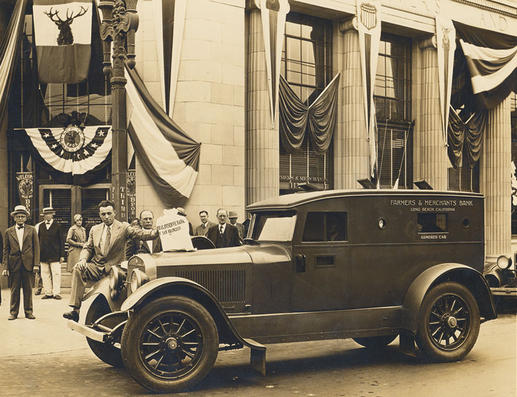 An armored car is parked outside of the Farmers & Merchants Bank headquarters on Pine Avenue and 3rd Street, circa 1920s.
First, we needed to establish criteria for what could be considered a historic company. We decided to limit our search to companies that opened prior to 1970 and are still operating in the city today. We later added nonprofit organizations and other non-public sector institutions. We reached out to the city business license department, the public library system, the Long Beach Historical Society, the Long Beach Heritage group, city councilmembers and others to develop as complete a list as possible. We e-blasted, posted on Facebook and even tweeted.
The end result: we identified more than 220 businesses and 45 nonprofit organizations and institutions. It's an impressive list, but surely incomplete. If we missed you, please let us know.
The City's First Business
Several historical books about Long Beach have noted that in 1884, four years before the City of Long Beach incorporated, entrepreneur W. W. Lowe opened a general store – making it the first business in the area.
"Our Community," a publication prepared by the Long Beach Unified School District in the 1950s, explained it this way: "At that time Pine Avenue was no more than a wagon track. Weeds grew high on both sides of the road. With his wife and two daughters, Mr. Lowe had driven to our town from Los Angeles in a carriage to see the new beach resort. Because the trip had taken so long, they decided to remain in town over night. Lowe suffered from asthma, but he slept so well in Long Beach that he decided to make it his home. He bought the property at the corner of Pine and Ocean. In a little frame building just north of his house, he opened a general store."
Two years later, in 1886, the community that would become Long Beach had grown fast enough that a total of 21 businesses had opened to meet the needs of the residents and visitors. The Pasadena Star newspaper gave this description of Long Beach:
". . . It is a promising town looking forward to the day when it will be a veritable ocean city. It contains a graded school, no saloons, two drygoods stores, one hardware store, a planing mill, four hotels, blacksmith's shop, and has a newspaper [known as the "Journal"]. The Methodists have a neat house of worship, and the Congregationalists are planning to build one that will cost $10,000.'"
The oldest firm on our list traces its city roots back to 1891, and our longest established nonprofit even further – to 1884.
Many of the legacy businesses on our list span several generations within the same family. Other firms have changed hands one or more times but the company name remained the same. Still others have been sold or renamed while maintaining similar operations.
From newspapers to one-man shoe repair shops, major law firms to bicycle stores, aviation suppliers to logistics firms and so many more, these institutions made Long Beach their home. They have chosen to remain through earthquakes, wars and recessions, through the oil boom, the building of the breakwall, the arrival and departure of the Navy, the development of the port, the Rosie the Riveter era of big aviation, and countless other momentous shifts in the life and times of the city, both prosperous and tumultuous.
Of the 220-plus businesses on our list, we chose to contact all that predate 1930 to ask them to provide historic photographs and anecdotes telling a story tied to their business's Long Beach history. We included the stories of those that responded on the following pages.
Criteria For Inclusion
Businesses and nonprofits/membership organizations on this list had to meet the following criteria:
• Began operations in Long Beach prior to 1970;
• Continue to operate in the city today;
• Were able to provide a firm year of opening/starting operations;
• Companies that changed their name due to merger were accepted, as long as the type of business activity remained the same (e.g., Douglas Aircraft Co./McDonnell Douglas/Boeing).
• Professional companies, such as law firms, that changed names because a partner was added.
• Businesses that began in another city but relocated to Long Beach prior to 1970 and are still operating in Long Beach today.
Not included on the list are home-based operations,  public sector entities such as schools and city/county/state departments, or companies that did not return our phone calls verifying information.
If your business or organization is not included on the list on the pages that follow, please let us know by June 14 via e-mail to samantha_mehlinger@lbbj.com or by calling 562/988-1222. We will print the additions in our June 20 issue.
To view the complete list of businesses and historical photographs, click here.