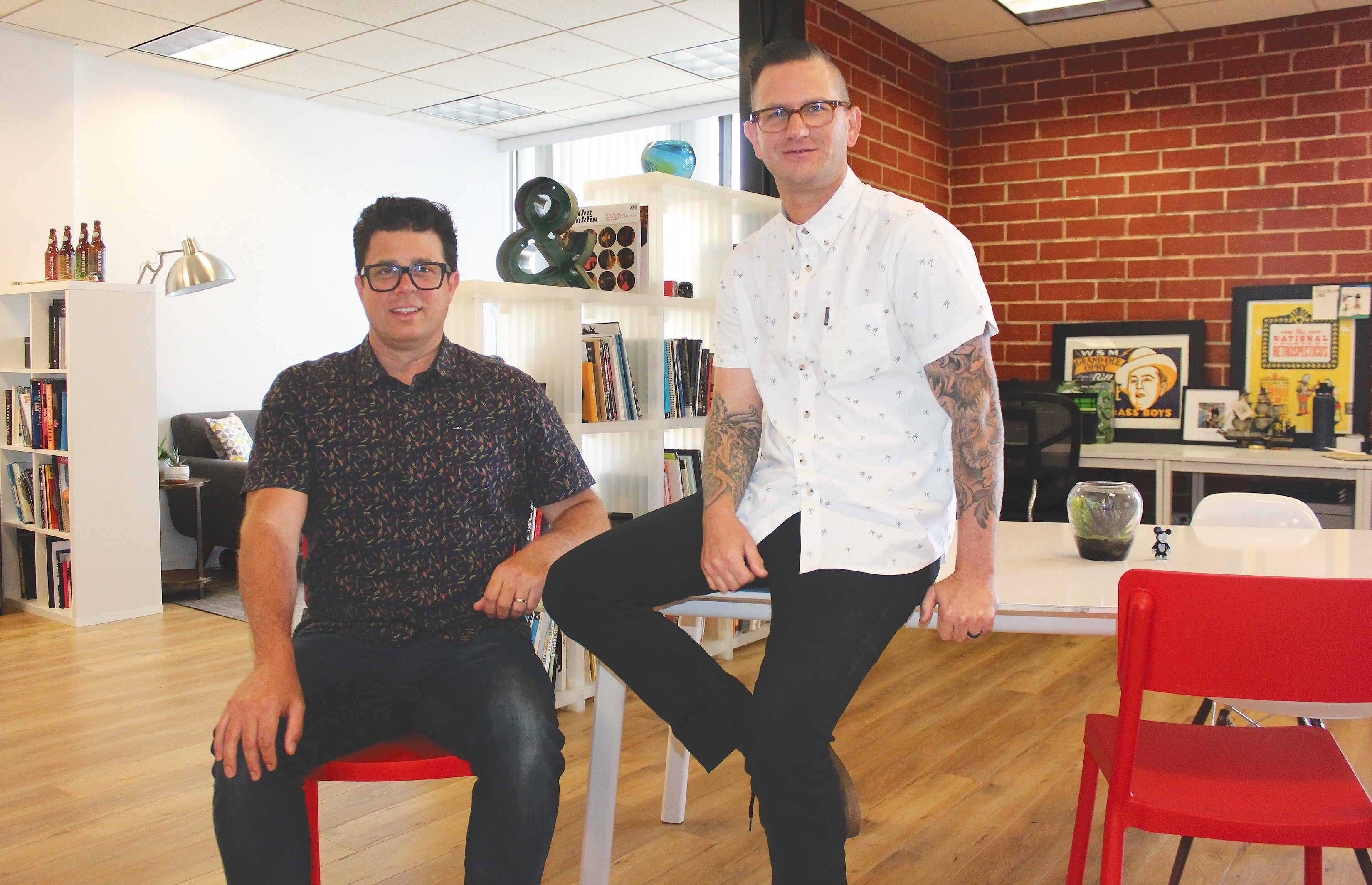 After years of working in creative agencies in Los Angeles and Orange County, Andrew Robinson and Chris Schott felt like their successful careers had begun to deprive them of what they loved the most: designing. In 2016, the two founded Ritual Design, a full-service branding agency that has since gained recognition for its work with large corporations like Acura, as well as the design of an Aretha Franklin album cover that was released shortly after the singer's passing.
The company's intimate office overlooking 1st Street in the East Village emits a comforting calm seldomly found in the busy halls of larger agencies. Colorful prints – samples from previous projects – line the exposed brick walls. "When you get to the managerial level at agencies, you don't do as much design. And that's what we both love to do," Schott said of the duo's decision to start their own business. "That's where the name 'Ritual' comes from: design is our ritual." Robinson agreed. "We just knew we had a lot more design and a lot more creativity to let loose," he said.
Downtown Long Beach, and the East Village in particular, have contributed to Ritual Design's success, the two founders noted. "Being in this area, in this location – it's just filled with people who are creative and there's so many people just walking around the neighborhood. We meet photographers, illustrators that we end up using and collaborating with," Schott said. "We love being down here."
Schott and Robinson are Ritual Design's only full-time staff members, but the two work with a team of freelancers to fulfill client requests of varying scope and size. "We really build the perfect team for whatever project it is," Schott said. Depending on the size of the project, those teams can include up to 10 freelancers, including writers, photographers and web designers. "Our client base is really versatile. So is our work. So we really have to customize projects for each client," Robinson added.
The company's work covers a broad spectrum of projects. In a continuous engagement with the Rhino Entertainment Company, Ritual Design has crafted a 12-inch double vinyl album with songs by Aretha Franklin, titled "The Atlantic Singles Collection 1967-1970," and another design showcasing the legendary singer's work is underway. Franklin passed away shortly before the album release in late 2018. "That was definitely an experience, design-wise, that will stick with us for a long time," Robinson said.
Other projects include a complete rebranding for the City of Aliso Viejo – city signs, official letterheads, branding concepts for local restaurants and communication materials for big corporations like the commercial real estate firm CBRE Group. "We really are proud of our versatility," Schott said. Whenever possible, the duo also offers pro bono work to charitable organizations like Long Beach's Precious Lamb Preschool, which offers free education and care for children living in local shelters or rehabilitation facilities. "Design is something that people need," Schott noted. "We can't always be there to help out in certain ways, but we can definitely give our time and design things to make that part of it easier and free."
Robinson and Schott both grew up in Long Beach, and said they're happy to be back. "One thing we both like is that we're in our own community, we're in Long Beach. We like to be a part of that. We live here, we grew up here, went to school here and now we work here," Robinson said. The two hope to grow their company further and possibly hire more staff down the line, but said they don't want to create a local replica of the larger agencies they worked for in the past. "We don't want to be a big agency, that was never our goal. We always want to be intimate with the work," Schott said.