When Graham Rahal stepped into a career as a professional race car driver, he had big shoes to fill. Father Bobby Rahal is one of the legends of U.S. racing, a three-time winner of the IndyCar championship and the winner of the 1986 Indianapolis 500.
The younger Rahal has made his mark on American racing, etching his name into the history books as the winner of the most prominent sports car race in North America, the youngest winner of an IndyCar race, and a competitor always found toward the front of the field.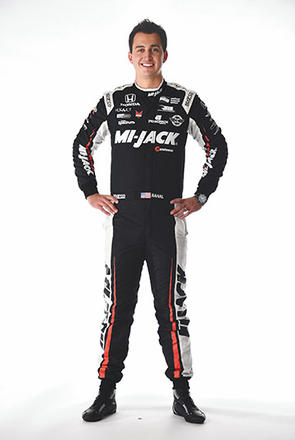 Today, Rahal, 27, is coming off his best season to date – 2015 saw him win at Mid-Ohio and at Auto Club Speedway in Fontana and notch seven podiums overall. He drives a Honda-powered Dallara for Rahal Letterman Lanigan Racing, a job he loves because he gets to do something that very, very few people ever get to do – climb into the cockpit of a thoroughbred open-wheeled race car and thrash it at the very limit and beyond.
"For me, the IndyCar is the fastest, it has the most performance, and they're the most fun for me," Rahal told the Business Journal. "The driving part is a ton of fun. Trust me."
Rahal says the history, the atmosphere and the challenge of the Toyota Grand Prix of Long Beach make attending the event a special stop on the annual IndyCar calendar for everyone, including the drivers.
"History. Long Beach has been going on for a long time. It's a huge party. It's a great event. People love it," Rahal says. "A lot of fun to go there, a lot of fun to be a part of it, and I think the heritage and tradition of the place is what everyone loves. When you get 180,000 people to come out like last year – it doesn't get much better than that. That is a lot fun. That is what all the drivers love about it."
The tight confines of the street circuit – and the ever-present concrete walls – reward a driver who has the discipline to put the car right at the edge of its performance envelope and keep it there without stepping over the line, Rahal says.
"Pushing the car to the limit and making no mistakes. That's what it takes to go fast at Long Beach," Rahal says. "It's very easy to brush a wall or to go down a runoff. That's why it's hard. Very easy to go too far. That's why it's so important to avoid mistakes. Over the years, we've seen a lot of passing there. Quite frankly, I think the racing has been phenomenal in recent years."
Rahal is looking forward to the 2016 upgrades to his Honda-powered racer. Last year's car was quick but unforgiving, he says.
"The aerodynamics of the Honda have changed quite a bit. The engines are all updated, so that's a change as well. But the aero is the biggest thing. I think the people who saw the race car last year, the Honda, to this year – it's going to look pretty different. Hopefully we'll close the gap to our competition a little bit and find a bit of an advantage and make this season even more exciting," he says.
"We're trying to make the car a little bit easier to drive, more forgiving, so when we drive the car really hard into a corner, it's not trying to bite us as much," Rahal says. "Aerodynamically last year the car was very difficult. You were always on the edge to make it go fast. You want to give yourself a little margin for error. That's what we're trying to do for this year. What you try to do when it gets to the limit is that, when the rear does slide, it's not completely gone. It's something forgiving, something that you can catch."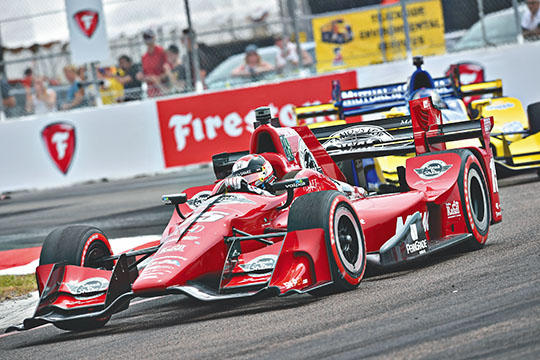 Photographs of Graham Rahal and his car provided by the Grand Prix Association of Long Beach
Racing drivers are looking for the best of both worlds. They want a car that is a missile yet is predictable and confidence-inspiring. Over his career, Rahal has had the opportunity to drive a wide variety of cars. The Lola Champ Car from the early 2000s stands out as his favorite, Rahal says, for exactly that reason.
"That Champ Car was a beast. I really, really liked that," Rahal says. "(It) was an extremely well-balanced and a great-looking car. That car was spectacular and a lot of fun to drive."
That raw performance is what makes an IndyCar stand out from anything else he's driven, even the top-of-the-line sports cars that he has raced, Rahal says.
"Sports car racing is always pretty enjoyable. But those cars are very different to what an IndyCar is. There's a lot of technology in that series, in a lot of the GT cars, they're very technologically advanced," Rahal says. "But an IndyCar is very, very fast."
Not surprisingly for a racer, the quickest tracks are among his favorites. Indianapolis ranks high on his list because of its history, but driving an IndyCar at Road America in Wisconsin is at the top of Rahal's list of peak experiences, he says.
"Road America is a really, really fun place to go. It's fast, and the long, long straights get you up to a good top speed. It's awesome. That place is definitely, definitely one of the best," Rahal says.
There are things about the career that aren't as much fun as driving. The travel grinds away at you, and the incessant demands on the driver's time for publicity appearances and other obligations make for long days and weeks on the road.
But the time in the cockpit is rewarding enough that Rahal wants to make this his career for a long time to come.
"This," Rahal says, when asked what he wants to do in the future. "For many years to come. Hopefully we can win some races, win some championships, an Indy 500 or two would be awesome. This is what I love. I love IndyCar racing."