Shopping in the downtown has seen its ups and downs: Pine, once a haven for national retailers like Express, Bath & Body Works, and Z Gallerie in the late 1990s and early 2000s, watched storefronts go empty while City Place and The Pike, massive projects with equally massive construction costs, have largely been met with a wary eye by the public.
That slump, however, is beginning to quickly alter, especially after a year as definitive as 2015, when representatives from both City Place and the renamed Pike Outlets each made some massive announcements and headway in altering the shopping image of DTLB.
And we mean massive.
City Place officials joined Mayor Robert Garcia, Councilmember Lena Gonzalez, Michael Bohn, senior principal at Studio One Eleven, and the Downtown Long Beach Associates (DLBA) in announcing earlier this year that a new partnership that will see the entire 350,000-square-foot space reimagined. Or in the words of City Place owners' representative Tony Shooshani, "repositioned."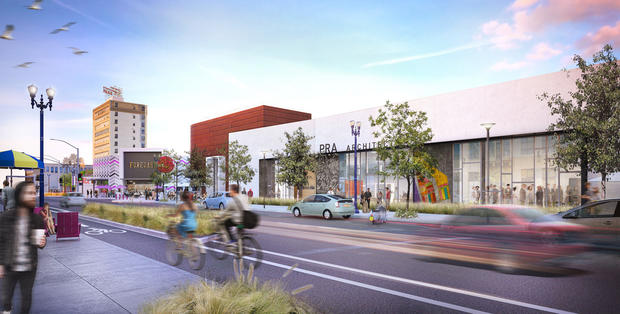 (Rendering by Studio One Eleven)
Spanning four years and three phases, the multi-million project seeks to shift City Place's reputation amongst locals as a place to avoid rather than spend money at. The Walmart at City Place is the city's single largest source for calls-for-service from the Long Beach Police Department, prompting continual criticism from residents in the surrounding areas. Property managers have been criticized for displacing local tenants, such as Milana's Pizzeria and Fresh Kabobs in 2013, to make room for corporate brands like Chuck-E-Cheese. They lost perhaps their best retailer, Nordstrom Rack, in 2013 as well, only to see the store move to a new location in Marina Pacifica in Southeast Long Beach.
City Place representatives have, if anything, noted this and that perhaps explains why local architectural firm Studio One Eleven and its parent Perkowitz + Ruth, will not only be heading the re-design of the center but also be anchor tenants occupying the massive empty space left behind by former tenant Nordstrom Rack.
Why is this beneficial for DTLB? In the words of Mayor Garcia when the plan was unveiled: "Having a hundred architects wandering around the downtown core is only going to be good for Downtown."
The first phase of the project focuses on the areas from 3rd Street between Pine Avenue and Long Beach Boulevard, and Promenade North between 3rd and 4th streets. Harvey Milk Park will also play a great role in the new district. The project will build on the existing foundation and make it better by integrating into the adjacent downtown, and eventually repurpose the eight-block area into a vibrant mixed-use district featuring a hub of unique restaurants, businesses and retail for all the residents of Long Beach to enjoy.
"Studio One Eleven/P+R is excited to be part of downtown's revival by extending the vibrancy and character of the Promenade south of 3rd Street northward," said Studio One Eleven's Bohn. "By moving our 120 jobs to this area, we hope to be a catalyst for new dynamic retail serving downtown's burgeoning residential population. This exciting move fits directly with our mission which is dedicated to creating vibrant and healthy communities."
As City Place begins its repositioning, The Pike Outlets has offered a more tangible alteration as it officially re-opened its doors this past October after a $65 million renovation that took place last year and was completed this year. Staggering openings, brands like H&M, Forever 21 and Nike were welcomed to their new homes as storefronts began to appear.

(Photograph by the Business Journal's Larry Duncan)
Given its proximity to the Long Beach Convention Center – where tens of thousands of conventioneers seek brands they recognize – but also taking into account the local need for better clothing retail, The Pike Outlets seems to be a natural fit for the balance between tourists and residents.
In short, DTLB's shopping scene is changing, but not toward one demographic or the other, but rather just forward, providing urbanites what they always seek: variety.
In the words of Mayor Garcia, "Downtown is back. The renaissance is here."