From geode wedding cakes to a ceremony officiated by friends, Long Beach hospitality industry representatives have found that couples are reworking certain traditions while doing away with others.
"Large bridal parties are a thing of the past," Lisa Lyons-Gentile, the senior catering executive at Renaissance Long Beach Hotel, commented. "People are moving toward smaller, more intimate ceremonies with maybe their sister, brother or best friend. The maid of honor doesn't even have to be a woman, it could be a best friend who's a man."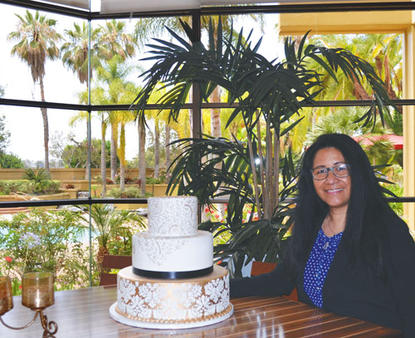 Long Beach Marriott Catering and Sales Manager Daisy Prestwood has noticed a return to more classic weddings and elegant touches. (Photograph by the Business Journal's Anne Artley)
Lisa Duncan, the director of catering and convention services at Hotel Maya expressed agreement. "Bridal parties tend to be on the smaller side, more intimate," she said. She added that couples are deviating from playing the traditional wedding march at their procession. Instead, they are selecting a song that has a personal meaning for their relationship, or one that represents their cultural backgrounds.
Leslie Boutillier, sales and catering manager at the Santa Catalina Island Company at Two Harbors, has found that more guests are using friends and family to officiate the ceremony instead of ministers and priests. "I think that has to do with it being so easy just to jump online and get ordained," she said. "That seems to be a really common trend." She noted that, as well as a decrease in formality, couples are also cutting ceremonies short. "The party is the primary focus these days."
While Boutillier also observed a trend toward smaller weddings, she clarified that the village of Two Harbors on Catalina Island tended to attract couples seeking a more intimate experience, with around 20 to 50 people. She said the Santa Catalina Island Company venues in Avalon are more conducive to large gatherings.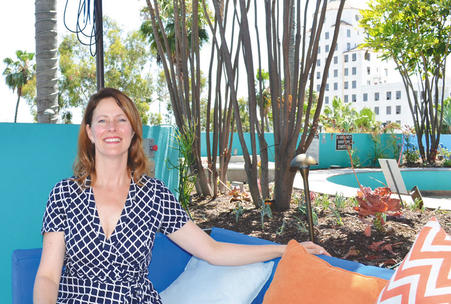 Lisa Lyons-Gentile, Renaissance Long Beach's senior catering executive is pictured at the hotel's pool area, where many of its weddings take place. "Elegance is making a comeback," she noted. (Photograph by the Business Journal's Pat Flynn)
According to Lyons-Gentile, one tradition that seems to have gone by the wayside is the custom of the bride's family paying for the wedding. "That's a very outdated mentality," she said. "It comes from [the tradition of] a dowry and what the family had to offer." She added that more families are splitting the bill or couples are funding their own wedding.
As for wedding dresses, hotel industry representatives have seen a blend of both old and new customs. "A white or ivory wedding dress is always beautiful and elegant," Lyons-Gentile said. "But, for next year's weddings, people are going with more hints of color, like antique pink, light lavender, or even something like a wedding pantsuit rather than a dress."
But Daisy Prestwood, the catering and sales manager at the Long Beach Marriott, has seen a return to a more classic look. "Ladies are looking at lace on dresses, older things like a 1960s look, [rather than] 'bling' or diamonds."
Lyons-Gentile said that "elegance is making a comeback." She noted that this is a reversal of a trend toward simplicity she had noticed the past couple of years.
"I think people are getting more into details," she continued. "A big trend with cakes is detail. [Couples are] moving away from simpler cakes. They are not too over the top, but they are bringing back a sense of elegance."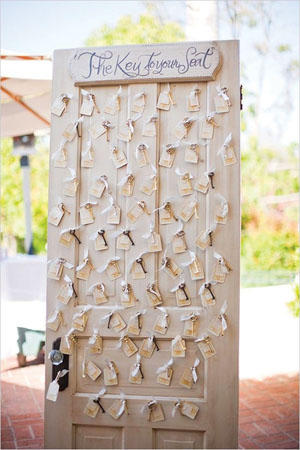 More couples are opting to put a new spin on old traditions. In this photo, keys arranged on a door let guests know where they are seated (Photograph courtesy of Hotel Maya)
Still, at Hotel Maya the trend toward "naked cakes" is still alive and well. "Wedding cakes are becoming more creative and interesting," Duncan said. "[Couples are] not so stuck in traditional white frosting and flowering cakes. Geode cakes are also very popular." This style of cake has a section lined with rock candy designed to look like the mineral formation. Duncan also described another cake that was designed to look like a marble countertop. "It was very sleek and cool looking, but it was still very much a wedding cake," she remarked. "It fit the couple's personal style." Duncan said couples are still interested in the customary cake-cutting ritual even with a nontraditional confection.
Across the water on Catalina Island, "wedding cakes are kind of on the way out," Boutillier said. "People are getting creative and doing dessert bars and custom cookies and desserts as opposed to a traditional wedding cake."
The tendency toward ingenuity extends to decorations as well. "Instead of the traditional escort card displays, we're seeing really creative ways for guests to find their seat," Duncan remarked. "We've seen huge mirrors with a calligraphy artist who has come in and written everyone's name on the mirror. We've also seen flower walls that have tags indicating which table you're sitting at, and rustic doors propped up with multiple keys telling [guests] which table they are at."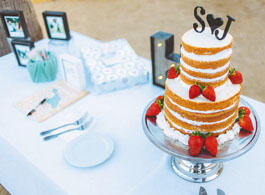 Couples are injecting personal touches into wedding food and decorations (Photograph courtesy of Hotel Maya)
Prestwood said she noticed more couples bringing the outdoors inside and replacing flowers with leaves as centerpieces. "I had a client who brought an arch [made of branches] indoors and put tea lights on it," she said. Although outdoor weddings are still popular, Prestwood said celebrations at hotels are making a comeback. "More people are starting to come back to hotels," she said. "They want it outdoors, but the hotels are better at putting it together. The past couple of years [couples were] moving to the beach scene."
According to Lyons-Gentile, couples are replacing wedding favors with enhanced creativity at the reception. "Instead of stressing about something to give to their guests to take home that they probably wouldn't need, they're exchanging it for something they could enjoy while they're there," she said. This could include a unique snack, late-night menu or dessert.
Duncan has noted this trend as well. "We don't see as many couples offering takeaway favors. That was one of the top things you [previously] thought about while planning a wedding," she said. "We're also seeing late-night cocktail parties maybe at 10 p.m. We bring out our made-to-order taco station or our cookie and milk shots, which are popular here. There's even a food truck that will come in as a send-off."
The send-off is another aspect of the wedding where couples are applying out-of-the-box ideas. Duncan said she has seen more sparklers and color bombs instead of rice or bubbles.
"People are getting away from limousines and not worrying about having a wedding car," Lyons-Gentile said. "Some people are decorating wedding carts, doing electric cars like Teslas. People are more or less making it their own experience, having fun and making it their character."