For many couples, their weddings will call for something old, something new, and – in this digital era – something high-tech, too.
From aerial drone photography and GoPros to 3D printing and video mapping, technology is increasingly making an appearance at weddings. According to The Knot Wed-Tech Survey 2016, which included 1,192 respondents, one in three couples (34%) said they felt strongly that technology should be incorporated into weddings.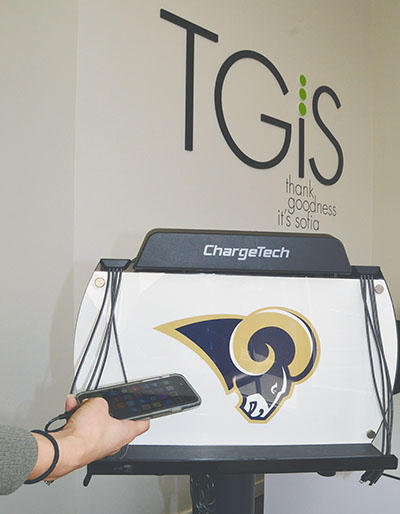 Branded portable cell phone charging stations, like the one pictured at Long Beach-based TGIS Catering, are becoming an increasingly popular guest amenity at weddings, helping guests stay charged and connected. (Photograph by the Business Journal's Larry Duncan)
The most popular tech element, says The Knot Planning Editor Ivy Jacobson, is specialty light projections. Couples can choose to order a plain white cake, for instance, and project images onto each tier of a cake to create evolving designs. Light projections – also referred to as video mapping, projection mapping or spatial augmentation reality – can be used to transport guests to a completely different location.
"You can take an empty shell space with four white walls and project onto a whole wall, where it looks like you're in the middle of a forest," explains Sofia Riley, president of event production company TGIS Catering. "It just changes the whole environment."
Moreover, interactive light displays on the dance floor can give guests the impression that they're dancing on clouds, water or fire.
The trend is certainly "light" years ahead of when Riley started her business 27 years ago. "I started in the dark ages when there were no cell phones and we used Thomas Guides," she says jokingly. "It's about taking it to the next level, whether it's something guests are going to experience when they walk in, to a feeling, to sharing with others."
Create, Capture And Share
In addition to creating experiences, technology is increasingly used to capture and share them, too.
According to Jacobson, selfie sticks are popular for capturing wide-angle dance floor shots, for instance, while GoPros are being placed in bouquets to capture the bride's walk down the aisle, and drones are becoming popular for aerial photography and videography.
Even photo booths, Riley adds, have taken on a new dimension, with interactive, 360-degree photo booths that also allow guests to post onto social media.
In fact, Snapchat has now become a more official part of weddings with the introduction of custom Geofilters – starting at just roughly $5 – which allow couples to create personalized filters that wedding guests can add to their image or video.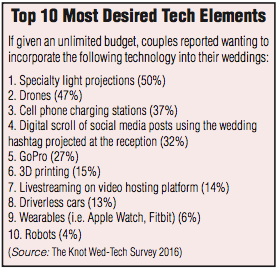 Some couples, Jacobson says, are also integrating social media into their weddings, with guests' social media posts projected on-screen at the reception. Similarly, she adds that live stream videos have gained popularity, particularly for couples with friends and family who can't physically be at the wedding due to distance or an illness, for instance.
Despite the number of high-tech gadgets available in the marketplace, the most popular remains in most people's pockets – the smartphone. "Anything people can do with their phones right now, they're going to engage with," Jacobson says.
Smartphones are such a mainstay at weddings that many couples are choosing to integrate branded portable cell phone charging stations at their reception as a guest amenity, Riley adds.
The Road Ahead
That charged phone may come in handy when guests are ready to leave the wedding and, say, call an Uber. That's because ride-sharing services like UberEvents, Riley adds, are becoming increasingly popular. Through UberEvents, couples may purchase rides in advance for their guests by creating a custom code. Guests simply enter the event code into their app to redeem their ride.
Some transportation trends, however, are still gaining traction.
"I definitely think some tech elements are trends and some are very aspirational," Jacobson says. "For example, driverless cars is still a very new tech concept to the world in general and [in particular] to the wedding world."
"[They] will still continue to have a presence in weddings, and I think they'll pick up steam more so in the future," she says of driverless cars and other high-tech elements such as robot bartenders, which are making appearances in restaurants and on cruise ships.
Another emerging trend, Jacobson adds, is 3D printing, with some couples choosing to make custom, 3D-printed wedding bands, wedding favors, and cake toppers. The Hershey Company, for instance, allows consumers to create and 3D print their own creative chocolate designs.
The emergence of new technologies provides unique opportunities for the wedding party and its guests – as well as the wedding planner, Riley notes. "It's amazing, it's fun, [and] it constantly keeps us on our toes as a company and as a team," she says. "And it's exciting because it brings the whole experience to another level."