On the heels of being named one of Successful Meetings magazine's top 25 most influential people in the meetings industry, Steve Goodling and his staff at the Long Beach Area Convention & Visitors Bureau are making headlines again with the city's latest event space – The Cove.
The new event space is located on Seaside Way just outside the convention center's Seaside Ballroom. Placed beneath an underpass, the unconventional space attracted the attention of Successful Meetings, as well as Convene, the magazine of the Professional Convention Management Association (PCMA), the largest network of meeting planners. The East Coast publications each had writers present during The Cove's grand opening event on July 20.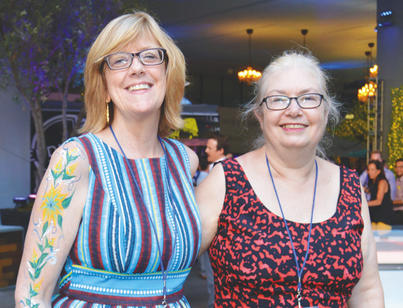 Barbara Palmer, left, senior editor and director of digital content at Convene magazine, and Terri Hardin, an industry freelance journalist working on assignment for Successful Meetings magazine, attended the July 20 grand opening of The Cove, a new outdoor event space at the Long Beach Convention & Entertainment Center. Both publications are based on the East Coast. (Photograph by the Business Journal's Larry Duncan)
Barbara Palmer, senior editor and director of digital content at Convene, said the magazine flew her in from Brooklyn because the space exemplifies the industry's shift away from traditional environments such as ballrooms.
"People are really looking at the fact that the things that you remember are emotional connections you make to spaces, when you go somewhere and have more of an experience where there's lights and color and trees and breezes," Palmer said. "I think this space is particularly remarkable because it's basically an underpass and a porte-cochère that's been transformed."
One area in which Long Beach is leading the meeting and convention world, according to Palmer, is creating places that are technically equipped to promote an immersive experience. She explained that an event planner typically has to rent lighting, chairs, tables and just about everything else separately from the space. However, the Long Beach Convention & Entertainment Center invested in everything necessary – including fire pits, a sound system, ping pong tables and lighting – to host an entirely customizable event.
When discussing the design of the new space, Palmer said it was fantastic because it allows planners the flexibility to host a Southern California beach party-type event or a more formal get-together. She also noted the space provides ample areas for guests to just be together and chat.
"There's just a lot of colors and textures. I think just the ability to create an intimate party space in an underpass is really using the center as a canvas," Palmer said. "One of the other reasons we really wanted to come was to look at the downtown because the neighborhoods have become so well developed and it's walkable. [Visitors] want to feel like they had an experience of the city so it's not like another meeting, another color of carpet on the ballroom floor."
Terri Hardin, an industry freelance journalist working on assignment for Successful Meetings, also attended the event. A former editor of New York magazine, Hardin now lives in Palm Springs and made the drive to Long Beach for the grand opening celebration.
While convention centers nationwide are essential and put their own style into meetings and events, Hardin said Long Beach puts everything into each event. This passion is the reason Long Beach has become a contender with Anaheim, Los Angeles and San Diego, according to Hardin.
"It's important to see this iteration of another use of the convention center because one of the things that Long Beach does best is really use every single piece of space that they have and use it very resourcefully and, I would say, use it very lovingly," Hardin said. "A lot of heart goes into what goes on here. Creators are painting, creators are putting together an ambiance, and it's very unusual to see."
Upon opening, Hardin said many convention centers immediately begin planning expansions because more space is needed. However, The Cove, she said, shows a new perspective on creating spaces that cater to the ever expanding and evolving quantity, quality and diversity of meetings. Hardin explained that the utilization of every single bit of square footage to create memorable events for convention, meeting and event visitors makes them happy, which creates a buzz that leads to an increase in leisure tourism and economic growth.
Hardin also explained that Long Beach is unique in that the community is engaged in events and gives feedback that is crucial to the success of the convention center, which is important because visitors need to feel welcomed when they encounter locals.
"There are some places that really don't get what tourism – and specifically meetings tourism – is doing for them in terms of their economic impact, in terms of spreading the word so that people come and say they had a great time in Long Beach and did this, this and this," Hardin said. "That is really what meetings and conventions are to a destination – the ambassador to leisure tourism."