Long Beach is nationally recognized for its public education system, which includes a school district made up of 84 schools, a city college serving more than 24,700 students, and a top state university. Together with the City of Long Beach, these entities are joined in a partnership dedicated to increasing educational outcomes and making college education available to all local residents. As the nation struggles to identify ways to make education more accessible and affordable, this partnership – the Long Beach College Promise – has emerged as a model for success.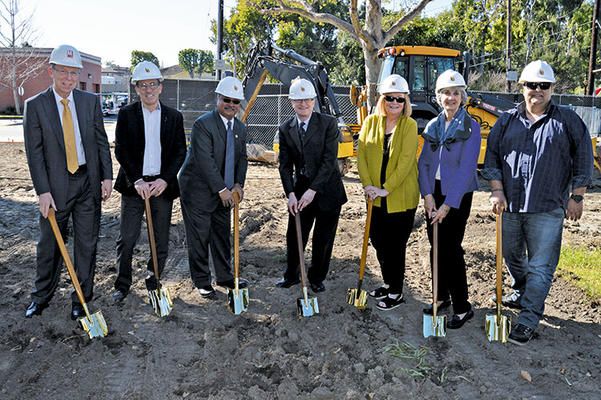 On March 3, California State University, Long Beach (CSULB) celebrated the groundbreaking for the new College of Continuing and Professional Education building. The three-story building will consist of 20 classrooms, a large conference center, outdoor areas and more. The structure will be the first net-zero energy building in the CSU system. Pictured, from left, are: Steven F. Matt, CEO of Matt Construction; Ted Hyman, managing partner of ZGF Architects LLP; Jeet Joshee, associate vice president and dean, of international, continuing and professional education at CSULB; Brian Jersky, provost and senior vice president for academic affairs at CSULB; Jane Close Conoley, president of CSULB; Mary Stephens, CSULB, vice president of administration and finance at CSULB; and Mark Zakhour, senior manager of construction services for CSULB. (Photograph by the Business Journal's Larry Duncan)
Partners in the Long Beach College Promise are the Long Beach Unified School District; Long Beach City College; California State University, Long Beach and the City of Long Beach. The promise was formed as an agreement between the three public school institutions in 2008.
Through this promise, area students are given campus tours of LBCC and CSULB in 4th and 5th grades. Middle school students receive direction on how to become college ready and are given the opportunity to sign a College Promise Pledge. In high school, students may take Advanced Placement (AP) courses and are afforded reduced AP testing fees.
Qualified students are provided a tuition-free year at LBCC. CSULB guarantees admission to all qualified College Promise students, despite record high demand to attend the university.
The benefits afforded to local students through the College Promise serve to incentivize greater educational attainment. A report released in 2015 noted that the number of LBUSD students who met University of California or CSU entry requirements increased by 7% over the prior four years.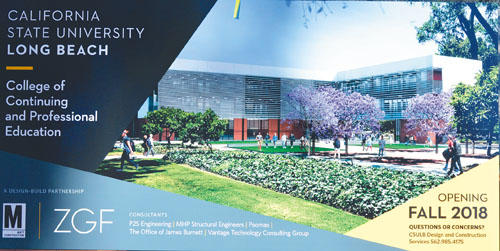 The City of Long Beach joined the College Promise in 2014 under the leadership of Mayor Robert Garcia. Since then, the city has worked with LBUSD to expand preschool options for local students. The city has also doubled the number of internships available to students in the region.
The College Promise has gained national attention as legislators seek to expand higher education opportunities and reduce cost burdens to students.
Last year, two alumni of CSULB and beneficiaries of the College Promise participated in former First Lady Michelle Obama's Beating the Odds: Ladders of Opportunity Summit to discuss the Long Beach College Promise.
In 2015, a White House report identified the Long Beach College Promise as one of the local initiatives used to develop the America's College Promise proposal, an initiative by former President Barack Obama designed to set the country on a path towards free community college education.
At the state level, Long Beach Assemblymember Patrick O'Donnell successfully championed legislation to create a California College Promise Innovation Grant Program, which was signed by Gov. Jerry Brown last fall. According to a September 2016 statement from O'Donnell's office, the program will incentivize partnerships similar to the Long Beach College Promise throughout the state.
Mayor Garcia recently expanded his commitment to the College Promise through the creation of the Mayor's Fund For Education, a nonprofit organization dedicated to supporting "mayoral priorities within the Long Beach College Promise," according to a statement from his office. The fund will support early childhood education and literacy, as well as local internships and other educational initiatives.