It can take years of relationship building with a trade organization, government association or corporate entity before the Long Beach Convention & Visitors Bureau (CVB) seals the deal and books a group for a convention. And once it does, the relationship-building process is far from over.
Led by Barbara Ajemian, vice president of convention services and 31-year employee of the CVB, the convention services staff at the CVB takes a high-touch, collaborative and accessible approach to making sure every need of their clients is met above and beyond what is expected.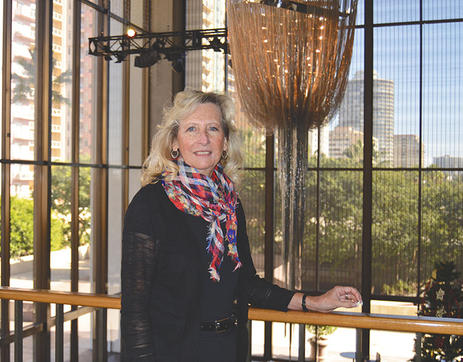 Barbara Ajemian is a 31-year employee of the Long Beach Convention & Visitors Bureau. As vice president of convention services, she ensures that convention and meeting clients have everything they need to make their events successful. She and her staff go above and beyond what's required to make their clients feel comfortable. (Photograph by the Business Journal's Larry Duncan)
"It could be years and years of building a relationship with a group or a client to book that business," Ajemian said. "So, once it becomes definite, it really is important that we, as convention service people, understand what it took to book the business. . . . And then, once we understand that, it's [about] simply providing the general, top-of-line services for any of our groups, whether they are a 30-person board of directors or a 5,000-person annual convention."
Prior to meeting with a client's event planner, the CVB's convention services team researches the organization's past events in other cities, according to Ajemian. "We do research on the group to try to find out what they did in cities before us and kind of have a better understanding of what this group is about and to provide resources before they even ask," she said. This effort also helps clients see that the CVB takes seriously what they are trying to accomplish with an event, she noted.
If a group books a convention in Long Beach a few years in advance, members from the CVB will often go to the organization's convention the year prior to its stop in Long Beach. "We have a booth and a brochure, and we pass out little beach balls," Ajemian said. Attendees of conventions in other cities might not be familiar with Long Beach, so the CVB finds it is helpful to give out information about the city and answer any questions, she explained.
While the end goal for the CVB's convention services staff is to make sure an organization has a successful event, there are many steps along the way, including a preliminary site visit to Long Beach. "We help them facilitate that entire site visit," Ajemian said. The CVB arranges airline travel and accommodations, visits to local hotels to determine which ones to contract with for the upcoming event, and site visits to other contracted venues like the convention center for planning purposes.
"We are with them the entire time they are here," Ajemian said of site visits, adding that she has gotten feedback that this isn't necessarily a usual practice of other CVB organizations. "Even though I have walked those hotels a million times, they might say something that is really key to their attendees or their event. And if I am not there to hear it, I am not necessarily going to know," she said. "It might not make or break it, but I think it's important."
While clients are in town, Ajemian and her team pay attention to their preferences – an attention to detail that can make a difference to clients during what is often a time of pressure and stress, she noted. "I have a client who just loves Dunkin' Donuts iced tea," she said. "When they were here for their last convention, I went to Dunkin' Donuts and brought her four iced teas. And you would have thought I brought her the Hope Diamond or something."
If a client mentions a particular fondness for something – for instance, Diet Coke rather than Diet Pepsi, or a penchant for a certain kind of fruit – the CVB will contact their hotel to offer up a little surprise and gesture of goodwill. "We will call the contact at the hotel and say, 'She just said she is nuts for strawberries. Could you do chocolate strawberries for a turndown this evening?'" Ajemian said. "[Or] something that we know will be really appreciated because it is unexpected. And that way, it just helps us to shine a little bit brighter than other locations."
Ajemian described the CVB's philosophy to client relations as a "high-touch" approach. "To us in services, we're all about jumping in and helping. And if that means we get our hands dirty, then we get our hands dirty – and I mean it metaphorically and in reality," she said.
"We are a 24/7 operation," Ajemian said. "For the most part, clients are good about stuff like that. But they know if they need something that they can call us anytime, day or night. They can text us. They can reach out to us."
The CVB serves as a liaison between their clients and various other entities in the city, including city management, the mayor and city council, as well as the police and fire departments. "We know all of these entities that can accomplish something should it be necessary, especially when an event is going on," Ajemian said. "When something pops up, we know who to call and say, this has to be resolved and resolved right away."
During power outages last summer, a performing arts group hosting a world championship at the Terrace Theater was staying at the Westin across the street. The traffic lights went out, making it difficult for attendees to cross the busy intersection, Ajemian explained. "We made a call immediately to [the police department]," she said. They sent over a couple of officers to regulate traffic and help attendees safely cross the street, she recalled.
The CVB's high-touch approach did not go unnoticed by EEM World, the event planners for the recent Longines Masters of Los Angeles, an equestrian championship that was held at the Long Beach Convention & Entertainment Center for the first time this year. The event moved from Los Angeles to Long Beach in part because of the CVB's persistence, according to Shannon Yates, accounting and partnerships coordinator for EEM.
"I can't emphasize enough how pleasant the experience has been in working with them and really what a difference that made in considering Long Beach for the event, and then making the decision to move here," Yates said. Moving the event to Long Beach was not an easy feat, as the entire event had to be restructured, she noted, adding that the CVB was key in assisting in that transition.
"They really did become a part of our team," Yates said. "We knew that we could rely on them in a way unlike any other organization we had worked with in L.A. or any of the other cities that we plan events in. We are part of a global series of events in Paris and Hong Kong, and even our teams in Belgium and Paris [and] Hong Kong were astounded by the level of support that we got from the CVB here in Long Beach."
Yates described the CVB's approach to client relations as highly collaborative. "Whenever we made a call, they would answer right away or get back to us as quickly as they could," she said. "It was always immediate, always a quick response. And they were always jumping at the chance to help."
By the time the event wrapped up, Yates said EEM's team felt like a part of the Long Beach community and felt that the CVB was almost like family. "Within just a couple of months of working with the CVB and deciding to move the event to Long Beach, it was clear that they were enveloping us in this sense of community and really bringing us in," Yates said. "It really helped us to have confidence in our decision to move the event and to know that we had support to make it succeed."