The JetBlue Long Beach Marathon & Half Marathon continues as a mainstay local event October 5-7, with more than 17,000 participants expected during race weekend. With a confidence in and commitment to the success of the event, JetBlue Airways is back as title sponsor, having opted to renew its sponsorship through 2019.
"We have always been passionate supporters of the marathon," Lou Anthony, general manager of JetBlue's operations at the Long Beach Airport, said. "That's a signature event for us."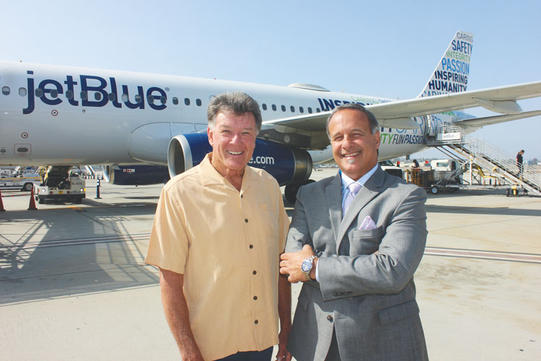 Olympian Bob Seagren, left, is pictured with Lou Anthony, general manager of JetBlue Airways at the Long Beach Airport. The airline is the title sponsor of the JetBlue Long Beach Marathon & Half Marathon, which takes place October 5-7. (Photograph by the Business Journal's Brando Richardson)
Olympian Bob Seagren, the organizer of the marathon, said having a national sponsor like JetBlue opt to retain its role as title sponsor lends credibility to the event. "When you can attract a national brand like that, it's a good thing. It says that you've got something going," he reflected. He noted that before coming on as title sponsor in 2015, JetBlue had served as the Long Beach Marathon's official airline.
The marathon is in its second year under the new ownership of Motiv Running, a company with a portfolio of more than 40 events worldwide. Last year, the firm bought out the previous owner of the event, RUN Racing, an event management company operated by Seagren. Seagren and his team remain in place as the event's operational leadership under Motiv.
Now in its 34th year, race weekend retains its signature events. A 5K and a kids one-mile fun run are sponsored by and pass through the Aquarium of the Pacific on Saturday, while the marathon, half marathon and 20-mile bike tour take place on Sunday. Of these, the half marathon is the most popular, Seagren noted.
About 92% of event participants reside within a two-hour distance from Long Beach, according to Seagren. The remainder come in mostly from nearby states, although "a smattering" of runners also come in from foreign countries, he noted.
The Health and Fitness Expo at the Long Beach Convention & Entertainment Center returns as a hub for participants to retrieve their identifying race bibs and peruse a variety of vendors. Seagren noted that each event participant typically brings two to three people with them, and, as a result, he expects as many as 50,000 people to visit the Expo.
This year, runners will have the benefit of a new, simpler system for retrieving their bibs. "In the past when you registered, we would assign you a bib number and then you could look up the number online. It was cumbersome," Seagren said. Motiv has adopted the use of a "dynamic bib assignment" system in which runners are e-mailed a code to present at the Expo. "It's scanned right there at the Expo, and you pick up your bib and you're on your way," Seagren said, noting that the process takes a matter of seconds. The new process also relieves his staff of the burdensome task of having to hand-label thousands of bibs prior to the event.
While most of the event routes are remaining the same, the marathon course has a slight adjustment this year. A loop up onto Ocean Boulevard that took runners to the onramp of the 710 Freeway has been eliminated, which Seagren noted would be helpful to weekend travelers trying to visit Downtown Long Beach. Instead, he explained, "We're going to go over the Magnolia Bridge to the Queen Mary, loop around and then come back over the bridge."
For those who cannot make it to Long Beach for the event but still wish to participate or raise money for one of its official charities, there is a digital alternative available: a virtual run. Through this option, runners are given distance specifications and can map out their own course wherever they are located. "That is something that has been growing in popularity around the world," Seagren said. "A lot of the people will do the virtual run as part of a charity group." Runners who have participated in the event for many consecutive years may also choose this option if a personal matter comes up during race weekend, such as a family wedding. By doing the virtual run, they will not lose their status as "legacy runners," Seagren noted.
Each year, the JetBlue Long Beach Marathon & Half Marathon benefits charities, including officially sponsored charities and those that individual participants can choose to sponsor themselves. "We have been raising on average anywhere between $350,000 to $700,000 a year for all the charity programs," Seagren said, noting that the grand total raised over the years amounts to nearly $6 million.
JetBlue is partnering with the charity Up and Running Again for the marathon, according to Anthony. Through the partnership, two volunteers from JetBlue have spent the past 13 weeks coaching a team of homeless and impoverished individuals who wish to participate in the race, he explained. "JetBlue is very community focused. A lot of us have [community service] requirements, and most of us just do it because we love the communities we serve," he said. This year, JetBlue has 85 employees running in the event, Anthony added.
To ensure the events are secure, Motiv partners with the Long Beach Police Department, which provides staffing all along the routes. "We have quite a few plain-clothed [officers] at the finish line area," Seagren noted. "They have bomb sniffing dogs out patrolling around. That has been [the case] the last few years. There has been beefed-up security," he said.
"It's a massive undertaking," Seagren said of the event. "When you see the number of people you are impacting who come and participate, it's just a great feeling of pride and satisfaction that you're putting on this event."
Without volunteers, the event "wouldn't happen," Seagren pointed out. About 2,000 people volunteer throughout the weekend, he noted. Having that many people on the payroll would make the event cost-prohibitive, so having passionate volunteers is key, he explained. "They are a critical part of staging the event. That's why we have a volunteer coordinator."
The 26.2 Club is the marathon's core group of volunteers. Made up of many former runners, the group of around 30 people mentor new volunteers and act as the "front line" for organizing the others, Seagren explained. "Most marathons don't have a core volunteer group like that. We're very fortunate we have this group who are very passionate."
Watching people cross the marathon finish line is one of Seagren's favorite aspects of the weekend. "It's life altering for a lot of them. They set this as a goal, and a lot of them are shocked that they actually did it," he said. "Then of course [with] the family members who are cheering them on, it's pretty awesome. If I had to say there is one favorite part, that's probably it. Seeing the excitement and the emotions that come out of the finishes."