Uptown residents and Vice Mayor Rex Richardson are excited by the city council's unanim­ous vote at its August 2 meeting to approve the sale of 2.14 acres on the northeast corner of Atlantic Avenue and Artesia Boulevard to Frontier Real Estate Investments LLC.
"This is the one project that people, for decades, have asked about," Richardson said. "This is the second of three major 9th District Successor Agency properties that's moving forward and really anchors the corner of Atlantic and Artesia."
The $2.1 million bid by Frontier was not the highest, however, it did propose the greatest investment value for the 93,230-square-foot site. The 9th District property, which spans the area of 601-685 E. Artesia Blvd. and 6600-6620 Atlantic Ave., is currently undeveloped.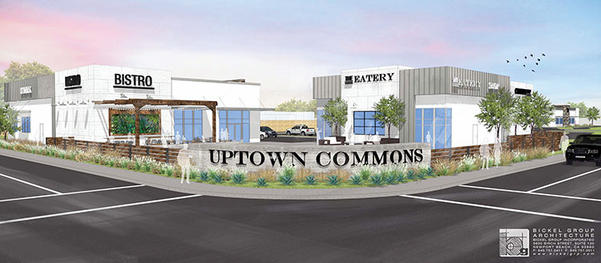 Frontier Real Estate Investments LLC purchased 2.14 acres of undeveloped property in North Long Beach on the northeast corner of Atlantic Avenue and Artesia Boulevard for $2.1 million. The current design identifies 4,800 square feet of retail space, 8,400 square feet of restaurant space and a community gathering area for the 93,230-square-foot lot. (Rendering by Bickel Group Architecture courtesy of Frontier Real Estate Investment LLC)
"We're thankful for the opportunity to be part of the community, and we want to deliver something nice," Tom Carpenter, senior director of acquisitions at Frontier, told the Business Journal.
According to Mike Conway, director of economic and property development for the City of Long Beach, the selection panel unanimously chose the concept proposed by Frontier. The design identifies 4,800 square feet of retail space, including a commercial bank, in addition to 8,400 square feet of restaurant space and a community gathering area.
"The developer has extensive experience in development and construction," Richardson said during the council meeting. "I was very impressed with the proposal they submitted. They demonstrated a strong focus on community needs and [the proposal] was very responsive to community interest. They've committed to continue civic engagement through the course of this process, setting a new design standard for our community."
Mayor Robert Garcia congratulated Richardson and his staff for their work and said that he loves all the development that is happening in Long Beach.
"I love this," Garcia said. "I want to fill all these frickin' parcels with development – the more the better. Come on down, develop our city."
During public comments, Tasha Hunter, Uptown's business district manager, said the business district supports the proposed development, as it aligns with several resident focus groups that said they'd like to see a bank, a sit-down restaurant and a coffee shop in the area.
Former 9th District Councilmember Steve Neal commended Richardson and the council on the sale of the parcel, which he said was vacant well before his term began as the district's representative.
"It is well overdue," Neal said. "I'd like to commend you on your hard work and thank you for your diligence. Congratulations."
Also during the public comment section was the question of whether or not the council was abiding by the Surplus Land Act, which requires surplus properties to be offered up for affordable housing development first, according to Josh Butler, executive director of Housing Long Beach.
"This has been a major issue in other cities, including Oakland which had to turn back around on the sale of many of their properties to provide opportunities for public space and affordable housing," Butler said. "Given the amount of public land that we've been selling off on a regular basis here, I just want to make sure that we won't have to go back after for not following the Surplus Land Act."
Local property owner and broker Susan Doan echoed Butler's concern. Doan said that she had a client who claimed Long Beach was unfriendly to affordable housing developers and asked that, with a shortage of 500,000 homes in Los Angeles County, the city consider affordable housing for some of the remaining former Redevelopment Agency (RDA) properties.
City Attorney Charles Parkin assured Butler that this and previous property sales did comply with the Surplus Land Act. Garcia also pointed out that the city does not have full control over how these former RDA properties are developed.
According to Frontier's Carpenter, the entitlement and permit process for the new project will take about a year, meaning the project will not break ground until August or September 2017. After that, he estimates a six-month construction period, putting project completion in early 2018.
"The plans that we're working on right now show two multi-tenant retail and restaurant buildings with a large open-air courtyard in the middle," Carpenter said. "Somewhere that people in the community can meet and enjoy together. Give the community something nice that's theirs."