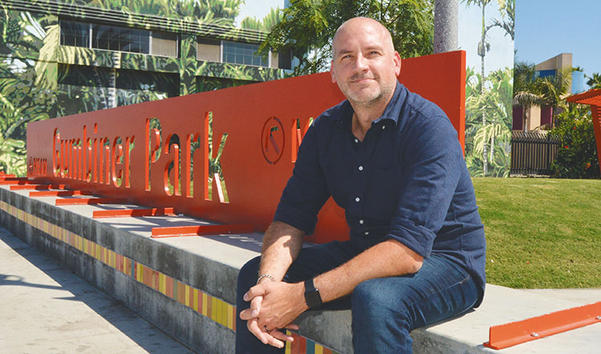 Since his time on the Long Beach City Council, self-proclaimed urbanist Mayor Robert Garcia has promoted livability in the city. This has come in many forms – from residential and commercial development to increased walkability and bikeability and promoting the arts and culture. However, with a slew of duties, the city's youngest mayor cannot devote all of his time on Long Beach's livability. However, Brian Ulaszewski can.
As executive director of nonprofit organization City Fabrick, Ulaszewski focuses his time and efforts on promoting, advocating for and helping to implement progressive urban design in Long Beach that enhances the livability of communities. Ulaszewsk concentrates on health and safety of community residents and increasing park and open spaces citywide.
"What my hope is for livability is that we're all living in communities that are nurturing, that are healing, that are physically and mentally fulfilling," Ulaszewski said. "Everybody is in walking distance of a park. We're looking creatively at how we can transform our infrastructure. There's a lot of resources to build substantial amounts of open space."
Much of the focus of Ulaszewski and City Fabrick is in West, Central and North Long Beach, areas which are often disenfranchised in terms of livability qualities such as parks, bike paths and health considerations, including safety.
Looking at the future of parks, Ulaszewski said the budget is not keeping up with new space being added. He said currently each new park means the rest get a smaller wedge of allocated funds. However, despite this challenge, he said there are ample opportunities for developing more park and open spaces citywide in the future – whether by closing segments of streets as was done to create Gumbiner Park at 7th Street and Alamitos, utilizing the L.A. and San Gabriel rivers, or decommissioning the Terminal Island Freeway. The latter, according to Ulaszewski, has potential to add an El Dorado-esque park to the Westside in the next 20 to 30 years.
"We're looking not just at equality but toward equity and realizing that all districts aren't created the same. All these neighborhoods have their different opportunities and different challenges," Ulaszewski said. "Looking at it not as slicing up our resources nine ways for nine council districts, but looking deeper and looking where the needs are and where the opportunities are and looking through a lens of equity."
One hurdle facing the progress of livability is parking, according to Ulaszewski. He said homes for people should be a higher priority than homes for cars, not just at a city level but also a personal and moral one.
"The parking lot that has 50 cars is more valuable than the apartment that has 20 units and 50 people?" Ulaszewski asked rhetorically. "You have people suing developers over [losing] a parking lot. I mean, where are our values when you're thinking that way? Some people will say [parking] is a livability issue, but I will argue strongly that you eventually find that parking stall. You might just have to park a little bit farther."
As Ulaszewski fights against forms of gentrification that displace a community's current residents, he said one of the greatest challenges of increasing livability is the effect that follows. He explained that as a community is improved with new parks, retail and restaurants and is generally cleaned up, made healthier and safer – all the things he and his organization advocate for – it becomes more desirable to real estate investors as the new "cool place to be."
New investors inevitably mean increased rents and potentially forcing out a community's longtime residents. To combat this issue, Ulaszewski said he envisions a city with parks, bike lanes, safe streets and overall increased livability in all communities, avoiding a draw to any specific one but rather to the city as a whole. Livability would not be an amenity, it would be a fact of living in Long Beach.
Additionally, Ulaszewski said City Fabrick is consistently working with affordable housing developers such as Century Housing and LINC Housing to address affordability issues in the future as they continue working toward equity and equality of livability citywide.
"Hopefully, all the residents that we're building this for will be here to enjoy it, and it's not just for the people that are only now able to afford it," Ulaszewski said. "I'd say it's not dreaming. It's visionary. We have a path toward implementation."