Since Wells Fargo launched the Business Plan Center, an online tool on its free Wells Fargo Works for Small Business website, in 2015, 10,000 small businesses across the country have accessed the tool to create plans for their enterprises. The tool is one of many free resources on the website, which the bank created because of its commitment to small business, according to Ben Alvarado, president of Wells Fargo's Southern California Region.
"Our research has shown us that small businesses that have an actual business plan tend to be more successful and more confident in their business," Alvarado said. A 2015 small business index survey by Wells Fargo and Gallup revealed that only one in three business owners have a business plan. "Those who had a formal written plan reported greater optimism for the year ahead, and the business owners with plans also planned to increase hiring, capital spending and revenue in the next 12 months," he noted.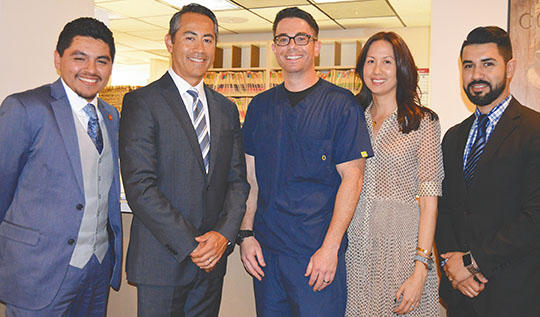 Hatem Abdelhadi, DDS, and his wife Cheryl recently launched a dentistry business in Los Alamitos with help from the Wells Fargo branch in Seal Beach, and the free online small business resources available at WellsFargoWorks.com. Pictured at the business, from left, are: Herbert Medrano, the Abdelhadi's personal Wells Fargo banker; Ben Alvarado, president of Wells Fargo's Southern California Region; Hatem and Cheryl Abdelhadi; and Francisco Galvez, a Wells Fargo payroll specialist working with the couple. (Photograph by the Business Journal's Larry Duncan)
The Business Plan Center features a pre-built portal for entrepreneurs to lay out business strategies. "It takes time to sit down and write a plan, and then coming up with a structure and a template is also something that can be a little cumbersome," Alvarado said. "So to have something all built for you and you kind of plug in your information and make it specific to your business, it's very user friendly. It really encourages people to do it."
Two such people are Hatem and Cheryl Abdelhadi, a Los Alamitos couple with Long Beach roots who opened a dentistry business near their home on April 11.
"We've looked into purchasing a dental office for over a year," Cheryl said. She took on the role as partner in the business, where her husband is a dentist, in addition to her career as a teacher at Long Beach's John Muir Academy.
"It's difficult to know who to talk to. We had tons of consultants that offered help. It's very difficult for a small business to hire all of them," she said, referring to consultants who were offering business planning, human resources, payroll and other services. As new business owners, Cheryl and Hatem weren't able to afford so many consultants.
"Wells Fargo offered a lot to us under one roof," Cheryl said.
"I have been with Wells Fargo since 1998, and Cheryl's been with it just as long," Hatem said. As he was investigating various consultants, Cheryl suggested seeing what Wells Fargo had to offer. "Wells Fargo was like, we've got a credit card machine, [and] we've got payroll and Wells Fargo Works. And all under one roof," Hatem recalled. "We went there that same day to the branch and . . . we took care of all those three things in one day. It was pretty impressive."
The Wells Fargo representatives at their local Seal Beach branch directed the Abdelhadis to WellsFargoWorks.com, where they took advantage of the Business Plan Center. "To be honest, I don't think we would have done it properly [otherwise]," Cheryl said. "The portal took us through multiple screens where you have to think about different aspects of the business," she said, explaining that it asked them to address the goal of the business, and helped them to examine their financial liabilities and assets.
"There are links for getting macro loans for working capital and things. That's also a big help too, just in case as we start to grow we want to do renovations or we need some extra working capital," Hatem said.
WellsFargoWorks.com is free for any small business owner to use, whether they bank with Wells Fargo or not. The website currently garners about 6,000 visits per day.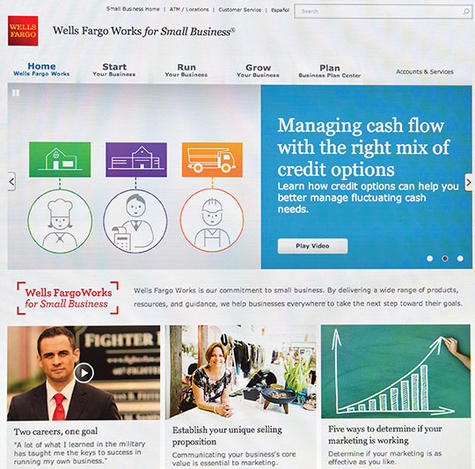 WellsFargoWorks.com is a free resource for small business owners.
"We know that we are only as strong as the community we serve. So, by having a really strong small business community, we know that it's going to really benefit everybody," Alvarado said of Wells Fargo's decision to make the online resource free for all.
"We wanted to create a portal where we could put all the resources we have for small businesses right in their hands so that they could access tools, videos, business planning programs and make it really easy," Alvarado said.
In addition to the Business Plan Center, WellsFargoWorks.com features tips and resources from business experts in the forms of videos and articles. The site includes a variety of tools, including the Competitive Intelligence Tool, an interactive portal where users can map out where their competitors are, and compare their businesses.
Wells Fargo benefits from providing this free resource because it helps deepen its relationship with existing small business customers and opens the door to gaining new customers, according to Alvarado.
"It was designed with a small business owner in mind, and what they've told us that they need," Alvarado said of the website. "The most common things that we hear they need are they need help in starting a business or growing their business," he said, adding that growing their business means both access to capital and gaining more customers. The website provides a platform for users to research different channels for accessing capital, whether it be bank funding or SBA loans, he noted.
"We're constantly updating the website with new stories and new articles and new tools," Alvarado said. "One of the great things about Wells Fargo is we love feedback. So a lot of what we do and how we design things comes from customer feedback," he noted. "So you'll see continuous upgrades and additions to the website to make it easier and to have fresh data on there for our customers." Wells Fargo plans to launch a new tool for the website this year.