The economic volatility of the late 2000s (commonly referred to as the Great Recession) created a series of financial lows that, years later, have served to heighten fiscal awareness – and responsibility – among consumers, local experts say.
"For a lot of people, the memories of the recession still linger," says Keith Kobata, Wells Fargo area president of North Orange County and Long Beach. "So if you couple that with modest economic growth, it actually has had a positive impact on how people are managing their money. We're seeing people thinking more about their finances and how they handle their money. They're more responsible."
Ryan Gordon, first vice president of investments at The Petrie Group of Wells Fargo Advisors, agrees. "We're starting to see that clients are much more interested in looking at the big picture," he says. "People are paying much closer attention to the risks that they're taking and making sure that they preserve their assets, so that if we see a recession or if we see a downtick, they're not going to go through the same thing they did in '08 or '09."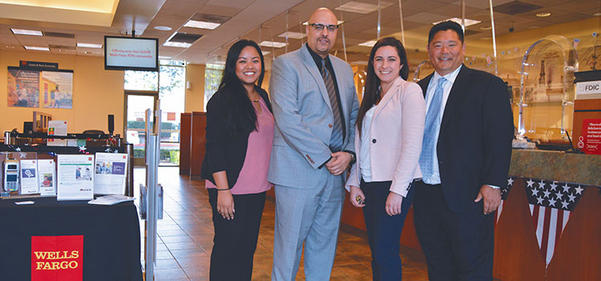 Pictured at Wells Fargo Bank's Los Altos Market Center location on Bellflower Boulevard are from left: Jannie Chan, assistant manager; Peter Kosa, branch manager; Reham Rasem, service manager; and Keith Kobata, area president of North Orange County and Long Beach, who told the Business Journal that since the recession, "we're seeing people thinking more about their finances and how they handle their money." (Photograph by the Business Journal's Larry Duncan)
For many, the recession – along with external political and global economic matters – has forced them to turn inward toward establishing or refining their own financial goals.
"The recession, while very concerning and very challenging and difficult for a lot of people, I think has helped clients get more focused on the conversations that we're having with them about their goals," says Nathan Lee, senior vice president of wealth management at Merrill Lynch.
"Having good, clear, concise conversations with our clients about what they're trying to accomplish is the core of what we do, and it should be the core of most individuals' conversations about their finances . . . so that they don't have to worry about the day-to-day volatility in the market. And they can take some comfort in knowing that the strategies and the investments they have in place are all centered around them and what they are trying to accomplish. . . . [Clients] want that peace of mind because of what they've experienced, and therefore, they're more willing to discuss their finances and their assets in the context of those goals," Lee adds. "They have more confidence that when another recession occurs, they will be better positioned to weather the storm."
Local experts agree that developing, as well as stress-testing, financial plans has become a more prominent practice among individuals since the recession.
"[People] really want to understand how their plans work out, and they really want to understand what happens to their portfolio when there's a market cycle," says J.C. Abusaid, president and chief operating officer of Halbert Hargrove. "There's been a lot of education that we've done with that in making sure clients understand how we would go about a scenario like 2008. . . . We're focused on knowledge; we're focused on discipline. We want to make sure that the market noise – the ups and downs – don't affect, at the end of the day, how we're investing and what people should be doing in terms of their portfolios."
Careful Spending And Conscious Savings
Experts note that part of financial planning is an increased focus among consumers and clients on expenditures and a desire to understand the implications of their decisions.
"Clients really want to understand what they can afford to spend upfront. They're really focused on narrowing and being very clear about their goals," Abusaid says. "Instead of a client notifying us that they bought a boat or a new car, there's more cooperation with us, where we work together and evaluate whether or not a new expenditure fits within their plan. . . . There's a lot more dialogue. Instead of having those emotional purchases or fast decisions, clients are consulting with us."
One of the greatest takeaways from the recession, Gordon says, was the recognition of excess spending. "I think the average person is much more intelligent and is more informed about how to spend correctly and how to save correctly," he says. "The wisdom that we have is based on our past experiences, and because we went through such a difficult recession, that has definitely impacted what we do going forward. And hopefully, it means people aren't going back to those same types of habits that got us into that recession to begin with."
Gordon adds that his clients are much less likely to use credit cards or accumulate credit card debt. Rather, he has seen clients delay large purchases and use cash instead of credit cards for purchases.
Kobata adds that he is also seeing a more cautious approach to credit, noting that there's an increased focus on paying down debt. "We're seeing a decrease in our customers who are late in payments or even defaulting, so [there's] much more control of credit spending," he says.
When considering purchases, local experts agree that consumers are more frequently engaging in comparison shopping in their search for the best deals – particularly with the increasing popularity of online retailers. "I think that's empowered the consumer in a lot of ways," Lee says. "That's definitely changed spending habits, because if you can't find what you're looking for in a retail type setting, you can always go to the Internet."
Businesses, meanwhile, are also searching for cheaper solutions for their business needs, says Kobata, who notes that he is seeing businesses opt for cloud source services in lieu of servers or choose to utilize online human resources services rather than a direct hire.
For larger scale expenditures requiring financing, such as a home or car, Gordon says consumers are increasingly paying attention to interest rates – and shopping around for the best rate.
Still, while interest rates are at historic lows, Blake Christian, partner at Holthouse, Carlin & Van Trigt LLP, notes that there's a shifting consumer mentality away from ownership.
"People are preferring to access assets on an as-needed basis, like an Airbnb instead of buying a vacation home, or using an Uber or ridesharing service," Christian explains. "And also, because there's such a transient workforce these days and younger people are looking at jobs as very temporary in most cases, they're not going to bother to buy a house in an area that they [may] move from in 18 months or two years because they get an assignment in another state or overseas. The Millennial mentality is they like to be mobile, and they look for other opportunities to expand their horizons geographically."
For many, conservative and careful spending contributes to building a healthy savings – something that local experts say has increased since the recession.
"People have learned that they have to ratchet down their expectations, especially around their spending expectations," Kobata says. "So they've really learned to be wiser spenders and better savers."
Kobata notes that he has seen an uptick in customers interested in building their emergency fund. "That's different from what we saw prior to the recession," he says. "People are much more cautious. They just don't want to be caught in a situation where they feel helpless in not having the emergency resources set aside."
"We've gone through this throughout our history, whether it was the Great Depression or a recession – people realize that savings is a must," adds Valerie Magness, first vice president and branch banking administrator for Long Beach-based Farmers & Merchants Bank.
Still, she says, savings can be challenging. "With the economy the way it is, people find it hard to save – it's hard to put money away every month," she explains. "So we reach out to our clients and talk to them about savings for a purpose – saving for a life event or something they want to purchase rather than building up debt or using credit to purchase things."
Savings rates, in particular, are increasing among Millennials, Christian notes. "Part of that is they're not wasting their money on high-end cars and buying things, so they're a lot more liquid," he explains, noting that Millennials generally steer away from accumulating debt due to student loan burdens.
Gordon agrees, adding that he's seeing Millennials opt for moving in with their parents after college rather than renting or buying their own home. "Even if they do have a job, they're being smarter with what they do with that income," he says. "They're using it to pay down debt before they go on and buy a house or a condo or a car. . . . So I think the recession not only affected the Baby Boomers and the older generations but also the younger generations who are coming out of college. I think it's impacted how they view debt."
Interestingly, Kobata says, there is an increasing desire among younger customers to build savings, including retirement accounts, and enhance their financial literacy.
"They may not fully understand what their parents went through, but they want to learn, they want to understand, and they want to prepare themselves," Kobata says. "So we're seeing an increase in a need from schools and nonprofits asking us to have bankers come out and provide financial literacy classes."
The importance of understanding one's personal finances and individual goals, coupled with preparedness, experts say, is one of the biggest lessons learned from the recession – one that has helped shape the way consumers spend and save.
"Change can happen at any moment," Magness says. "I think we all saw how bad it can get, [and] we saw how the world can change within minutes. We should always try to be prepared. Savings is part of that preparedness and in being able to cope with anything that life throws at you. I think that's what really came out of [the recession]."