Dozens of local grocery workers gathered at the Lakewood Ralphs store Thursday to protest the proposed merger between Kroger and Albertsons Companies, which they say will result in store closures, layoffs and higher prices for customers, though Kroger has denied those claims.
Since the merger between two of the nation's largest food and drug retailers was announced in October, workers, elected officials and consumer groups have spoken out against it.
"It's not good for the community or employees," Steven Manzanares, who has worked in grocery stores for 36 years, said during the protest.
The companies have not stated stores or jobs would be lost as a result of the merger, but Manzanares said he fully expects it, having been through a similar situation over 25 years ago. In 1995, he was celebrating his 10th year with Alpha Beta, a supermarket that first opened in 1917.
In 1994, Alpha Beta owner Yucaipa Companies purchased the Ralphs Grocery Company. All stores were rebranded as Ralphs or Food 4 Less and Alpha Beta ceased to exist.
"People had to move to different locations and if you didn't have enough seniority, you got bumped out," Manzanares, who has worked at the Lakewood store for six years, said.
"They are going to monopolize the market and be able to raise the prices to whatever they want," Manzanares added, noting that unionized workers also will have less bargaining power because there will be fewer competitors vying for workers.
In a statement, representatives for Kroger said on behalf of both companies that the merger will not result in any layoffs of frontline workers or store or facility closures.
"Kroger is one of America's largest unionized workforces, and this merger secures the long-term future of union jobs while creating a more competitive alternative to large, non-union retailers," the statement said. "Beginning day one, we will invest an additional $1 billion to raise wages and benefits, continuing our longstanding track record of associate investments."
"We pursued this merger to grow jobs, lower prices and provide more choices to consumers across the U.S.," the statement continued.
Combined, Kroger and Albertsons Cos. have over 5,000 stores nationwide across nearly three dozen brands. Locally, Kroger operates Food 4 Less and Ralphs, while Albertsons Cos. operates Albertsons, Vons and Pavilions.
Workers and union representatives noted during Thursday's event that Southern California has a high concentration of stores from both companies, so any fallout from the merger would be felt significantly here. In Long Beach and Lakewood alone, the companies operate more than a dozen stores.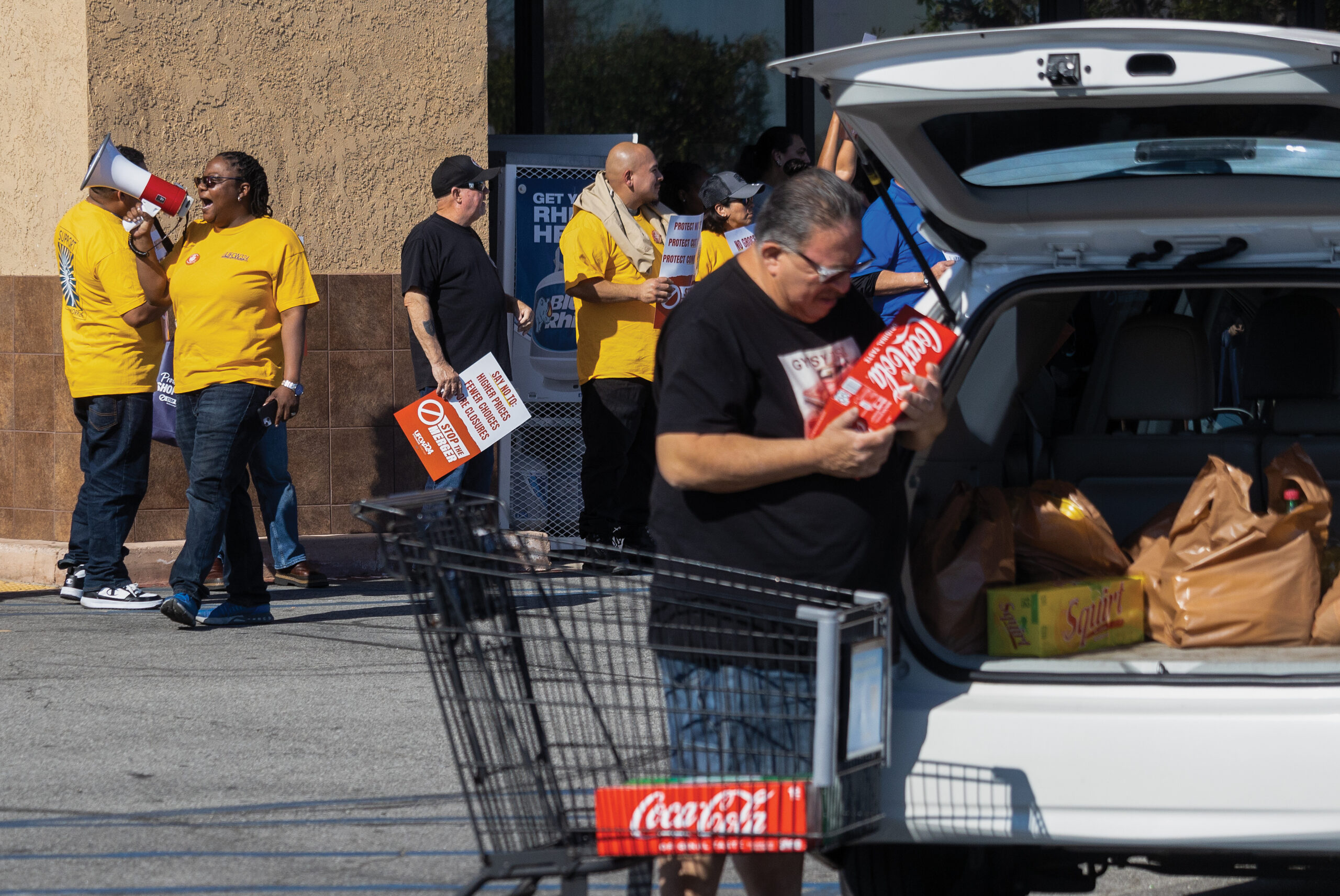 The companies claim the merger will benefit all stakeholders in a variety of ways:
Fresher food faster;
A broader selection of products, offering higher quality and better value;
A better customer experience;
Expedite both companies' sustainability initiatives;
Increased customer traffic, which means bigger profits;
And increased shareholder returns.
But workers, union leaders and some politicians see the move as a power grab to monopolize the industry.
"Let's talk about what a monopoly and what an oligopoly gives us," Assemblymember Josh Lowenthal said during the protest. "Is it good for consumers?"
"No," workers shouted back.
"Is it good for workers?" Lowenthal asked.
"No," workers responded again.
"Is it good for our communities?" Lowenthal questioned.
"No," workers said a third time.
Lowenthal pointed to recent oil and gas prices, which increased sharply as company profits soared to record highs.
"If the cost of groceries goes up, it affects the entire economy, it affects our communities, and everybody loses except the shareholders," Lowenthal said.
Amid the pandemic, grocery prices increased with demand and stores reported historic profits. Combined, Kroger and Albertsons Cos. generated approximately $210 billion in revenue, $3.3 billion in net earnings, and $11.6 billion of adjusted earnings before interest, taxes, depreciation and amortization in fiscal year 2021, according to the merger announcement.
United Food and Commercial Workers Local 324 staged the Lakewood event. Other UFCW groups are hosting similar events this week, including Local 770 in Los Angeles, Local 5 in Northern California, locals 367 and 3000 in Washington, Local 7 in Colorado and Local 400 in Washington, D.C.
UFCW locals represent more than 100,000 Kroger and Albertsons employees in 11 states and D.C. The merger could put upward of 5,750 unionized employees out of work, leaders estimate.
Over 100 organizations have created a coalition to "Stop the Merger," which is calling on the Federal Trade Commission to block the joining of the two grocery giants.
"It is critical that we remain strong and united to protect workers, customers, food suppliers and communities from the disastrous effect of this merger," Local 324 President Andrea Zinder said during the event, adding that closures would increase food deserts locally and across Southern California. "Customers who already pinch pennies to afford groceries for their families will see even higher prices. We can't let that happen."
Editor's note: This story has been updated to include a new statement from Kroger on behalf of both companies.