As the national economy grows in strength, so does business at the ports of Long Beach and Los Angeles, the nation's largest port complex. Both ports broke records for imported containerized cargo volumes last year, and, barring a trade war with China, economists believe the ports could do it again this year.
"My instinct is, when it all sorts out, we are going to see record levels again this year," John Husing, international trade economist and owner of Irvine-based Economics & Politics Inc, predicted. In 2017, the ports brought in a combined 8.6 million twenty-foot equivalent units (TEUs) of cargo, breaking the all-time high of 8.2 million TEUs achieved in 2006, according to Husing.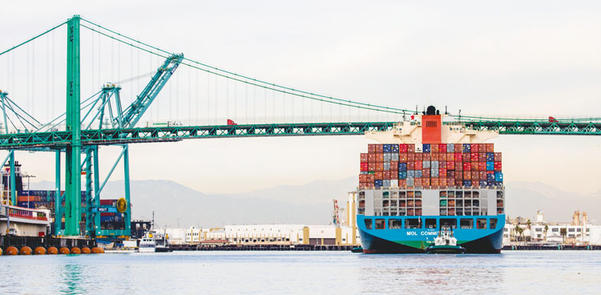 A ship passes beneath the Vincent Thomas Bridge into the Port of Los Angeles's inner harbor. Cargo volumes through the port decreased 27% in March, which officials attributed to the celebration of the Lunar New Year in Asia causing reduced shipments. (Port of Los Angeles photograph)
Both ports reported strong months in January and February, besting the cargo volumes that moved during those months a year prior. But in March the Port of Los Angeles experienced a 27% decrease in cargo volumes. Husing and port officials attributed the dip to the Lunar New Year celebrated in Asia during that month, which typically results in a drop-off in transpacific shipments.
Exported container shipments have been flat over the past several years, Husing observed. "The record was 3.6 [TEUs] in 2012 and 2013. It fell off and it has come back a bit," he said, noting that the San Pedro Bay ports processed 3.4 million TEUs in exports last year. "That may go up a tiny bit because the value of the dollar is now weaker."
Changes in trade patterns could affect exports through the ports this year – either positively or negatively. Jock O'Connell, international trade adviser with Beacon Economics, noted that a major export to China – food-soiled paper goods – has dropped precipitously in the past year.
"Well, the Chinese finally got sick and tired of opening up a container on a hot, sticky day in July and finding all of this crud in there," O'Connell said. "So they said, 'Well, we're going to increase the standards [for] the level of impurities that can be found in recycled paper, in cardboard.' . . . And the industry in the U.S. and Europe reacted like, 'We can't achieve that standard. We'd have to go all the way back to the individual throwing their garbage out.'"
A year ago, soiled paper goods accounted for about 8% of containerized tonnage leaving the United States' West Coast ports, with each grabbing an equal share of the business, O'Connell explained. "And it's down to like 0.2% now. The trade collapsed," he said. Other Asian and South Asian countries such as Vietnam or India could pick up the slack, he speculated.
A growing demand abroad for resins, a type of plastic byproduct of oil production, could present an opportunity for local ports, assuming that they win the trade, according to O'Connell. Most resins in the United States originate from the Gulf Coast due to the high concentration of oil production there, he noted. "[The ports of] L.A. and Long Beach are eagerly pursuing, in conjunction with the railroads, a large chunk of that trade," he said.
However, O'Connell pointed out that increasing manufacturing in the southeastern part of the country could present more of an opportunity for shippers who wish to maximize their backhaul – the return of their imported containers. Companies in Asian countries that traditionally ship their goods to the San Pedro Bay ports could choose instead to ship their exports through the Panama Canal to the Gulf and East Coasts, where they would have ample opportunities to reload those containers with goods and increase their revenues for service, O'Connell explained.
The San Pedro Bay ports handle 48.8% of all U.S.-China maritime trade, according to O'Connell. Of the ports' own business, about half is conducted with China. For this reason, if the back-and-forth threats of tariffs made by President Trump and China's President Xi Jinping escalate, the local ports would be impacted.
"If there are steps taken to penalize trade by imposing tariffs on imports, then those are the ports that are likely to see the greatest impact," O'Connell said. In March, Trump enacted tariffs on aluminum and steel imports, including from China. In response, China instituted tariffs on certain United States agricultural products such as wines, fruits and nuts. O'Connell said that the San Pedro Bay ports aren't particularly vulnerable to these tariffs. "Most of the agricultural-oriented trade – the fruits, the nuts, certainly the wines – are shipped through the Port of Oakland," he said.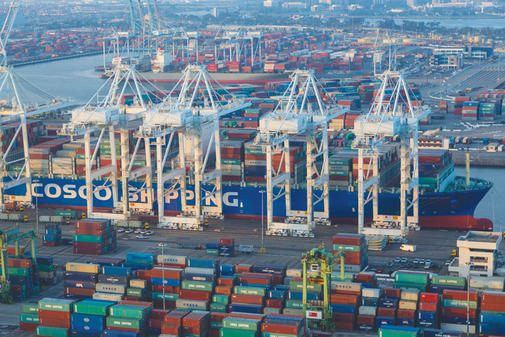 Economists and international trade industry executives predict that 2018 could be another record-breaking year for cargo shipments moving through the San Pedro Bay ports. While the concept of a trade war with China could hinder that outlook, most parties interviewed by the Business Journal found it to be an unlikely outcome. (Port of Long Beach photograph)
However, the Chinese government also imposed a tariff on aluminum scrap metal, a penalty that is likely to have some impact at the ports of Los Angeles and Long Beach, O'Connell pointed out. "This is likely to have a more immediate effect and a larger effect on the sheer number of containers that are going out of the ports," he said.
Trump also indicated that he would instate $50 billion in tariffs on Chinese goods to dissuade the country from its practices of intellectual property theft – causing Jinping to respond with a threat of $50 billion in-kind tariffs. On April 4, Trump asked U.S. Trade Representative Robert Lighthizer to consider $100 billion in additional levies.
Husing suspects that Trump will ultimately back off, as will China. If Trump goes ahead with additional levies on Chinese goods, Jinping would likely fire back by hitting American agricultural products, the producers of which represent a chunk of Trump's support base, he explained. "I think the Chinese are smart enough to figure out that they don't want to do this," he said.
If the shadow of a potential trade war were not looming at the moment, O'Connell said the major issue at hand for the ports would be how to pay to comply with environmental regulations. Last year, the ports passed a new iteration of the Clean Air Action Plan, which calls for the conversion of terminal equipment to zero emissions by 2030 and of trucks to zero emissions by 2035. O'Connell referred to state air regulators' rules as "draconian."
"[The ports have] got to spend a colossal amount of money on meeting air quality standards that are being imposed by state and by regional air quality agencies," O'Connell said. "They're not going to get much help from Sacramento. And it's unlikely that they're going to get a lot of help [from the federal government], particularly under an administration that absolutely despises all things California."
Despite challenges, both Husing and O'Connell agreed that, ultimately, as long as a trade war between the U.S. and China does not erupt, the outlook for the ports should be good through the remainder of the year.