Increased competition from upgraded ports and a diversifying global economic base will create challenges for the ports of Long Beach and Los Angeles in 2020, port executives and international trade analysts say.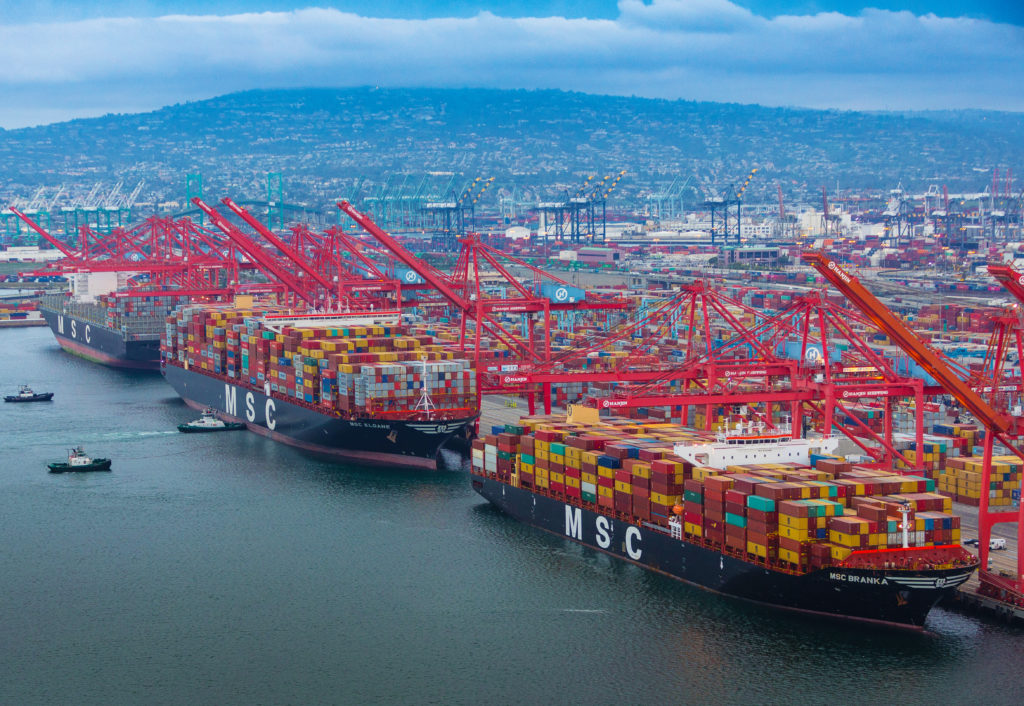 "It's going to be a very, very busy year. But we believe there are opportunities, particularly for export," said Gene Seroka, executive director of the Port of Los Angeles.
In the short term, tariffs from the ongoing trade war with China are the biggest talking point, with short-term impacts to the port only part of the concerns expressed by those who manage and analyze port and shipping operations.
"A lot of the factors that set up the boom in the trans-Pacific trade are going away," said Jock O'Connell, international trade advisor for Los Angeles-based Beacon Economics. "The big question the ports will struggle with is their market share, particularly in terms of cargo heading for the East."
Tariffs on goods moving between the U.S. and China have encouraged shippers and entire industries to pursue short- and long-term strategies to avoid the higher costs of goods movements. On January 15, President Donald Trump signed the first phase of a U.S.-China trade agreement, in which China pledged to increase the amount of U.S. goods and services it purchases over the next two years to the tune of $200 billion over 2017 levels. While the agreement reduces a portion of U.S. tariffs to 7.5% on Chinese products, 25% tariffs remain in place on hundreds of billions of dollars worth of Chinese goods. Trump stated tariffs could be lifted with the second phase of the deal.
"This is a big win for the president," Treasury Secretary Steven Mnuchin told Fox News. "It's not everything. There will be a 'Phase 2.' But this is the first time we've had a comprehensive agreement with China."
The trade conflict has sped another trend that had already begun – the diversification of manufacturing throughout countries away from Japan, China and Korea. Pursuing inexpensive labor and manufacturing costs, heavy industry is moving to other Southeast Asia countries and increasingly also Africa.
"During the past 18 months, we've seen shifts in our trading partners," Seroka said.
For example, in 2009, total imports from Vietnam into the U.S. were valued at $12.2 billion, according to U.S. Census Bureau data. A decade later, that figure had risen to $55.3 billion, and that was before the import figures for November and December had been added in. In response, the U.S. added tariffs to exports from that country, which is becoming a major player in the electronics and tech industries.
This will create challenges and opportunities for the ports in the near term, but especially in the more distant future.
"The Southern California ports benefited from the fact that the bulk of the trans-Pacific trade took place with Japan, China, Korea," O'Connell said. "When you start trading with Vietnam, Malaysia, other ports start to become more feasible. More cargo now is originating in places that would not travel through West Coast ports."
But the diversification of manufacturing means opportunities as well.
"As [Asian] exports have grown, their demands for raw materials are going to be growing to support that cycle, and we see potential for exports there," Seroka said.
In addition, the new U.S.-Mexico-Canada trade pact could benefit the ports of Los Angeles and Long Beach as components from Asia flow through the ports and, via rail, to assembly facilities across North America. In addition, as the economies of Asian countries strengthen, the potential for exports of goods increases.
Shifting origin points are combining with improving port facilities on the East Coast to provide more competition for the ports of Long Beach and Los Angeles. The emergence of lower-cost manufacturing in the Indian Ocean and East African regions means that cargo originating there is closer to East Coast ports than it is to the West Coast.
"The advantage the ports of Los Angeles and Long Beach held for a very long time was that they were the only ports that could handle the very large vessels and the pressure those vessels placed on the port infrastructure," O'Connell said.
With more capability from East Coast ports, and Canadian ports on the West Coast aggressively marketing shorter shipping periods, there is increased competition for shipping goods to the U.S. Midwest region, an area O'Connell calls the emerging "battleground" for market share among ports.
One of the advantages that the ports of Long Beach and Los Angeles have is their experience in dealing with the pressures of unloading the world's largest container ships and processing those massive loads quickly and effectively. Port administrators say that continuing to increase the speed and efficiency with which containers are handled is key to maintaining their competitive advantage.
One development that will be critical in the near future, Seroka said, is the deployment of a universal truck reservation system, which will allow drivers to schedule pickups and deliveries by visiting a single online site, rather than having to try to coordinate arrivals on several platforms.
"We have to continue to enhance our efficiencies," said Mario Cordero, executive director of the Port of Long Beach. "We have to be able to continue to compete with other ports."
Senior Writer Brandon Richardson contributed to this story.