Downtown Long Beach's location – situated halfway between Los Angeles and Orange County and adjacent to the largest port complex in the country – is just one of many reasons the area is a hub for a number of industries. International trade, oil and gas production, health care, financial services, and the hospitality and tourism industries thrive in downtown, and serve as major employers and economic generators for the City of Long Beach.
International Trade
One of the industries most historically synonymous with Long Beach and the downtown area is international trade. The ports of Long Beach and Los Angeles make up the largest port complex in the country. About 40% of the nation's goods travel through these ports, which support a variety of other industries in the supply chain, such as trucking, rail, warehousing and freight forwarding.

The Middle Harbor Redevelopment Project at the Port of Long Beach is in the midst of its second phase. The project, which involves combining two aging terminals so that tenant Long Beach Container Terminal can service larger vessels, is generating about 1,000 construction jobs, according to Noel Hacegaba, the port's chief commercial officer. (Business Journal photograph by John Robinson)
The Port of Long Beach sits on 3,000 acres of land and comprises 4,600 acres of water, with 22 shipping terminals. Its largest operator is Long Beach Container Terminal, a division of Orient Overseas Carrier Line.
"We estimate that one out of eight jobs in Long Beach is generated by port activity," Noel Hacegaba, chief commercial officer for the Port of Long Beach, told the Business Journal. The port also supports more than 300,000 jobs across Southern California and more than 1.5 million jobs nationwide, he said.
The port's two largest capital improvement projects are also major job creators. The Middle Harbor Redevelopment Project, which involves combining two aging terminals into an energy-efficient facility able to handle the world's largest ships, is responsible for generating about 1,000 construction jobs, according to Hacegaba. The Gerald Desmond Bridge Replacement Project, which involves tearing down an old bridge and replacing it with a taller structure, generates about 4,000 construction jobs.
"These are multi-year construction projects," Hacegaba said. "Obviously the workers eat in Long Beach [and] they shop in Long Beach, so there is a multiplier effect, if you will, by having those jobs located within the city."
Oil & Gas
The oil and gas industry, too, has a storied history in Long Beach and the downtown area, which sits on the Wilmington Oil Field. The industry's presence is highlighted in the four THUMS oil islands just off downtown's shoreline. The islands, built to look like resorts at sea, hide some of the oil rigs that generate revenue for the city.
"Long Beach has a unique position among California cities, since it is the operator of the Wilmington Oil Field," Robert Barnes, executive vice president of operations for California Resources Corporation (CRC), wrote in an e-mail. "The oil and gas operations have generated $4.4 billion for the city and the state in direct revenues since 2003. In addition to supporting essential city revenues, CRC is proud to provide good-paying industry jobs for residents of the local community."
CRC's southern operations headquarters are located in Downtown Long Beach at 111 W. Ocean Blvd. The firm and its THUMS and Tidelands (state-designated portions of Long Beach along the waterfront, including downtown and the port) affiliates produce oil and natural gas for the city and the state.
"Our current workforce in Long Beach is about 400 employees and 400 contractors who work at the oil production islands and our facilities in the port," Barnes said. "As oil prices improve, we expect to increase well work projects and construction activities, which should provide additional employment opportunities."
According to Robert Dowell, director of Long Beach Gas & Oil, the city's oil and gas department, overall oil production in Long Beach is about 12 million barrels per year, with 80% to 90% of that coming from the Tidelands area. "It's very important. The revenues that are derived in the Tidelands are spent in the Tidelands area," he said.
"We have a very strong producing field, and they do a very good job of managing it and keeping operating costs to a minimum," Dowell said. "At present, it is still spitting off revenues, although they are not what they once were. . . . But they are pretty significant."
Health Care
Molina Healthcare, a national health plan and care provider, is headquartered in Downtown Long Beach, where it serves as a major employer with around 3,200 employees.
The firm, which was founded in Long Beach in 1980, opened its headquarters in downtown in 1991. "Back then, we moved because there was a lot of vacancy and there was cheap space," John Molina, CFO, recalled. "And there is good access from the freeways and good access for people who live in Long Beach."
The health care giant is now a major occupant of office space throughout downtown. The firm occupies about 80% of Molina Center, plus twin office buildings at 200 and 300 Oceangate. The company also occupies two buildings at the corner of 6th Street and Pine Avenue and multiple floors at One World Trade Center (along with additional space in the city outside of downtown).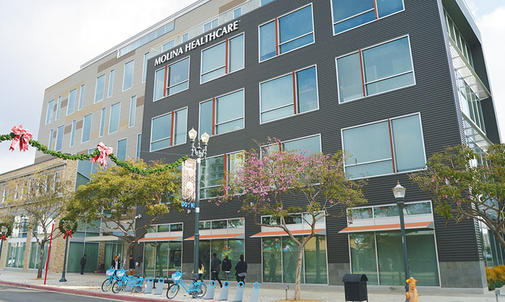 Molina Healthcare is one of the largest employers in the downtown area, with about 3,200 employees spread across multiple office buildings, including the one pictured here at 7th Street and Pine Avenue. (Photograph by the Business Journal's Larry Duncan)
"We keep growing and growing," Molina said. "At some point as the capacity and vacancy in downtown keeps going down, I don't know how much more we can put in Long Beach," he added, noting that recently parking has also become scarcer downtown. "Hopefully Molina [Healthcare], the city and other businesses will collectively figure out some solutions, because that is the one thing that sort of hinders expansion and growth."
Other health care companies have operations in the downtown area. U.S. HealthWorks Medical Group operates an occupational health care clinic, with urgent and specialty care, at 100 Oceangate. HealthCare Partners has a clinic at 500 Alamitos Ave., and Urgent Care Plus operates at 555 E. Ocean Blvd. There are also many small businesses in the health care industry in downtown, including optometrists, dentists and more. And, of course, major hospital facilities are available at St. Mary Medical Center on the edge of downtown.
Financial Services
Downtown Long Beach is a hub for professional services, particularly those within the financial industry. Several major financial services entities are headquartered in downtown, including Farmers & Merchants Bank, International City Bank, and fiduciary management and investment firm Halbert Hargrove.
Downtown is also home to Wells Fargo's California Trust Center, accounting firms like Holthouse Carlin & Van Trigt LLP and Windes, and other investment and wealth management firms. This year, City National Bank debuted a new regional banking center and banking branch at 100 Oceangate.
The oldest financial institution native to downtown is Farmers & Merchants Bank, which was founded there in 1907. In 1920, founder C.J. Walker bought land at 301 Pine Ave., where he constructed F&M's headquarters. Completed in 1923, the bank still operates there today.
"We were founded with a very small amount of money at the time," Henry Walker, descendant of C.J. Walker and current president of the bank, told the Business Journal. "But today, the best measurement of how we have grown is our balance sheet. Currently, we sit at $6.7 billion in total assets, which puts us in the top 2% of the largest banks in the United States." Walker attributes the bank's success, in large part, to its focus on relationship banking.
F&M also operates F&M Trust Company – the oldest state-chartered trust company in California – at its Pine Avenue headquarters. The company manages in excess of $2 billion in assets and estates.
"Our commitment to consistency, to heritage, to our values – that's a reason we stay downtown," Walker said. "There were some dark periods in downtown. . . . If we left, the downtown would have struggled further. We couldn't do it," he reflected. "That's one of those qualitative things that I think gets lost in [terms of] how much we contribute back to the community in Long Beach." F&M's presence in downtown has likely attracted other banking institutions to the area, he added.
"We enjoy downtown. And I tell you, we keep getting so many positive comments about what's going on downtown," Walker said. "If you look at downtown today, it shows more promise than it has in 30 years."
Hospitality & Tourism
Downtown's hotels, attractions, restaurants and drinking establishments make up one of the largest segments of the local economy, according to a recent report for the city by Los Angeles-based Beacon Economics.
In 2016, overnight visitors to local hotels generated $26.2 million in transient occupancy (hotel bed) tax – the most ever in the city's history, according to the Long Beach Convention & Visitors Bureau. About 6.8 million people attended Long Beach attractions – like the Aquarium of the Pacific and the Queen Mary – and festivals in 2016, the CVB estimates.
Citywide, more than 20,000 people are employed by the tourism and hospitality industry, the heart of which is seated in downtown. One of the strongest segments of this industry is restaurants and drinking places, which make up 75% of employment in the industry overall, according to Beacon Economics.
Both Pine Avenue and The Promenade have become restaurant rows, with eating establishments taking up most retail spots. The East Village, too, is home to many eateries, ranging from Thai restaurants to southern-style cafes and even a creperie. Shoreline Village is also host to many longtime and popular restaurants, from the original Yard House to Parkers' Lighthouse and more.
New restaurants and bars continue cropping up in the downtown area. Recent years saw the opening of larger dining establishments like BO-beau kitchen + rooftap and The Federal Bar on Pine Avenue. The trend is continuing at The Promenade, where gourmet hot dog joint Dog Haus opened earlier this year.
Around the corner, Beer Belly just opened at 3rd street and Long Beach Boulevard. Its neighbor, Rainbow Juices, a locally operated raw juice joint, is an example of the locally grown success of many other downtown eateries and drinking places. Chrissy Cox and her business and life partner, Dawna Bass, will soon expand into an adjacent vacant retail pad with a new raw food eatery called Under The Sun.
In the same ground-floor retail development, around the corner from Beer Belly on Long Beach Boulevard, are Recreation Coffee and Beachwood Blendery – coffee and beer joints unique to Long Beach. "Our landlords have been super supportive of local and fresh food options, and they wanted to make that corner more like local crafters," Cox said. Newly constructed lofts and apartments are home to young professionals who are supporting local eateries, she observed.