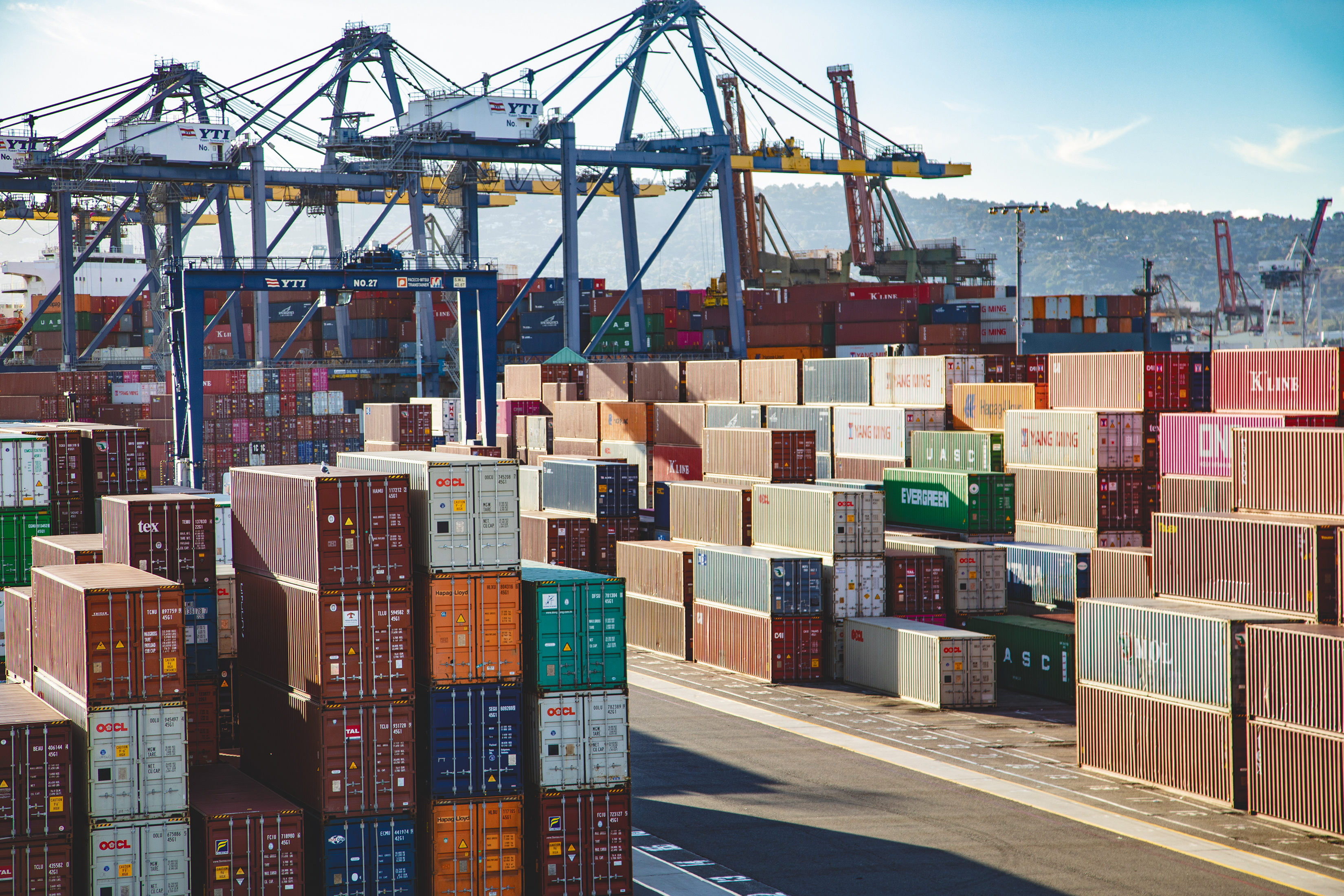 Following an influx of imports sent by shippers seeking to beat out expected tariffs – a negotiating tactic that was pushed from January to March, and now indefinitely, by the Trump administration – the top executives of the twin San Pedro Bay ports are looking ahead. While the White House has created a degree of uncertainty around trade policy, both executives are confident that 2019 will turn out to be nearly as successful as 2018 – and each are keeping their eye on multiple moving targets that stand to affect, for better or worse, their competitive edge.
Cargo volumes through the ports have been a mixed bag so far this year. At the end of the first quarter, the Port of Long Beach reported a 4.7% decrease in container traffic compared to the same timeframe in 2018. Still, it was the port's second-best first quarter ever. The Port of Los Angeles, meanwhile, reported a 4.6% growth rate in overall cargo volumes during the first quarter.
"The numbers at the surface look pretty good, but as we start looking at them, what we've seen on the import side is that a lot of people had advanced their inventories to avoid higher tariff rates," Gene Seroka, executive director of the Port of Los Angeles (POLA), told the Business Journal. "That was especially noticeable during the fourth quarter of last year. At the beginning of this year, we saw a pretty early push in January leading up to Lunar New Year," he continued, referring to a holiday celebrated throughout Asia. When the Trump administration decided to lift its self-imposed March 1 deadline to come to a resolution with China over an ongoing trade dispute, Seroka said the rush of imports eased.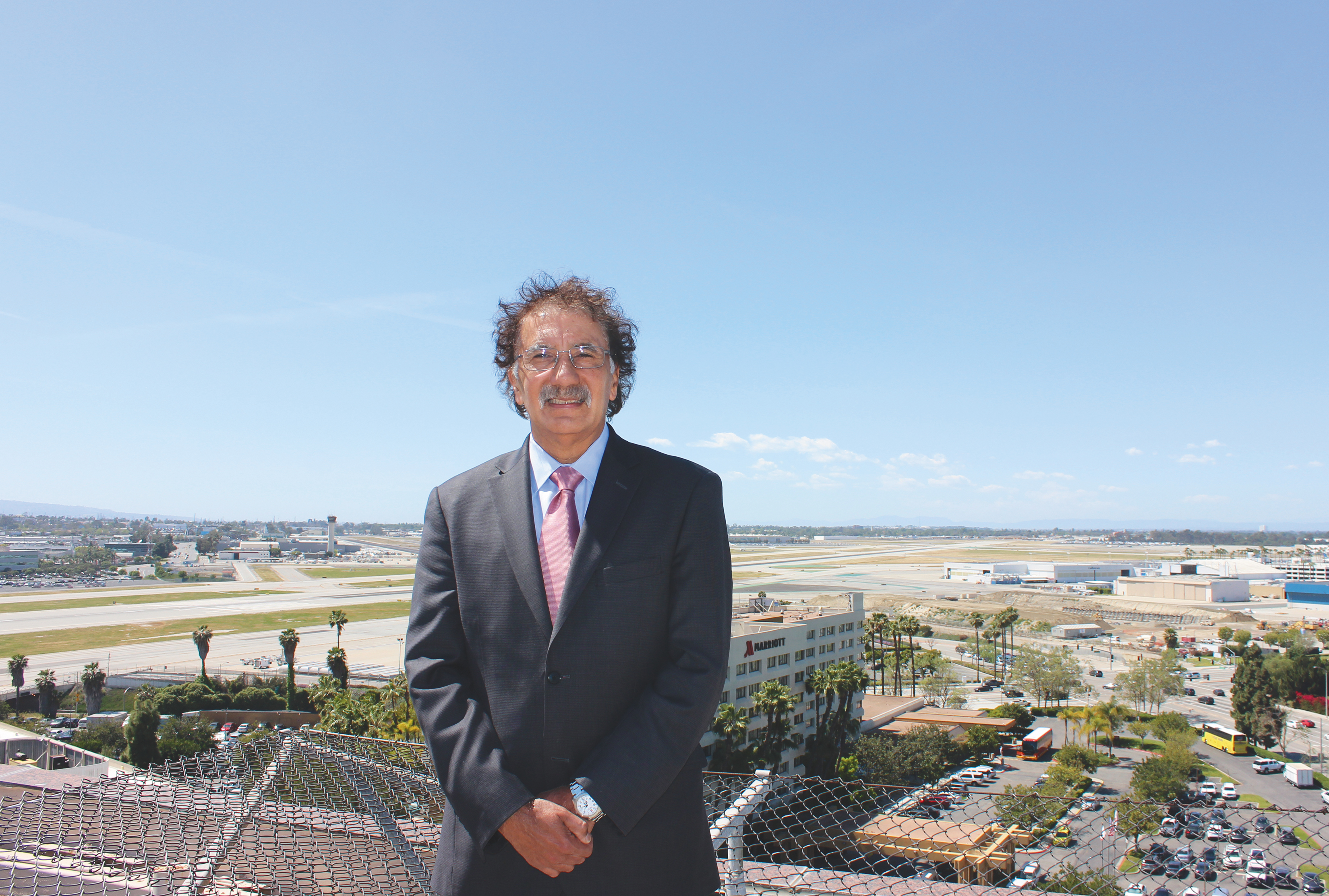 As a result of this cargo influx, Seroka said local warehouses are "bursting at the seams," with a vacancy rate of below 1% both within the harbor area and in the Inland Empire, where many goods are trucked or sent by rail to distribution centers. "What [happens] is, before a container can get an appointment to unload and go into the warehouse, they are sitting a little bit longer – whether it be directly outside the warehouse or right here on the docks," he explained.
Exports, on the other hand, have suffered as a result of trade tensions with China. "On the export side, we've seen our business to China drop by 22% year over year. That has pretty much mirrored what's happening nationally," Seroka said. Moving forward this year, he is expecting a "soft second quarter for trans-Pacific import trade," but a rebound in the third quarter, which is traditionally the busy season for the San Pedro Bay ports. "We continue in Los Angeles to have a chance to outperform the market. And I think our first quarter numbers were pretty competitive with overall market growth," he said.
For the Port of Long Beach (POLB), similar dynamics are at play. Mario Cordero, the port's executive director, said that 2018 ended with a historic 8.1 million containers moving through the port. "Going forward, we have continued optimism that there will be a resolution," he said, referring to the White House's dispute with China over issues such as intellectual property theft and an imbalance of trade. "Right now there is no signal of any date of application with regard to the tariffs. . . . I think that is a positive signal," he said.
When it comes to imports, Cordero said he expects POLB to outpace other ports in the nation this year. "The forecasts for import growth in the United States is somewhere around 1.8% overall . . . . I foresee that we could exceed that," he said. Exports might be different story.
"Right now, one of the other aspects with regard to the trade and tariff discussion is the overall impact to the U.S. exporter. It has been a negative impact," Cordero said. "As an example, a year ago at this time we were talking about the tremendous hit that the American farmer took, particularly with commodities like soybeans." However, China has agreed to purchase more U.S agricultural goods, so that could turn around, he noted.
"At the end of the day what we need is a predictable trade policy. Until we have that, I think there's still uncertainty in this business," Cordero said. "We need to calm the fears of the investors, the shippers and the whole supply chain."
To do that, Cordero is concentrating on operational excellence. "The more we focus on that, the more we create efficiencies," he said. "There is no better example [than] what we did last month in March – the closing of the 9th Street junction," he said, referring to a rail junction that caused congestion along adjoining truck routes. The closure also prepares for an eventual expansion of on-dock rail at Pier B, a capital improvement project intended to help move containers directly from ships to rail. For now, the closure has already streamlined the movement of goods, he explained.
Seroka is also guiding projects to streamline the movement of goods through POLA. One upcoming project is a new model to manage chassis, the wheeled trailers used by trucks to haul containers. "We're going to try to pull all those chassis off the terminals and have some neutral locations on port property to make it easier for the truck community to get a chassis that has already been inspected and meets both federal and state regulations for roadability," Seroka said. Existing chassis management models require truckers to pick the equipment up and drop it off at specific locations, which impacts the speed with which they are able to complete deliveries. Additionally, the port is soon rolling out a pilot program in which chassis will be affixed with sensors to monitor their locations and maintenance needs.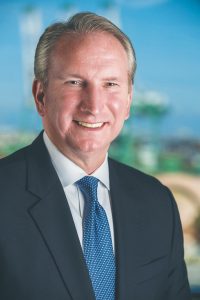 POLA has also adopted General Electric Transportation's Port Optimizer program, which it tested in a pilot project over the course of several months in 2018 and 2017. The program provides a digital platform for entities in the supply chain to share data and track cargo, allowing for better coordination among stakeholders. "All seven of our terminals are onboard sharing data, and I think 10 of the top 11 shipping lines are also on board," Seroka said. "We have recently reached an agreement with the railroads, and the trucking community has been a longtime supporter of the concept and now is deep into the first version of the Port Optimizer. I think 95% of all the containers moving through the Port of L.A. will be attached to this software portal."
Seroka hopes the program will ultimately help reduce truck turn times, the time it takes for a truck to pick up or deliver a container. "The most recent published stats show our turn times were 98 minutes. And that absolutely has to improve," he said.
POLB also tested the Port Optimizer last year, and Cordero said it is up to the Long Beach Board of Harbor Commissioners whether to adopt it permanently. "I definitely support the concept of a single window platform . . . not only for the Port of Long Beach but for the San Pedro Bay complex overall," he said.
Multiple rail expansion projects are planned at the Port of Long Beach to boost supply chain efficiencies, including on Piers B, G and J. "Between . . . 2020 and 2022, three rail projects are going to start moving. That's going to be key to our effectiveness in terms of creating efficiencies in rail movement of cars and containers," Cordero said.
Both ports continue to make significant investments in infrastructure. This year, the Port of Long Beach is moving into its 11-story headquarters at the new Long Beach Civic Center. It is also nearing completion of its replacement of the Gerald Desmond Bridge with a new cable-stayed structure featuring three lanes of traffic in each direction and a higher main span. "That's a $1.467 billion investment," Cordero said. Meanwhile, the modernization of the port's Long Beach Container Terminal is about two-thirds of the way complete, with 205 acres out of 305 now built out, he noted.
The Port of Los Angeles has multiple berth improvement projects underway and is in the planning stages for capital projects that will improve Evergreen Container Terminal, expand rail storage tracks, reconfigure roadways and revamp the waterfront. Seroka estimates the port will spend between $150-170 million on capital improvement projects in the next fiscal year.
Security remains a key point of focus for both executives. At the Port of Los Angeles, a cyber security operations center stops nearly 20 million cyber threats per month, Seroka said. Discussions are soon being held with port customers to discuss ways to share information about cyber security threats to help better protect the supply chain at large, he noted. "Thus far  . . . receptivity [of] this idea has been really good," he said, adding that he has spoken with representatives from the Department of Homeland Security, U.S. Customs & Border Protection and other federal agencies about the project. Cordero emphasized that the Port of Long Beach continues to elevate its cyber security technology as well.
Executives at the twin ports are watching economic conditions to gauge their expectations for trade for the balance of 2019. The forecast for U.S. gross domestic product (GDP) growth in 2019 is 2.9%, Cordero said, referring to the estimate as "a challenging number." This would be the same percentage GDP increase as 2018. He explained, "That's important to us because at the end of the day, the demand for cargo and the demand of the American consumer is key to our growth."
Because most of the trade through the San Pedro Bay ports comes from and goes to China, the Chinese economy is of great interest. Seroka said that China's economy appears to be slowing. "The [Chinese] stock market . . . is struggling quite a bit. There are some analysts that [think that may be] coming to a bottom, but we'll watch that real closely too," he said.
Beyond this year, the ports are focused on reaching the environmental goals laid out in their joint Clean Air Action Plan, which calls for all zero-emission terminal equipment by 2030 and zero-emission trucks by 2035. A report assessing the current pace of technology development for such trucks was released by the ports in April, and found that natural gas and electric-powered vehicles are the closest to reaching commercial viability. "The very good news, in my opinion, is that the technology is there and has been identified," Cordero said.
"As we continue to move forward, I think it's incumbent upon the Port of Long Beach to continue to operate this port as a business in a way that we're thinking ahead," Cordero continued. But he isn't just talking about green technology – he is also proposing moving the port to 24-hour operations. Why? "The forecast for 2040 is the movement of maybe 30 million-plus containers. For 2030, which is only 11 years away, [it's possibly] 25 million," he said, reiterating that last year, by comparison, 8.1 million containers moved through the port. "How are you going to do that unless you maximize efficiencies, [including] maximizing the hours of operation? . . . . And that's why I am firm and steadfast that we need to move to a 24/7 operation."