Last year, the shipping industry saw an unprecedented number of ocean carrier mergers, as well as the collapse of Hanjin Shipping, which was the seventh-largest container carrier in the world. These two events led to a reshuffling of alliances, which took effect on April 1.
"Alliances are a function of low freight rates, overcapacity and sluggish trade volumes," John McLaurin, president of Pacific Merchant Shipping Association, said. "They are an effort by ocean carriers to cut costs when they are unable to raise freight rates."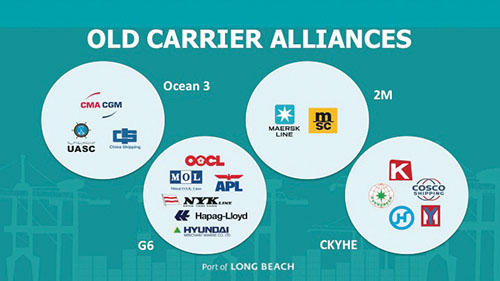 Ocean carriers have been forming alliances for nearly a decade as a way to reduce costs by sailing fewer ships and sharing cargo space on mega vessels. Prior to the reshuffling, there were four shipping alliances: 2M, Ocean Three, G6 and CKYHE. Now, after the reshuffling, three alliances remain: 2M, Ocean Alliance and The Alliance.
The 2M alliance consists of Maersk Line, Mediterranean Shipping Company, Hamburg Süd and Hyundai Merchant Marine. Ocean Alliance consists of CMA CGM, APL, China COSCO Shipping, Orient Overseas Container Line (OOCL) and Evergreen. The Alliance is made up of Hapag Lloyd, Yang Ming Ltd. and Mitsui OSK Lines, Nippon Yusen Kaisha Lines and Kawasaki Kisen Kaisha Ltd. (K Line).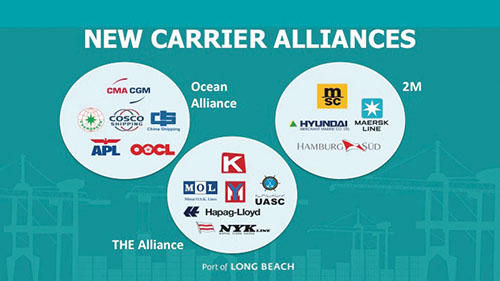 "The new shipping alliances linked with the big ships, I think, favor the largest ports – the largest, deepest draft, highest volume throughput ports," Genevieve Giuliano, director of METRANS Transportation Center, said. "So in that way, I think L.A. and Long Beach are in a much better position than Oakland or Seattle or anybody else along the West Coast."
Giuliano noted that using mergers and alliances to combat excessive supply and low prices is not a sustainable situation. She said the only solution would be to restrict supply or for companies to cooperate on container shipping prices. Now that the industry is down to three alliances, with more company mergers anticipated in the near future, Giuliano said cooperation is becoming an easier option and more likely.
Aside from not being sustainable, Giuliano said the continued evolution of mergers and alliances could cause two other issues for ports around the world. The first issue is the uncertainty brought about by change and the fast rate of change. She explained that ports work with long-term visions in terms of contracts and investment plans, which rely on stable revenue streams, which can be disrupted by less calls to port due to mergers, or in the case of Hanjin, bankruptcy.
The new alliances also are impacting port operations, Giuliano said. She explained that receiving containers and distributing them to the right place has become more difficult due to the fact that one ship carries containers from multiple shipping companies, all with a different final destination. Giuliano said this has increased cost of port operations and reduced velocity of throughput.
"We have been monitoring the recent alliance changes closely," Phillip Sanfield, a spokesperson for the Port of Los Angeles, said. "Our main focus now is to help Port of Los Angeles supply chain partners with the transition and to help alleviate any challenges or disruptions that come up as a result of the changes. We will be able to assess if and how the alliance changes effect port volumes in July, after we've seen three months of data."
Noel Hacegaba, managing director of commercial operations and chief commercial officer at the Port of Long Beach, said over the last several months the port has endeavored to ensure its terminals and supply chain partners are prepared for the new alliance structure as well.
To do this, Hacegaba said the port has been in constant communication with shipping lines, terminal operators, trucking companies and railroads to make sure they are communicating with one another and sharing necessary information to be able to plan accordingly and make reliable decisions.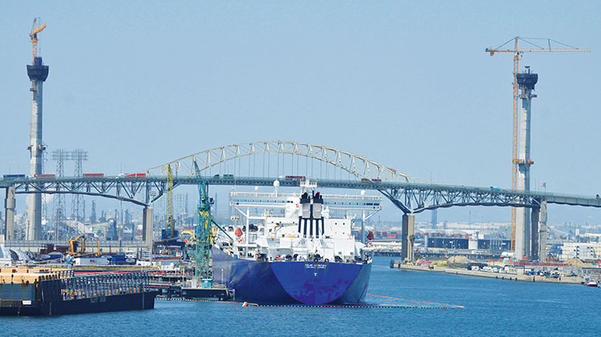 Two towers under construction rise high above the Gerald Desmond Bridge providing a preview of the massive scale of its replacement, which will rise more than 200 feet above the water. (Photograph by the Business Journal's Larry Duncan)
"We feel confident that we, as a complex, will be able to handle the new alliance structure as the ships make their way to Long Beach," Hacegaba said. "We have been facilitating and enabling communication and coordination across different segments of the supply chain. The supply chain is highly interdependent. Unfortunately, they're not necessarily aligned."
One example of the port's work with the supply chain was the discussions it facilitated amongst the three largest chassis fleet owners that serve the San Pedro Bay ports. These discussions led to what is called the "pool of pools," which increases cargo operations efficiency by providing terminal operators and trucking companies much more flexibility in obtaining the wheeled trailers used to haul cargo containers by truck. This agreement went into effect March 1, 2015.
Another example of previously laid groundwork to aid in the alliance reshuffling is the development of an appointment system, which creates predictability in operations, including the flow of trucks through the ports of Los Angeles and Long Beach. Of the 13 marine terminal operations between both ports, Hacegaba said nine currently have some form of appointment system.
"Overall, we expect that the new alliance structure will net us additional volume because under the new alliance structure we will gain some services," Hacegaba said. "For instance, in 2017, we project that we will end the year approximately 7% ahead of where we were last year. A factor in that is the new alliance structure."
This year, the Port of Long Beach recorded its strongest first quarter in a decade, despite overall growth in volume increasing only 1.5% during that time compared to the same quarter last year. Hacegaba said the port's readiness to accept the new shipping structure, as well as new independent companies calling at Long Beach – including Korean-based carrier SM Line Corporation, which emerged after Hanjin's bankruptcy – are what will continue growth.
Hacegaba agreed with Giuliano that mega-ship sharing is reducing the number of calls for service. However, Hacegaba noted that larger, fuller ships would still mean increased container throughput for the ports.