West Gateway Development Project Delayed
The ambitious 752-unit, 40-story development proposed by Trammel Crow at 600 W. Broadway has been delayed, according to the Long Beach Board of Harbor Commissioners June 10 agenda. Port documents state that "significant changes to the project design are required to meet city planning requirements resulting in project cost increases and extended design, EIR [environmental impact report] document procurement and entitlements schedule." The result is an anticipated seven-month delay in the project's approval schedule. The closing date for escrow on the 5.6-acre, Port of Long Beach-owned property was initially set for June 28; however, Trammel Crow requested a seven-month extension to January 31, 2020, which was unanimously approved by the board of harbor commissioners during the meeting. The port purchased the property in 2011 for $8 million and is selling it for $30.25 million.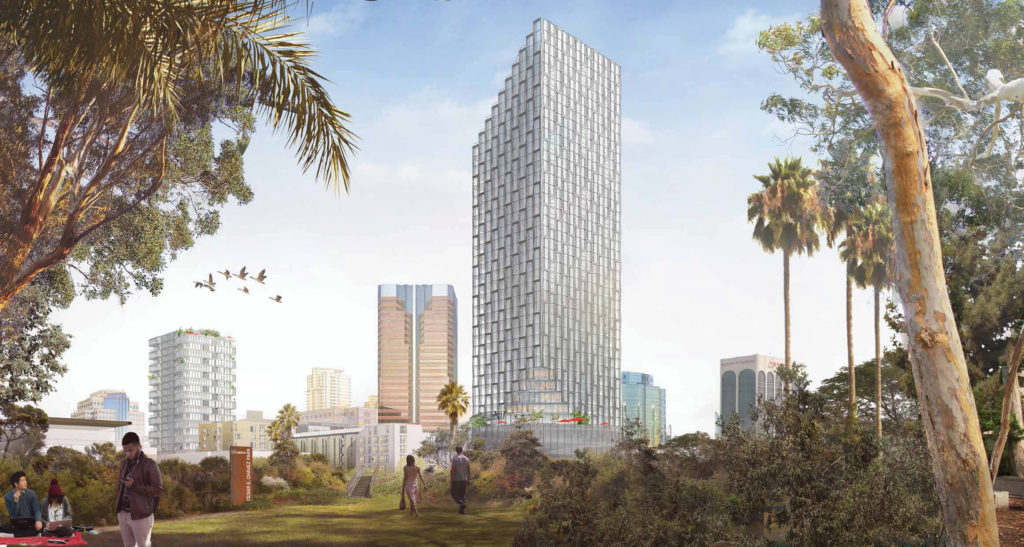 102-Unit Affordable Housing Project Breaks Ground
For the third time in 2019, Long Beach celebrated the groundbreaking of an affordable housing project in Midtown. Construction on AMCAL Multi-Housing Inc.'s Las Ventanas project commenced on June 6, and is slated to bring 102 affordable apartments to the community in 2021.
"We have an incredible homeless problem here in the State of California," AMCAL Vice President of Development Alexander Pratt said during the event, citing a recent report that the number of chronically homeless people has increased 17% in L.A. County since 2018's count. "I think the exciting thing about this project is its high-quality housing, the leveraging of transit and the leveraging of opportunities where we're bringing a community together."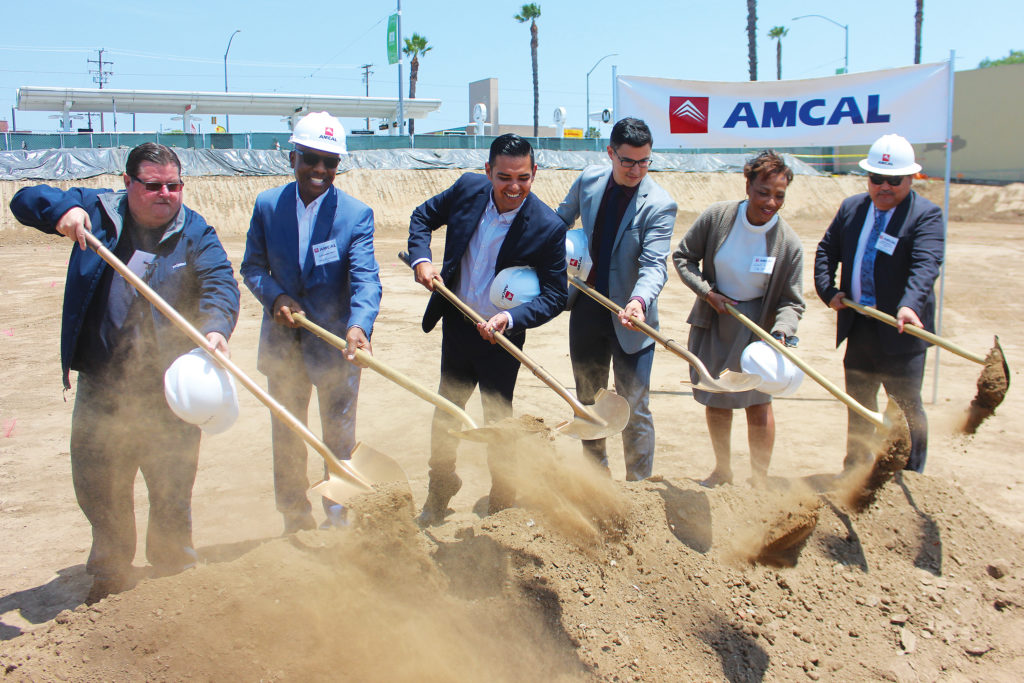 The project consists of one-, two- and three-bedroom apartments for individuals and families earning between 30% and 60% of the area median income. Rather than keeping people of certain socioeconomic levels separate, Pratt noted that the Las Ventanas community will have a mix of households at various income levels, which is a better housing method than taking "the poorest people" and putting them in a "poor area with decent housing."
Located at 1795 Long Beach Blvd., the project is directly across the street from a Metro Blue Line stop, allowing residents easy access for commuting. The building design includes clean technologies, with one-third of the complex's energy coming from solar panels.
"The building is LEED Gold, so it's a sustainable building, which we're really happy about, and there's going to be great amenities for residents. I really love that," Mayor Robert Garcia said. "What better way to celebrate the history of this neighborhood than to put [in] housing."
Las Ventanas residents will have access to a computer lab and an 8,167-square-foot outdoor recreation area, including open spaces, a play area, outdoor seating and barbecues. The project also includes 4,000 square feet of ground floor retail.
The Long Beach Community Investment Company (LBCIC) approved a $4 million acquisition loan in 2017 for the purchase and development of the site by AMCAL. "This is the third project we've dedicated in Long Beach just this year, with many more to come," LBCIC Board Chair John Thomas said. "This is another project that demonstrates our attention to detail – detail of architecture, a sense of place and a sense of community."
Through the Los Angeles County Department of Mental Health (DMH), 15 of Las Ventanas' units will be reserved for individuals suffering from mental illness who are experiencing or are at risk of experiencing homelessness. In addition to housing, these residents will have access to resources such as case management.
"When we talk about the most vulnerable population among the homeless community, these are individuals who have been stigmatized and who are homeless due to their mental illness," DMH Service Area 8 District Chief Dennis Murata said. "In order to sustain housing for families . . . there needs to be additional support. We're here to provide that."
The 908 Restaurant Opens At LBX
Owned and operated by Long Beach residents, The 908 opened its doors at the Long Beach Exchange (LBX) on June 2, serving up guests classic American fare. Located at 3850 Worsham Ave., Suite 410, the restaurant's menu includes items such as a burger, a 32 ounce tomahawk ribeye, pork chops, fried chicken, lobster mac 'n' cheese and salmon, to name a few dishes.
"We really started working on this concept and reached out to the landlords at LBX in February of 2018. We knew we wanted a lot of local influence," co-owner Ciaran Gough said, noting architecture by IDA and logos by Ritual Design, both Long Beach companies. "Originally, we were playing with the idea of calling it 'The 90808,' but then we felt like we wanted to celebrate the whole of Long Beach and not just one ZIP code."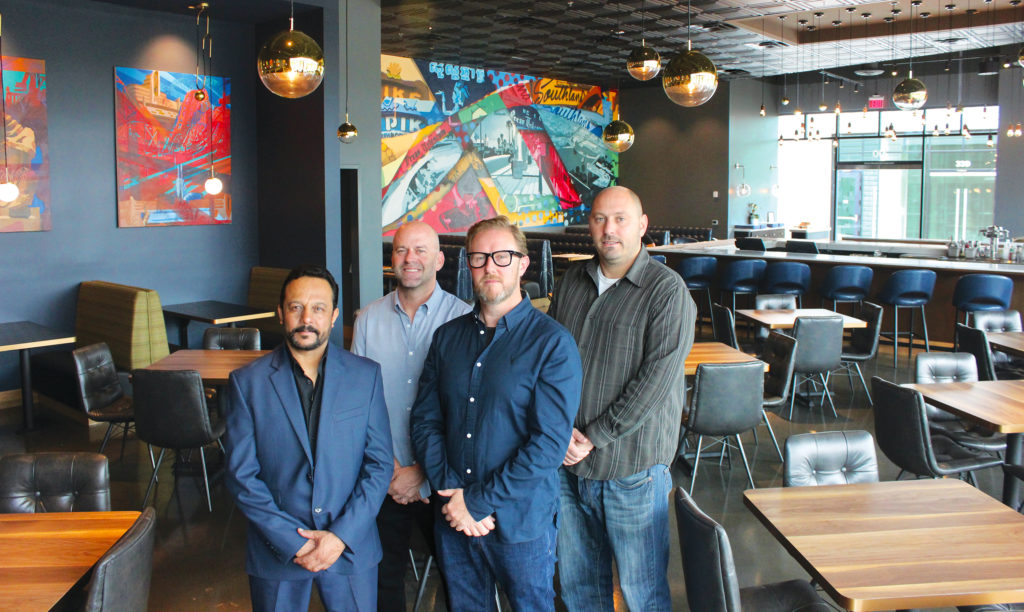 The 4,087-square-foot restaurant – and 900-square-foot patio – is owned and operated by four partners: Gough, Ian Moston, Juan Carlos Guerra and Todd Miller, with additional financial backing by four investors. Gough has lived in Long Beach for 16 years and has a long history in the restaurant industry, including a nine-year stint as an executive with Yard House. Moston is a Long Beach native and has owned Riley's on 2nd Street in Belmont Shore for 13 years.
The night before opening The 908, Gough said the team held an event for around 300 family and friends to celebrate, as well as work out any kinks prior to opening to the public. Opening day went smoothly, with only minor issues, which Gough said is expected of any restaurant in its infancy. Thus far, guests have been "impressed" with the restaurants offerings, he added, noting the menu is relatively small, which allows the restaurant to focus on quality.
"Our whole concept is really Long Beach based," Gough said. "We really wanted to create a restaurant that we would want to hang out in and felt like there was something missing [in terms of] an elevated dining experience on this side of town, but with a lot of that Long Beach swagger."
To achieve some of that swagger, the partners reached out to the California State University, Long Beach, art department and ultimately commissioned students Mathew O'Connor and Riley Waite to paint a large mural inside the restaurant depicting Long Beach in a graffiti art style. The artists also created several smaller accent pieces that are hanging in the eatery.
New Cafe Opens Near Traffic Circle
Executive Chef Marc Chitwood and entrepreneur Nicholas Stoks celebrated the opening their first culinary partnership, Steel Cup Café, earlier this month. Located at 2201 N. Lakewood Blvd., the cafe is founded on the partners' shared values: community, creativity and environmental consciousness. Steel Cup's organic coffees and teas are Fair Trade and Rainforest Alliance-certified in order to keep in line with their mission to operate as an environmentally sustainable business. Additionally, the owners have opted to utilize plant-based containers that are 100% biodegradable, rather than single-use plastics. The food at Steel Cup is prepared from scratch daily, with a menu that includes "classic cafe favorites with an artisan twist," according to Chitwood. Menu items, including sandwiches, salads, brunch plates, breakfast options and pastries, are made using goods sourced from local vendors and producers. A three-day grand opening celebration is planned beginning Friday, June 21, including live music, raffles and local vendor pop-ups. Steel Cup Café is open daily from 5 a.m. to 3 p.m.
Cannabis Retailer Purchases Long Beach Dispensary For $13M
Major cannabis retailer MedMen recently announced that it is purchasing Long Beach dispensary One Love Beach Club for $13 million.
"We're excited to welcome Long Beach to the MedMen family and continue our growth in the most important cannabis market in the world," CEO Adam Bierman, MedMen stated in a press release.
One Love was established in 2009 at 2767 E. Broadway as one of the city's first marijuana dispensaries. The shop closed when the city banned marijuana sales, but was one of the first to reopen following legalization by voters in 2016.
MedMen is paying $10 million of the transaction in voting shares, $1 million in cash at closing and $2 million in deferred cash. Subject to regulatory approvals at the local and state level, the transaction is expected to close within 45 days from the announcement.
"It has been an honor serving the Long Beach community over the past ten years," the Abrams family, owner and operator of One Love, said in a statement. "We look forward to MedMen continuing to provide our community with high-quality cannabis."
MedMen currently operates 22 dispensaries across five states, including Arizona, California, Illinois, Nevada and New York. The company is in the process of opening 10 more locations, including locations in Florida and Massachusetts.
Cannabis Testing Facility Construction Completed
Irvine-based cannabis testing provider Gala Pharmaceutical Inc. completed construction on its latest testing facility in Long Beach, the company announced earlier this month. Gala is in the process of ordering equipment and has begun steps toward accreditation for the new facility. "Our plan of positioning Gala to play a key role in providing quality testing services to customers in Southern California is just around the corner," CEO and Chairman of the Board of Directors Maqsood Rehman stated. The company did not immediately respond to a request regarding the location and size of the facility.
Recent Transactions By Local Firms
The following is a list of recent multi-family and office property transactions by the teams at Kinnery's Brokerage House and Stepp Commercial:
319 Walnut Ave. – Stepp Principal Robert Stepp and Senior Vice President Michael Toveg represented the seller, a private Long Beach investor, in the $2.6 million sale of this six-unit apartment complex in the Alamitos Beach neighborhood. The buyer is L.A.-based Vamidi LLC. Built in 1967, the property includes five two-bedroom units, three one-bedroom units and eight parking spaces.
1969 Cedar Ave. – Stepp Principal Robert Stepp and Vice President Mark Witsken represented the seller, an L.A.-based private investor, in the nearly $1.78 million sale of this two-building, six unit apartment property in the South Wrigley neighborhood. The buyer was also an L.A.-based private investor. Built in 1955, the property was recently renovated and includes on-site laundry facilities, parking and air conditioning in all units.
2017 E. Broadway, #201 – Kinnery's President Cameron Jacques and Vice President Brian Russell were the listing brokers in the nearly $1.36 million sale of this 2,730-square-foot office condominium to a local engineering firm.