The ports of Long Beach and Los Angeles are pursuing multi-million-dollar projects to enhance their rail systems. As the Port of L.A. increases its staging capacity, Long Beach is investing in four separate projects to expand its on-dock rail infrastructure. Scheduled over the coming years, the rail expansion at the Port of Long Beach (POLB) is an essential component of its 10-year, multi-billion-dollar capital program to develop its economic power and achieve its long-term environmental goals, according to the Long Beach Harbor Department's 2019 budget report.
Creating more on-dock rail at the Port has the potential to not only increase the efficiency of cargo movement but to also significantly reduce the volume of pollutants emitted by drayage trucks, Sean Gamette, managing director of engineering services at POLB, told the Business Journal. On-dock rail means cargo moves from a container ship to a train without ever passing onto a truck. "Basically, every on-dock train has the potential to reduce truck trips in and out of the port by up to 750 total trips [per day]," he said. "The ocean carriers are very much in favor of moving more cargo by on-dock rail because it's so cost effective."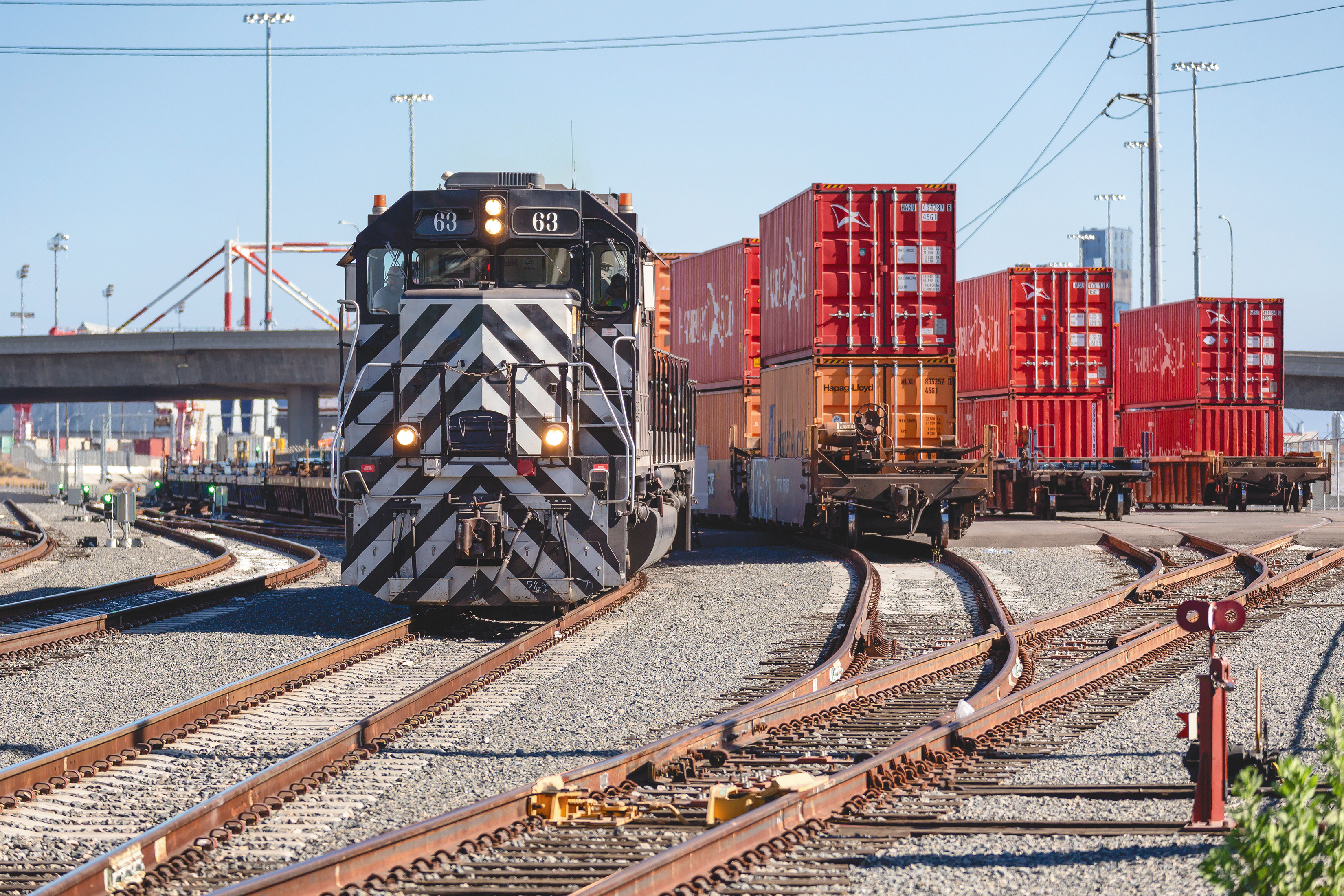 Various factors have improved the cost effectiveness of transport by rail, Gamette continued. In the past, cargo needed to travel at least 500 miles to justify rail transport. "Recently we've seen that drop closer to 250 miles away for some of the markets," he said. "We're going to lower that further by the improvements we make here in the port complex."
The largest POLB rail project slated for development is the $870 million expansion of the on-dock rail support facility at Pier B, located southwest of Anaheim Street and the 710 Freeway. Gamette said the port is in the process of contracting a design agency to supplement the work of its staff, and plans to begin the design process this summer. The 180-acre facility could include 90,000 feet of storage tracks and five 10,000-foot storage tracks. Existing tracks would connect docks directly to the Alameda Corridor, which connects the San Pedro ports to the national rail system. Road realignment and utility work is set to begin in 2022, with the entire project tentatively set to be completed in 2032
The second largest project, the $40 million Terminal Island Wye Track Realignment, will add a 5,000-foot mainline and two 2,000-foot storage tracks to Pier S, Gamette said. When completed, the project is expected to reduce congestion at terminals for arriving and departing trains. Gamette said the project is scheduled to be completed in 2022.
The Pier G and J Double Track Access Project is a $25 million project to remove a bottleneck between Piers G and J and add 1,500 feet of storage track. "The big benefit here is the uninterrupted movement of trains in and out of Piers G and J, the two container terminals," Gamette said. "What that equates to is about an additional train per day that we can get in and out of the Port through that area." This project is slated for completion by 2021.
The last project, what Gamette called "the fourth track at Ocean Boulevard," would add 2,000 feet of lead track to the east end of the new structure replacing the Gerald Desmond Bridge, and eliminate a bottleneck where four tracks become three. "The addition of this fourth track . . . has a huge benefit," Gamette said. "It will allow simultaneous movement of trains in and out of our Middle Harbor container terminal without impacting mainline operations on our Piers G and J container terminals." The $22 million project is set to be completed in 2022.
Gamette said that more rail can help the port grow its already expansive marketshare. "We moved eight million twenty-foot-equivalent units [TEUs] through our city's port last year," he said. "Nearly $200 billion in goods moved through Long Beach [in 2018], supporting more than 51,000 jobs in Long Beach itself, 576,000 jobs throughout Southern California and, based on our economic study, about 2.6 million jobs across our great country." Gamette characterized the port's capital program as one of the largest in the United States.
On the other side of the San Pedro Bay port complex, the Port of Los Angeles (POLA) is also beginning a rail expansion project. According to Tony Gioiello, POLA deputy executive director of development, the Pier 400 Corridor Storage Track Expansion is a $34 million build out of its existing rail system. "These are not working tracks, they're more staging tracks to get trains out of terminals more efficiently," he explained.
POLA Director of Media Relations Phillip Sanfield said L.A. was the first port in the United States to have on-dock rail at every one of its terminals. "We're expanding it and always improving, along with our railroad partners, but a lot of the work has been in place and worked on over the last decade," he commented. POLA ships about 30-45% of its cargo by rail, he added.
Gioiello said the Pier 400 rail expansion is currently in its design phase, which may conclude at the end of the year. Construction is slated to begin before the end of 2020 and be completed by 2022. "Strategically, rail is important to us because the cargo that leaves this port destined for other parts of the country leaves by rail. That's cargo that could be diverted to other ports. So we believe [our investment in] rail infrastructure . . . is why a lot of the cargo comes here," he said.