This time last year, in the thick of the peak-shipping season for holiday goods arriving from international markets, the movement of these goods through the San Pedro Bay ports began slowing to a crawl. At issue were stalled longshore labor contract negotiations, a shortage of chassis and other supply chain complications. By January, there were more than two dozen ships at anchor in the bay. In February, the White House Secretary of Labor finally stepped into the middle of contentious West Coast longshore labor contract negotiations, ushering in a contract resolution and getting cargo moving again.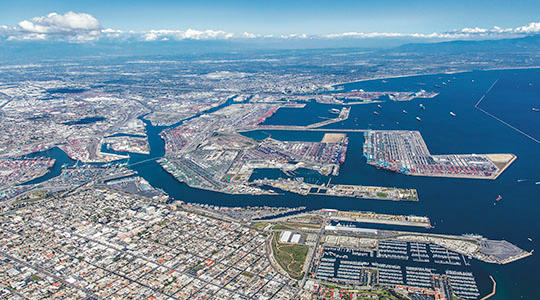 (Port of Los Angeles photograph)
Since then, the ports have not only recovered lost business, but have grown cargo volumes in comparison to years prior. The progress has been the result of a joint effort, not just among the ports, but also with supply chain stakeholders, to resolve many of the issues that had caused the turmoil in the first place.
"This year is obviously much better," Jon Slangerup, chief executive of the Port of Long Beach (POLB), told the Business Journal. "You don't see any ships at anchor, which is a massive difference from last year. . . . We do have spot congestion and spot shortages of chassis, but we don't have a system-wide meltdown like we did last year," he explained. "We have heavy volumes – record volumes – with no system-wide congestion. That's a big difference."
The system-wide congestion Slangerup referred to had begun when ocean carriers formed alliances to ship their cargo together on new ships, which were larger than West Coast ports had ever dealt with on a regular basis. When the cargo on these ships began arriving ahead of peak shipping season at the docks of the ports of Long Beach and Los Angeles around August last year, workers found it haphazardly stowed, creating a logistical mess to sort through when unloaded.
"I have always contended publicly and remain convinced that the core issue was the randomness of the loads on these big ships that caused the initial wave of congestion," Slangerup said. "I think it took everybody by surprise."
On top of that, shipping lines had sold off their chassis – the trailer used by semi-trucks to carry shipping containers – to three private companies that were no longer allowing the equipment to be used interchangeably, and were not supplying enough chassis to meet peak demand. This change created "a shock to the system," Slangerup said.
This was enough to cause a backup of ships at anchor in the San Pedro Bay as they waited for docks to clear. But contentious labor negotiations between the International Longshore & Warehouse Union, which represents longshore workers, and the Pacific Maritime Association (PMA), which represents their employers, led to work slowdowns and stoppages, worsening the situation considerably.
While the resolution of labor negotiations in February with a five-year contract for longshore workers may have been the impetus for getting things moving again, much more has changed, according to executives from the ports of Long Beach and Los Angeles.
"Last year there was a strain on the labor force because there was so much work out there and a lack of skilled folks as crane operators," Mike DiBernardo, deputy executive director of marketing and customer relations for the Port of Los Angeles (POLA), said. Since then, the PMA has trained more longshore workers to operate cranes at terminals, he noted.
Another key change has been the creation of a gray pool of chassis, also known as a pool of pools. Three local suppliers of chassis – Direct ChassisLink, DCLI, Inc. and Flexi-Van – entered into an agreement that allows truckers to interchangeably use the chassis, rather than requiring the equipment to be dropped off or picked up at specific locations for each company. This gray pool policy has been in place since March.
Prior to the interoperable chassis agreement, the Long Beach Board of Harbor Commissioners had voted for the port to purchase and operate its own chassis fleet to be used during peak demand. "We got permission to do so, but when the pool of pools started happening and we saw the significant improvement in the results, we drew back from that," Slangerup said. Local chassis suppliers are now building their own supply of chassis for peak times into their inventories, he noted.
Still, some improvements to the new chassis model are needed, both Slangerup and DiBernardo pointed out. These include shortening the length of time chassis dwell unused on terminal property and the amount of time they remain outside of terminal gates. Expediting the maintenance and repair of chassis is also a priority moving forward. At any given time, 18 percent of the 83,000 chassis based in the San Pedro Bay port complex are unavailable due to these issues, Slangerup said.
Other major improvements have been driven by joint meetings of port representatives and partners in the supply chain, including warehousing, trucking, terminals, ocean carrier lines, rail lines, labor and more. These meetings have been made possible by a Federal Maritime Commission-approved discussion agreement to facilitate dialogue between the ports and these stakeholders to identify issues within the supply chain, propose solutions and increase goods movement efficiency.
"We are getting the cargo owners, the terminal operators, the trucking companies [and others] all in the same room to talk about issues, and we are working together towards an improvement," DiBernardo said. "We are seeing good communication taking place – something that has been lacking for a number of years."
"Just the dialogue alone has been incredibly valuable," Slangerup said. What's even more valuable, he added, is that these discussions began in April, well ahead of peak shipping season. "Our first meeting in April was all around peak operations and preparing for peak. [We examined] the short-term things we could do to prepare as best we could with the knowledge we had gained to avoid some of the issues from last year."
"Now, we didn't solve them all, but we identified a host of issues around the handling and movement of containers through the system," Slangerup said.
A significant issue throughout the past year has been the lengthy amount of time truckers spend in queues both outside and inside of terminal gates as they wait to pick up cargo. "That's where the peel-off concept began to emerge," Slangerup said. "That has begun to have an impact, because inside the gate they are starting to form these peel-off blocks where, instead of waiting for a specific container, they can grab a container bound for this common destination," he explained.
The peel-off practice of picking up the nearest container rather than waiting for a specific container, which might be piled beneath several others, has helped speed up truck turn times. "The impact of just that over the course of the last few months has been that we improved [terminal] gate efficiency by 30 percent," Slangerup said.
The amount of time trucks wait inside terminal gates to pick up a container has been cut from 130 minutes to 88 minutes, according to Slangerup. "And the dwell time outside the gate, which has always been the issue, moved down to 20 minutes on average," Slangerup said. This compares to what had been hours-long wait times outside of terminal gates prior to this improvement, he noted.
Last fall, the Port of Long Beach began operating a temporary peel-off yard for truckers to drop off containers for off dock storage before they could be distributed. The Port of Los Angeles later did the same. "Basically, containers are drayed off from the terminal and put at a satellite yard until their next move to the customer," DiBernardo said. "So a driver is able to come in [to a terminal], take the top container and go right out and then take it to a satellite yard. That has been successful."
Because the peel-off yards used by the ports were created for temporary relief during congestion, both ports are now seeking to create permanent peel-off areas. The Port of Los Angeles has released a request for proposals for the development of 80 acres of port land into a peel-off yard, or perhaps even a chassis storage or repair yard. Slangerup hopes to eventually use all 150 acres at Pier S within the Port of Long Beach as a peel-off yard to benefit all terminal operators.
Both ports continue to invest in infrastructure to improve efficiencies. Slangerup has focused on creating more on-dock rail capacity as a means to achieve this end. "I think on-dock rail is the ticket to ride for velocity improvement, congestion relief on the highways and environmental improvements," he said. "We have revised the entire capital program around on-dock rail. We are investing over $1 billion over the next 10 years in moving on-dock capacity from what was 23 percent a year ago to as close to 50 percent as possible," he said. Those percentage figures refer to the amount of cargo flowing through the port that travels via on-dock rail.
The Port of Los Angeles has on-dock rail facilities at all but one terminal, TraPac, which will have new on-dock rail infrastructure in early 2016. "Currently, about 25 percent of our cargo is moving via on-dock rail," DiBernardo said.
(Port of Long Beach photograph)
Terminal improvements are expected to help the ports prepare for the mega-ships of today and of the future. Currently, ships capable of carrying 14,000 twenty-foot equivalent units (TEUs) – the measurement of a standard shipping container – regularly call the ports. These are the massive vessels with randomized loads that caused congestion issues last year. And much bigger ships are coming.
Phase 1 of the Middle Harbor Redevelopment Project, a capital improvement project combining two aging terminals at the Port of Long Beach for use by Orient Overseas Container Line's (OOCL) Long Beach Container Terminal, is built to handle 18,000 TEU ships. Phase 1 is targeted for an April 2016 opening.
"Phase 2 has been redesigned to handle up to 24,000 TEU ships," Slangerup said. "The reason we are doing it is because we know that OOCL . . . has over-21,000 TEU vessels on order, and they are being deployed this decade."
Middle Harbor features automated equipment, some of the tallest cranes in the world and deep water to accommodate these ships. When both Phase 1 and 2 are operational, the Port of Long Beach's capacity will increase by 20 percent.
While a few people speculate that the opening of a widened Panama Canal next year will take some business away from the West Coast ports, Slangerup is anticipating the contrary. "Fifty-six percent of all of the ships on order right now worldwide will not fit through the Panama Canal," he said. The canal's expansion will only accommodate ships able to carry about 13,000 TEUs, he said. "That's a big oops. And so that means, where are [the ships] going? They are coming to the West Coast. And who is going to handle them? This complex."
The Port of Los Angeles has plans in the works to create deeper water and install upgraded infrastructure at its YTI, Evergreen and Yang Ming terminals to prepare for larger vessels. "Investment in our container terminals is crucial, as well as some of the investment outside the port complex with off-dock rail yards and in IT solutions as well," DiBernardo said.
Technology may play a significant role in improving supply chain efficiencies in the future. DiBernardo has his eye on multiple technologies that he believes hold promise. "Today, there is a company called Cargomatic that is doing something along the lines of an Uber [-type model] for trucking," he said. Cargomatic is testing its smartphone application, which connects truckers to beneficial cargo owners and others needing their services, within the POLA.
DiBernardo also has interest in a program created by the U.S. Department of Transportation that helps truck drivers identify an optimal route, and alerts terminals to incoming trucks in advance.
While both ports continue to work with stakeholders to identify and solve supply chain issues, enough progress has been made that cargo volumes have already rebounded.
"Calendar year to date, eight months in, we're 5.4 percent ahead of last year," Slangerup said of POLB's cargo traffic. The port experienced 18 to 22 percent spikes in cargo traffic in July and August. "It was a healthy increase in trade, but a lot of it was returning volume," Slangerup said.
This year, the Port of Los Angeles had its strongest August for container traffic since 2006, which was a record year for cargo volumes at both ports. "As you can see, we are doing well through this peak season," DiBernardo said. "Year over year, total San Pedro Bay growth should be around the 2 percent number for both ports combined," he said.
"Our future forecast is going to be in the range of, on a conservative basis, 3 to 4 percent a year," Slangerup said. "We could bump that up to 4 to 5 percent with a little bit of good luck."
Slangerup reflected, "We have to continue to focus on velocity, efficiency and information improvement. And every year, we are going to get better and better."