California is often cited as having some of the toughest environmental regulations, not only in the nation but in the world. When new environmental regulations have been imposed by the state on industries and private interests, protestations have inevitably followed in respect to additional costs on affected parties and associated economic impacts.
It's a dynamic that has not escaped the attention of Gov. Jerry Brown, who in July penned an executive order for the creation of an action plan that would improve not only the environmental sustainability of the state's freight infrastructure, but pay equal attention to increasing the industry's efficiency and competitiveness.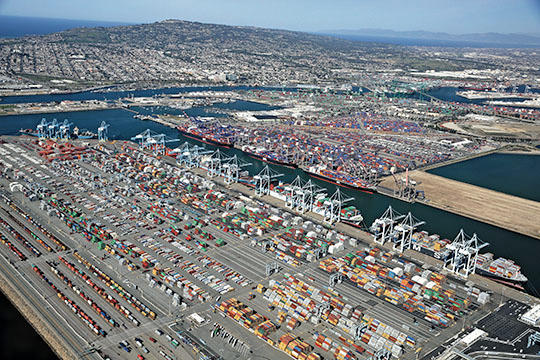 (Port of Los Angeles photograph)
The governor's order directs the state agencies for transportation, environmental protection and natural resources to work with the California Air Resources Board (CARB), the Governor's Office of Business and Economic Development (GO-Biz), and the California Department of Energy and Energy Commission to create the action plan.
The groups are specifically directed "to develop an integrated action plan by July 2016 that establishes clear targets to improve freight efficiency, transition to zero-emission technologies and increase competitiveness of California's freight system." The executive order also calls for "broad stakeholder input," and specifies that the final plan must "identify state policies, programs and investments to achieve these targets."
Brown put his mandate in the context of the freight industry's economic impact to the state. His order notes that, in 2013, the industry supported five million jobs and accounted for more than $700 billion in revenue. This acknowledgement, combined with a focus on improving the industry's efficiency and competitiveness, has many industry stakeholders optimistic about the process of creating the action plan.
"We want it to succeed because we think it is the first time the competitiveness issue of Southern California's economy has been given equal standing to efficiency improvements and environmental improvements," Kirk Marckwald, principal of California Environmental Associates, told the Business Journal. His organization represents Union Pacific Railroad and BNSF Railway. "I think that is the right way to do it. It has not been done before, and we would love to see the order get implemented in that fashion," he said.
Others echoed Marckwald's sentiments. "We are very happy that [the governor] highlighted the importance and economic engine of the freight and goods movement system to the state," Peter Herzog, assistant director of legislative affairs for NAIOP SoCal, said of the governor's executive order. NAIOP (once an acronym for National Association of Industrial and Office Parks, now Commercial Real Estate Development Association) represents developers and investors in commercial real estate, a business that is tied to the warehousing sector of the freight industry. "Even more importantly, what he called for was a plan that increased the competitive nature of the goods movement and freight system," Marckwald noted.
Representatives from the rail, shipping, trucking and warehousing sectors all emphasized the importance of creating a plan that pays equal attention to each component of the governor's order. "The best case for us is that we see a balanced plan come out of this whole process," Chris Shimoda, director of policy for the California Trucking Association, said. "I think that is spoken to in the executive order, that it is not merely a plan to produce a specific amount of zero-emission vehicles."
John McLaurin, president of the Pacific Merchant Shipping Association, which represents owners and operators of marine terminals and trade vessels, also emphasized the need for balance. "I would like to see a process that does carry out the spirit of the governor's executive order," he said. "What he laid out was the elements of a three-legged stool. We have to look at efficiency. We have to remain competitive, but we have to achieve environmental goals. And if you remove one of the legs, the stool falls over."
Kish Rajan, president of the nonprofit Southern California Leadership Council, led the governor's GO-Biz office when the executive order was being drafted. "We all approached it as a collaborative effort because we felt it was important that there be a statement from the administration that was clear about the importance of balancing the . . . economic implications, the environmental implications and the infrastructure needs," Rajan said of his work assisting in the creation of the executive order.
In his new role, Rajan leads the Southern California Leadership Council in representing the public policy interests of business and community leaders in Southern California. "We continue to be a convener of those different elements of the freight and goods movement economy," Rajan said. "In order to get the order implemented properly, there has to be a very clear and well-informed industry perspective brought into the mix so that data and analysis and those business needs are adequately represented as the plan is further developed."
In an interview with the Business Journal, Heather Arias, chief of the freight transport branch of CARB, and her colleague, Doug Ito, assistant chief of CARB's transportation and toxics division, also emphasized the importance of creating a balanced plan. "Freight is very important to our state, so the action plan is asking that we put forth balancing the economic, environmental and efficiency efforts to move our freight system to a sustainable freight transport system," Arias said.
"The action plan will include some targets of how we might be able to progress in those three areas of environmental, economic and efficiency. It will include specific actions that will help us to meet those targets," Arias explained.
Concerns And Challenges Moving Forward
Despite the wording of the executive order, some are concerned that the final plan will not be so balanced after all.
"Our primary concern is the plan will focus too much on the pathways to reduce emissions, and too little on the ways to create enhanced efficiency and competitiveness," Marckwald said. "Our concerns are that such a lopsided outcome would likely lead to requirements and regulations that could not only be of concern to the goods movement providers, but most importantly could lead the beneficial cargo owners to decide that, if they could serve their customers more cost effectively in another manner, they have the option to bypass the Southern California ports."
Marckwald continued, "With that cargo will go California jobs and California economic prosperity. I don't think anyone wants to see that happen, but how to avoid that, how to assess that, how to get the right metric to avoid that is what the challenge of the next eight to 10 months is."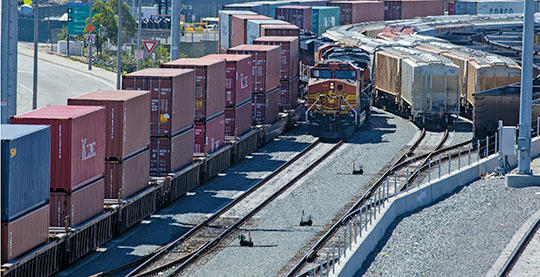 (Port of Long Beach photograph)
According to Rajan, competition in the freight and goods movement sector is only getting more intense as time goes on. "We have to preserve California's competitiveness and our market share position," he said.
Because California is the gateway for international trade from Pacific Rim countries, improving the state's infrastructure is critical, not only to the state's economy, but to that of the country as a whole, Herzog said. "Quite frankly, if our freight system is not improving and getting more competitive, then the rest of the country is going to suffer," he said.
While many stakeholders acknowledge the need to invest in more environmentally efficient technologies, the improvements they hope to see in the state's freight industry have more to do with the infrastructure itself. "We already have the most stringent regulations in the state, if not the world," Herzog said. "Now is the time to focus on the kind of infrastructure that is needed, not more regulations."
"Earlier this year the governor's office released a study that says we need something like $58 billion over the next 10 years just to fund the maintenance of the existing roadways," Shimoda pointed out. "So that is going to be a significant challenge moving forward."
One of the state's efforts in creating the action plan is to identify and implement pilot projects for zero emission or near-zero emission technologies. "The executive order calls for us to identify some pilot projects within the state that would advance technologies and local economic development," Arias said.
"There has been significant progress in emissions reductions, and that is all due to the help of our private and public partners, Arias said. "We have also seen upwards of an 80 percent reduction in emissions near the ports . . . . There is still, though a pretty important impact of the existing freight system," she explained. "We need to continue to get reductions to achieve our toxic reduction goals, our air quality goals."
In April, CARB released a document called "Sustainable Freight: Pathways to Zero and Near-Zero Emissions" on this topic. "[In the document], we do lay out that we need a system that is powered by equipment that is zero and near-zero emissions, and that the fuel source for those are a renewable fuel source," Arias said. "The technologies we use to achieve that have not been defined." This is where the pilot projects come into play.
But some goods movement and freight industry representatives aren't convinced that developing this technology is going to be affordable or feasible any time soon.
"You do not have a commercially available zero emission truck today," Shimoda said, adding that it is likely to be "some time" before one is available. "The engineering challenges to get there are pretty significant," he noted.
"Just to give you an example, your typical diesel truck has a range of up to and over 1,000 miles before they need to refuel," Shimoda said. "The typical zero emission truck we have seen . . . has a range of well under 100 miles before it has to be recharged for quite some time." Additionally, batteries for electrically powered trucks are quite heavy, which factors into weight penalties for truckers, he noted.
"The technology is about two to three times more expensive on a pilot basis," Shimoda said. "Could we remain competitive with the pilot and demonstration projects that we have seen now? Absolutely not. But the question is, how does that technology actually get developed to the point where it could actually be a viable option, which it just is not right now."
Rail lines also have concerns about the sort of technology the state hopes to see piloted in various projects. According to Marckwald, no batteries exist that are able to power freight locomotives, and other electric options aren't very viable.
"There have been past proposals to consider electrification of the railroad system via catenary electric," Marckwald said. "That technology is known, but is super expensive, and it would also create a fragmented system in which you would have to change the power source at the edge of an air basin of the edge of the state, and that changing of power would increase inefficiencies in the system and add billions of dollars to the cost." The State of California has 15 air basins, geographical areas created by CARB to manage air emissions and resources regionally.
Arias said there are "various funding pots" for pilot projects to demonstrate environmentally efficient technologies, but qualified her statement. "We are not in any way shape or form saying that we will earmark any funds. We can't do that," she said. "All of the agencies that have funding have statutory requirements associated with those funds. So, although some of the pilot projects may be able to apply under the normal processes for funds, we currently don't have any funding earmarked for that."
Arias continued, "We can analyze the pilot project to see if they might be eligible for any of the existing funding programs and then help direct them towards those application processes. We can't earmark funds, we can't promise funding, but we can help them to identify funding opportunities and help direct them towards that."
Marckwald said that, while state incentives have some role to play in developing near zero and zero emission technologies, funding would not be enough to cover costs. "When you are talking about transforming the very backbone of the transportation system, I don't think incentives alone are going to allow that to happen," he said. "I don't think there is enough money in the state or federal treasury to do that."
Costs and complications to industry may also come in the form of regulations that could be included in the plan. "One I would highlight that is a concern, is there has been discussion of something called a facility emissions cap throughout this process," Shimoda said. Under such a cap, any warehouse or distribution center would be responsible for emissions generated not only by its own equipment, but also by visiting vehicles.
"The facility owner would then have to reduce emissions from those sources calling on that warehouse or distribution center," Shimoda said. "And so you can imagine with trucks and the amount of facilities that we visit, you could have the potential for thousands of different individualized emissions reduction plans, which would not be something we would support."
All freight executives and representatives interviewed said they hope the state does its due diligence in weighing the economic impact of any pilot projects or new regulations. "We want to see a very clear game plan to capture all of the necessary economic analysis so that it is fully vetted and considered as the plan develops," Rajan said.
Arias said that CARB has worked for years with the freight and goods movement industry to gather feedback and input on its "Pathways" document, and that the agency continues to reach out to private interests. Also, the California Department of Transportation regularly convenes the California Freight Advisory Committee, a 50-plus-member group with representatives from the freight industry and environmental organizations.
"In our discussions with industry over the last several years, it has been a very good dialogue," Ito, Arias's colleague, said. "They have expressed appreciation for us being open to have some conversations in advance of all the stuff we have been thinking about."
In the end, McLaurin hopes the plan reflects one key concept. "If the state wants to be a global environmental leader, it also has to be a global economic leader," he said. "So the process has to ensure that we move forward hand in hand."