As the economy continues to improve, more households are being created, which is increasing demand for single-family and multi-family housing. High demand and low supply in both of these markets are driving up sales prices of single-family detached homes and condos, and rental rates for apartments, according to local real estate agents. Construction to alleviate the high demand/low supply dynamic is taking place in the form of new apartment buildings in Downtown Long Beach.
The commercial real estate markets – industrial, office and retail – are all experiencing increases in demand for space, according to local real estate professionals. The Long Beach industrial market faces extreme supply shortages, while office and retail space is more plentiful as those markets continue their long recovery from the Great Recession.
The inventory of single-family homes in Los Angeles County is about 3.6 months – meaning all homes currently for sale would sell within that time period, given the level of demand – according to Robert Kleinhenz, economist and director of research for Beacon Economics. Local Long Beach real estate professionals estimate Long Beach's inventory of single-family homes is little more than 1 month.
"Normal [inventory] by long-term standards is 6.5 to 7 months," Kleinhenz pointed out. "We probably have a permanently lower supply of homes in recent years compared to the past because the transactions are somewhat different today due to technology," he said. "There's been a real change in the dynamics of real estate markets in the last 10 years to the extent that both people in the industry and their clients – the buyers and the sellers – are all relying more heavily on the web and obtaining information in real time."
High demand and low supply caused sales prices of single-family homes in the county to increase by 15.3 percent between March of 2015 and the same month this year, according to Kleinhenz. That number might be somewhat inflated if more condos, which are typically priced lower than homes, sold last year than this year or if more higher-end properties are selling this year, he noted. Even so, he called the increase "robust," noting that the median price of single-family homes in Los Angeles County increased 5.7 percent in the same time period.
New household formation, in part driven by millennials striking out on their own, should continue driving demand for single-family housing as well as apartments for the next several years, Kleinhenz said.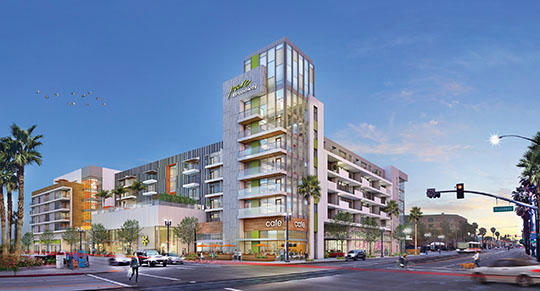 Ground is being readied for a 220-unit apartment complex at 245 W. Broadway on the site of a former state office building, across from Long Beach City Hall. Plans for the project, called "Parc Broadway," include ground floor retail. The project design is by Long Beach-based Studio One Eleven (Photograph by the Business Journal's Larry Duncan; rendering by Studio One Eleven)
Local multi-family specialists put the occupancy rate of Long Beach apartment buildings at about 98 percent. With such high occupancy and strong demand for apartments, rents have been on the rise. "Rents have gone up by rather large margins over the last few years," Kleinhenz said.
While home prices are high, interest rates are low at around 3.75 percent to 4 percent, making monthly payments for single-family homes relatively affordable as rents rise. "For many people, the pure calculation might suggest that buying a home is a more economical way to live, but one of the impediments to that is that you've got to come up with a down payment, and that seems to be a challenge," Kleinhenz said.
For this reason, despite rising rental rates, many people are still choosing to rent, leading Kleinhenz to believe rental rates should continue to climb.
"Homeownership is at its lowest in something like 40 years," Kleinhenz noted. "It's pretty close to rock bottom, and it will probably head up this year or next. All of that points to the long shadow of the Great Recession still hanging over our heads in many ways."
High demand is driving an increase in construction permits for new housing units, primarily in the form of apartment buildings, according to Kleinhenz. "These last few years we've seen more of an increase in multi-family construction than single-family construction in Los Angeles County, but even so, that is like a drop in the bucket compared to the demand for multi-family housing," he said.
The most recently completed new apartment building in Downtown Long Beach is The Current, a 223-unit luxury complex at the corner of Ocean Boulevard and Alamitos Avenue. The project by Anderson Pacific, LLC and Ledcor Properties includes a planned adjacent 35-story apartment building. (See story here.)
There are many new multi-family buildings planned or underway in downtown, including: Parc Broadway, a 220-unit building at 245 W. Broadway; Oceanaire, a 216-unit complex at 150 W. Ocean Blvd.; two projects by Ensemble Investments totaling 207 units at 442 W. Ocean Blvd. and 207 Seaside Way; a 21-story, 142-unit building at 635 Pine Ave. by KTGY Architects; and several others. In all, projects both planned and underway represent an increase of nearly 2,000 residential units in the area.
Some of these projects involve converting aging office buildings, such as the former Verizon building at 200 W. Ocean Blvd. and the Ocean Center building at 110 W. Ocean Blvd., into apartments. This trend is in part contributing to the declining vacancy rate of office space in Long Beach, which is now 17 percent, according to Cushman & Wakefield's latest office market report on the city. During the past two years, it had typically been closer to 20 percent.
Increases in employment in health care, finance and professional industries such as technology are driving demand for office space and contributing to a lower vacancy rate, according to Kleinhenz. In the South Bay office market as a whole, which includes Long Beach, rental rates for office space rose 8 percent year-over-year in the first quarter, according to CBRE, Inc. figures, Kleinhenz said.
"This is an economy that is exhibiting very slow but steady improvement, so there's not a lot to write home about in terms of dramatic changes taking place," Kleinhenz said of the slowly improving office market. "It means that we're not encountering instability in the economy, and that means we can stay on the present path for quite some time."
Part of the reason vacancy rates for office space have been slower to improve than other real estate sectors is that trends in office configuration have changed in recent years. "Office workers don't need as much space as they used to need because all of the equipment they use has shrunk, and there are more people who don't need to have an office or are not needing to use it all the time," Kleinhenz said. "And there are trends toward open office configurations." New creative office buildings following this trend are planned at Douglas Park in East Long Beach.
Industry trends in the retail sector are also impacting real estate to a degree. Internet sales are increasingly eating into brick-and-mortar profits. "A bigger and bigger share of total retail activity is shifting online," Kleinhenz said. "Look at what's happening with the sporting goods industry. We've got Sports Chalet that just closed, and Sports Authority just declared bankruptcy and they're closing their stores. So traditional brick-and-mortar retail has been under siege for many years and is only going to continue and may intensify in the years to come."
That said, there are positive indicators overall for consumer spending and the retail industry. "Consumer spending at the national level has increased nicely over the last few quarters, around 3 percent or so," Kleinhenz said. He added that increases in wages should occur in 2016 and 2017, which will likely translate to increased activity in retail trade as well as the related dining and drinking aspect of the leisure and hospitality sector.
Slight job gains of just less than 1 percent in retail and of 2.6 percent in leisure and hospitality should support the retail real estate market in the area, Kleinhenz noted.
Local agents estimate that the overall vacancy rate of retail space in Long Beach is about 10 percent and is in the single-digits in highly desirable corridors like Belmont Shore. Sales activity for shop space is increasing, and rents are expected to increase by 1 to 3 percent this year, according to real estate professionals from Coldwell Banker Commercial BLAIR WESTMAC and INCO Commercial.
There are two major shopping centers planned in the city, including a 250,000-square-foot project by Newport Beach developer Burnham USA Equities, Inc. at Douglas Park on the southwest corner of Carson Street and Lakewood Boulevard. A long-planned project to develop the southwest corner of 2nd Street and Pacific Coast Highway is also closer to moving forward as the city finishes up revising planning guidelines for the area.
The Outlets at the Pike in Downtown Long Beach, a revamp of the former Pike at Rainbow Harbor completed last year, has added tenants and has remaining space available. Also in downtown, the City Place shopping center recently began a multi-year revitalization process meant to attract new tenants and beautify the area.
The Long Beach industrial real estate market is experiencing the most extreme dynamics among local commercial markets, with a vacancy rate of around 1 percent. Demand for industrial space in the area, driven by port activity and job gains in related sectors, is very high, and supply is not nearly enough to meet demand, according to local commercial agents.
"Both in L.A. County and Long Beach, because of the markets being as tight as they are, rents have been increasing by an average of 8 percent year over year," Kleinhenz said.
While transportation and warehousing sectors grew employment by 1.4 percent in L.A. County year over year, Long Beach paced ahead, increasing jobs in those sectors by 3.6 percent, Kleinhenz noted. These jobs are indicators of growth in industrial real estate-using industries, and contribute to demand for space. "Manufacturing jobs also put pressure on that and, by our count, Long Beach manufacturing jobs rose 1.6 percent year over year from March to March," Kleinhenz said.
Industrial space is also in demand among some industries that in years past typically took up office space but are now seeking creative spaces with open environments, such as warehouses, to house their businesses, Kleinhenz pointed out.
Sares-Regis continues to be the driver of industrial real estate construction in Long Beach. The Irvine-based firm just recently broke ground on Pacific Pointe East, an expansion of Douglas Park with three new corporate headquarters-type buildings planned for the site. The company also has plans to develop Pacific Pointe Northwest, a project planned off of Carson Street with more industrial buildings, in the future.
Overall, the economy is in a place that should support all the real estate markets, by Kleinhenz's estimation. He reflected, "You're looking at a fundamentally good picture for the local economy that should in turn support continued improvement in the real estate markets."