Low inventory and high demand are the prevailing dynamics across most real estate markets in Long Beach thus far into 2016, driving up lease rates and sales prices for most property types. The exception is the office market, which still has double-digit vacancy rates, although real estate professionals and economists expect to see increased demand for office space this year.
The industrial market remains the tightest real estate sector in Long Beach, with an overall vacancy rate hovering near 1 percent. Demand to buy and lease continues to be high due to strong activity at local ports, job gains in related fields and low interest rates, according to local industrial brokers. By comparison, Los Angeles County's overall vacancy rate was 2.5 percent at the end of last year, according to Robert Kleinhenz, chief economist for the Los Angeles County Economic Development Corporation.
"Transportation, warehousing and wholesaling are all seeing big gains in jobs, and that's indicative of growth in those sectors," Kleinhenz said. "For example, wholesale trade added jobs at a 2.3 percent [rate] from December 2014 to December 2015, and transportation and warehousing in L.A. County added jobs at a 1.7 percent rate year over year in December," he explained. "Both have been growing steadily for several months running, so that tells us that the industries themselves have been expanding and have been putting pressure on the demand for industrial space."
Real estate professionals from local offices of Lee & Associates and Coldwell Banker Commercial BLAIR WESTMAC expect sales inventory of industrial space in Long Beach to increase somewhat this year as potential sellers finally take advantage of high sales prices. Plus, Sares-Regis Group intends to break ground on several more industrial buildings at Douglas Park in East Long Beach this year.
By contrast, the office market still has the highest vacancy rates of all Long Beach real estate sectors. Cushman & Wakefield's most recent office market report showed a vacancy rate of nearly 18 percent among downtown office buildings and 16 percent among suburban offices. Those are improvements over recent years, however, when vacancy rates were closer to 20 percent.
Local real estate agents expect vacancy rates will tighten up further due to a trend of converting aging office buildings into multi-family residences. One such project is the conversion of former Verizon offices at 200 W. Ocean Blvd. to 86 residential units, which was approved by the Long Beach Planning Commission in September.
"The office market throughout the county has seen steady improvement over the course of the last year, really the last two or three years, and that's being driven in part by nice gains in the kinds of industries that support office occupancy," Kleinhenz said. Health care and professional services industries continue to have significant job gains, which is contributing to demand for office space in L.A. County, he noted.
The local retail real estate market continues to improve, with demand high in well-trafficked areas such as Belmont Shore and The Promenade in downtown, which is driving up lease rates in those areas. There is a high demand to purchase retail properties in Long Beach, but not much inventory available, according to local real estate agents.
Positive economic fundamentals should support more leasing and sales activity in the local retail market, Kleinhenz said. "The unemployment rate has fallen from more than 8 percent in December of 2014 to 6.4 percent in December of 2015," Kleinhenz said. "That tells us that households and workers are moving forward financially, and as such they are able to spend money on both discretionary and nondiscretionary purchases. All of that should support some greater health in the retail sector."
Kleinhenz, who lives in Long Beach, observed that there has been an increase of new retail space opening locally. The Pike Outlets, for example, continues to seek tenants for its revamped retail center, while City Place near the downtown core is undergoing a contemporary facelift. "The market for retail space should be fairly good in 2016 and probably into 2017, to the extent that we think the economic expansion has legs into the next year," he said.
Both the single-family and multi-family residential markets continue to experience very low inventory, strong demand and increasing sales prices.
"In general, we have a market that is characterized by very strong demand and limited inventory," Leslie Appleton-Young, chief economist for the California Association of Realtors, told the Business Journal. "We have been in this situation for the past couple of years."
According to Appleton-Young, annual sales transactions in Long Beach increased by 8.9 percent in 2015 compared to 2014. "In January, the median home price was $458,500, which was up 11 percent on a year-over-year basis," she observed.
Demand to buy single-family homes is "fairly robust," Appleton-Young said. "We have got strong job growth, and we have got the lowest unemployment rate we have had in eight years," she noted. "We have a rebound in household formation. And we have got historically low and falling mortgage rates. So the fundamentals underlying demand are positive."
There isn't enough inventory to meet demand – local real estate agents estimate there are fewer than 500 homes for sale in Long Beach, which would all sell in about a month and a half at the rate of current demand. The dynamic is part of what's driving up sales prices, which is impacting affordability for homebuyers. This challenge is typically associated with first-time homebuyers, but it extends beyond them. "We have a systemic situation where baby boomers are not moving," Appleton-Young said. "They want to trade up, they want to trade down, they might want to do something different, but they simply can't afford to do it."
Kleinhenz expected these trends to continue. "I think price gains and an increase in sales should be in the cards for 2016, maybe even 2017," he said.
Even during the worst of the Great Recession, Long Beach had a fairly stable multi-family market, and it remains strong, as Eric Christopher, senior associate with Long Beach-based INCO Commercial, pointed out. "Across the board, in Long Beach we had maybe 7 to 8 percent vacancy in the worst recession that you and I will hopefully ever see," he said. Vacancy rates are now closer 3 percent, he added.
"It is always the case that the L.A. region and Long Beach in particular have very tight multi-family markets," Kleinhenz said. "We have seen that rents on apartments have continued to increase for the region as a whole."
Although new household formation has been slow to gain traction since the recession, Kleinhenz said older millennials are now starting to look to purchase homes or move into rental markets, which should put more pressure on rents.
Due to low vacancy rates, increasing rents and low interest rates, the demand to purchase multi-family properties remains high, according to local professionals. As in other real estate market sectors, there isn't much inventory available for sale, which continues to push up sales prices.
"If you look at L.A. County building permits, the lion's share of new residential construction is occurring with multi-family. A big chunk of that is for rent," Kleinhenz said. Long Beach is no exception. There are several projects underway in Downtown Long Beach, in particular, with most along Ocean Boulevard or near city hall. The Current, a 17-story residential tower at the northwest corner of Alamitos Avenue and Ocean Boulevard, is closest to completion. A temporary leasing trailer at the site is now open.
Tight Inventory, High Demand
Persist In Local Residential Market
By Samantha Mehlinger
Senior Writer
For the past year, local real estate professionals have speculated that, when the Federal Reserve began raising interest rates, home mortgage and multi-family loan rates would also increase, putting a slight damper on demand to buy residential properties. But, even after the Federal Reserve raised interest rates by a quarter of a percent in December, banks have actually reduced their own interest rates, allowing the high demand to buy property that characterized 2015 to persist.
Single-family Homes
According to real estate website Zillow.com, the average current 30-year fixed rate for a home mortgage in California is about 3.43 percent.
"It looks like we are going to start seeing interest rates down in the mid-threes [percent range] again," Mary Ann Edwards, office manager and agent with Re/Max College Park, told the Business Journal. "Nobody predicted it. Nobody thought that would happen, including myself." Edwards said banks might be lowering rates to remain competitive internationally.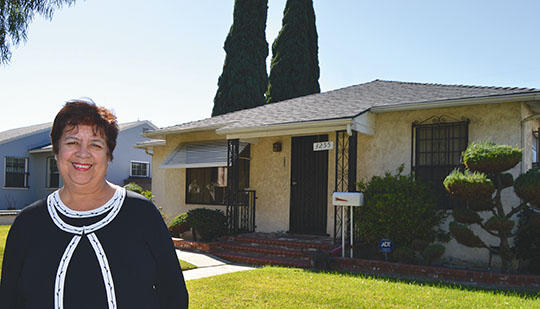 Mary Ann Edwards, office manager and agent with Re/Max College Park Realty, said home prices in Long Beach are nearing pre-recession peaks. Homes highest in demand are priced between $400,000 to $600,000, like this two-bedroom, two-bath house she owns at 3255 Eucalyptus Ave., currently valued at about $430,000. (Photograph by the Business Journal's Larry Duncan)
Phil Jones, owner of Coldwell Banker Coastal Alliance, said the Long Beach single-family market experienced heightened activity this January. Compared to January 2015, "We saw a 10 percent increase, roughly, in sales," he said.
Very limited inventory coupled with high demand is continuing to drive up sales prices, according to Jones. "The demand outweighs the supply, clearly," he said. "At the end of December we had 1.6 months of supply . . . at the current rate of sales, that's how long it would take to sell all the inventory if nothing else came on the market," he said.
At the end of December, there were 486 single-family homes listed for sale in Long Beach, whereas four years ago there were about 1,000 more than that, Jones noted. "Historically, Long Beach used to have 2,000 listings on the market at any one time. So we are really in a historically low inventory period," he said.
Jones estimated that the current median price of homes for sale in Long Beach is $475,000, an increase of 9 percent compared to the same time last year. If low inventory and high demand persist, he said sales prices should continue to increase. "What I would hate to see is the rate of appreciation increase more, because that's not sustainable," he said.
Affordability for first-time homebuyers is becoming more of an issue as home prices continue to rise. "The level of first-time homebuyers has dropped," Jones said. "It used to be historically in the 40 percent range. We are seeing it right about 30 percent on average. The first-time homebuyers are literally either being priced out of the market or haven't reached a point where they feel comfortable buying a home."
Kelsea Mazzocco, a realtor with Sonnocco Real Estate Group in Bixby Knolls, said potential sellers may be hanging on to their homes because they aren't sure when the real estate market will reach its peak and begin to decline. "People are starting to feel like, is this it? Is this the top?" she said. "Everybody is in thinking mode, like, is this it or should we hang on for one more year?"
Homes priced at $400,000 to $600,000 are highest in demand, according to Russ Caldarella, an agent with First Team Real Estate. "With the shortage of properties, that's why when there is a new listing that's reasonably priced, it has got multiple offers on it," he said.
"The higher-end market in Long Beach is also doing well," Caldarella observed. "It doesn't move as quickly sometimes as the stuff in that $400,000 to $550,000 range."
As a rule, the average number of days homes go unsold has decreased across price points, Jones said. "It's roughly between 50 and 60 days, and some are getting multiple offers within hours of being listed if they are priced well and they're particularly attractive," he explained.
The Bixby Knolls area has become popular with first-time homebuyers because homes there are often priced moderately and there are many places to eat and things to do in the area, Mazzocco said. The Los Altos neighborhood is also in high demand for similar reasons, she noted.
The neighborhoods south of Conant Street, as well as beach-adjacent areas like Belmont Heights, Bluff Park and Alamitos Beach, are also hot right now, according to Caldarella.
Multi-family Residences
As has been the case for more than a year, very low inventory and high demand continue to define the local multi-family market.
When word got out last year that the Federal Reserve planned to raise interest rates, Steve Bogoyevac, first vice president of investments with the Long Beach office of Marcus & Millichap, expected demand might cool off a bit. "In December everyone was kind of fearful that rates were going up, and the Fed bumped their rates, but interest rates [now] are actually probably a little lower today," he said. "The inventory is so low and rates are as good or better than they were at the end of last year, so I don't really expect any change," he said, referring to buyer demand.
As of February 8, there were only 27 multi-family properties listed for sale on the MLS, a multiple listing service where real estate professionals share and gather information about properties for sale, according to Eric Christopher, senior associate with INCO Commercial. "Usually there are between 60 and 90 listings showing on the MLS," he said.
To get around the problem of low inventory, buyers motivated by improving rental rates and low interest rates are making offers on properties not even listed for sale, Christopher observed. "My analysis shows that about half the deals, or maybe even more than half, are going off market right now," he said. "You never even see it make it to the MLS."
Christopher called the imbalance of inventory and demand "huge," and attributed the dynamic to an increase in foreign investment and a desire among baby boomers to make tangible investments rather than looking to the stock market.
"Price points are definitely right back where they were at the top," Christopher said, referring to the last multi-family market high in 2006. He said he expected sales prices to plateau because if they were to increase further, the amount buyers would spend on a property compared to the income that property would generate through rent would be too small and a disincentive. Certain areas of town highly popular among renters and investors, such as Belmont Shore, may continue to see price increases, he added.
Bogoyevac said sales prices might continue to increase. "Looking at comps [comparable sales prices], things closing now versus what closed at the end of the fourth quarter last year are closing at higher prices," he said. "It seems like it's continuing to increase."
Part of the reason buyers are willing to pay higher sales prices is that rents are continuing to increase, both Christopher and Bogoyevac noted. "The landlords out there most definitely have their minds on rent increases this year if they haven't already," Christopher said. Many are considering increases of at least 5 percent, he added.
Bogoyevac pointed out that landlords are able to increase rents partially because they are investing in higher quality countertops, kitchens and bathrooms. "They're getting top-of-the-market rents," he said. "There has got to be a ceiling somewhere, but I don't know where it's at."
If the market were flooded with new inventory, that could bring down sales prices and rents, Bogoyevac said. There are several new apartment buildings planned over the next few years, most of which are in the downtown area, but Bogoyevac said the increase in inventory would have to be "incredible" to have an impact. The only factor that could quash high demand would be if interest rates began increasing at a rapid pace, he added. "Otherwise I see pretty much a similar story as we had last year."
Local Office Market To Tighten This Year As
Demand Strengthens And Lease Rates Rise
By Sean Belk
Staff Writer
As Downtown Long Beach undergoes a renaissance with new retail options and old high-rise buildings being renovated to cater to creative users, demand for office space is projected to further strengthen in 2016, with vacancy dropping and rental rates rising throughout the city.
According to local commercial real estate brokers, more tenants took up space than vacated at office buildings in downtown and the suburban area of the city last year as companies have expanded and market conditions have improved in the region. Brokers estimate that there will be even less available office space this year.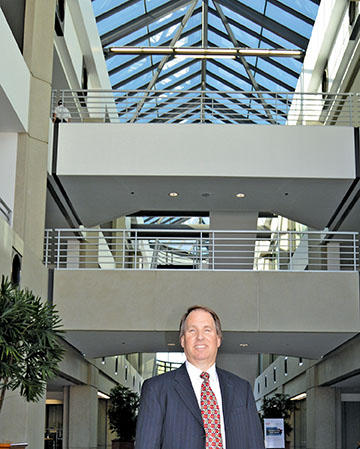 According to Cushman & Wakefield's latest market report, some space was put back on the market in the fourth quarter due to some consolidations and changing market dynamics.
Overall for the year, however, the city saw positive net absorption, meaning more tenants were moving in than leaving, in the downtown and suburban markets.
Furthermore, the report states that office space vacancy rates in Long Beach (hovering at 17.8 percent for downtown) are expected to fall, as continued growth of the office-using sectors in the South Bay should drive additional demand in 2016.
Robert Garey, senior director for Cushman & Wakefield of California, Inc., is pictured at the Kilroy Airport Center office complex, where Cushman's Long Beach office is located. (Photograph by the Business Journal's Larry Duncan)
"We anticipate that with the improving market conditions, new space on the market will be absorbed in the near future," said Robert Garey, senior director and commercial office real estate broker for Cushman & Wakefield. "I think the market is still on a positive trend of increased leasing, and rental rates will still continue to trend upwards as they are."
He noted that conversions of office to residential use at some high-rise buildings downtown will further tighten the office market this year.
"Tenants that are in those buildings that may ultimately get converted will get displaced and likely go to other buildings in Downtown Long Beach," Garey said. "We think the market will continue to tighten as that occurs."
A factor fueling the demand for office space is the improving economy, he said, noting that the unemployment rate in Los Angeles County in December last year dropped to 5.9 percent, down from 8 percent the prior year. "The economy is doing better than it was and we're seeing the fruits of that, so to speak, from the fact that office vacancies are going down," Garey said.
He added that investments in office buildings increased substantially, noting that ownership of some large office buildings in Downtown Long Beach changed hands last year.
A major deal involved Santa Monica-based Ocean West Capital Partners purchasing the 209,882-square-foot office building at 100 W. Broadway from Adler Realty Investments, Inc. for $35 million. Ocean West also purchased the 211 E. Ocean Blvd. building, which has more than 105,000 square feet of office space, for $17 million, according to Cushman & Wakefield's report.
"Investment in office buildings is increasing," Garey said, noting that the two buildings are slated to undergo major renovations to develop the latest creative office space, which is what tenants in today's market are seeking.
"New capital coming in it bodes well for the overall quality of the stock of office space," he said. "More creative, inspirational space is what most tenants are leaning towards these days."
David Smith, senior vice president at commercial real estate firm CBRE, Inc., confirmed those sentiments, adding that existing Class B office buildings are being renovated to develop brand new state-of-the-art creative space.
"Tenants don't want the type of standard mid-to-high-rise office space," he said. "They want employee amenities and relaxed work environments. That's the type of thing they're looking for and where the demand is . . . Downtown Long Beach is becoming the type of environment that companies are looking for throughout the Western U.S."
Smith said office vacancy is expected to decline this year with rental rates steadily on the rise.
In the suburban area of Long Beach, an office building at 4900 and 4910 Airport Plaza Dr. is about 20 percent leased after Boeing left a hole after consolidating into company-owned facilities, Smith said.
Garey said sales prices for office buildings have been increasing throughout Southern California. He said appreciation largely depends on job creation, adding that all sectors, including health care, engineering, entertainment and technology, appear to be on a more "growth-oriented" trend.
Jon Sweeney, a commercial real estate broker for ADG Commercial who handles listings at Daugherty Sky Harbor at the Long Beach Airport, said parcels at the business park are 95 percent leased. He said Green Apple Event Company, which provides catering services, is moving into the top level of a three-story building at the site that has long been used as restaurant space.
In addition, about two months ago, 25,000 square feet of hangar space filled up, Sweeney said, noting that only about 5,000 square feet of office space is left for lease at the site. He said most airplane hangars at the airport are becoming occupied as the size of corporate jets has increased and some tenants have moved from Orange County/Santa Ana Airport.
Industrial Real Estate Market May See More Supply
 In 2016, But Vacancy To Remain At All-Time Low
By Sean Belk
Staff Writer
Demand for industrial real estate in Long Beach and the surrounding area is expected to stay strong in 2016 with vacancy remaining at an all-time low, but more supply may hit the market this year, according to commercial real estate brokers.
Last year, the biggest challenge for industrial users was a lack of product and that is still the case this year, said Brandon Carrillo, principal and industrial real estate broker for Lee & Associates's Long Beach office. He added, however, that space has started to open up in the first quarter, a sign that property owners may be more inclined to sell as prices remain at record highs.
"I think we're going to see some more product and more supply enter the market, and users are going to see more choices this year versus last year," Carrillo said. "We're starting to see that in the midst of the first quarter . . . More property owners are being open to selling if they get their price."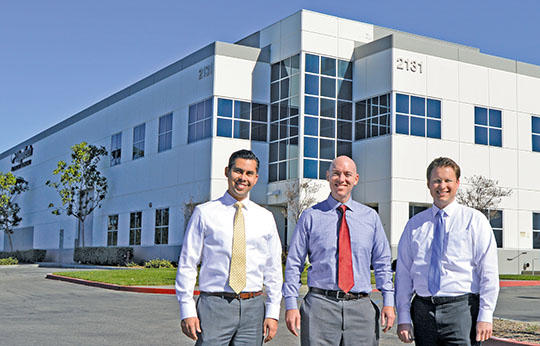 Pictured, from left are Lee & Associates' commercial real estate brokers, Associate Nate Ortega, Principal Brandon Carrillo and Principal Garrett Massaro, at an industrial building that the commercial real estate firm has listed at the Long Beach Technology Center. (Photograph by the Business Journal's Larry Duncan)
Still, aside from large corporate headquarters being built at Douglas Park near Long Beach Airport, developable land for new industrial product remains sparse, with most property contaminated or in the process of remediation, real estate brokers said.
According to Lee & Associates' latest market report, the direct industrial vacancy rate in the Long Beach/South Bay market this year is expected to hover at a historic low of near 1 percent, down from a 3.1 percent vacancy rate reported earlier last year.
Pent up demand from users taking advantage of low interest rates in a strengthening economy has put upward pressure on lease rates and even more so on sales prices for industrial property over the past year, Carrillo said.
This year, however, there has been a fair amount of "uncertainty" in the marketplace as the country experiences high volatility with regard to the stock market and oil prices, adding to concerns that the window for high sales prices may be closing, he said.
"With uncertainty, you usually see a slowdown as people take a breath and want to see where things are going in the marketplace," Carrillo said.
While local economists predict national and California economies to remain "healthy" over the next few years, worries remain about China's economy and its effect on the Los Angeles County basin's economy, the Lee & Associates' report stated.
Real estate brokers said whether the momentum of strong demand in the industrial sector continues will largely depend on consumer spending and imports in the United States since industrial real estate is largely tied to the local ports.
Jim Flynn, president of The Carson Companies, which owns millions of square feet of industrial space in Southern California, said demand for industrial real estate has been "extremely strong," with the South Bay vacancy rate at an "all-time low." He noted that rental rates are at or near peak levels throughout the local area.
Flynn added, however, that it's unclear which direction the market will turn.
As the U.S. dollar strengthens amid turmoil in the world economy, it will be more difficult for local companies to compete globally, particularly as it relates to exports, he said. However, whether the United States is heading toward another economic downturn is anybody's guess, Flynn said.
"Clearly, there are some storm clouds on the horizon," he said. "They might blow over or they may blow up. Nobody knows."
New construction of industrial property, however, remains limited, Flynn said, adding that there isn't much land left for new development.
According to Lee & Associates, there was a total of 741,832 square feet of industrial property under construction in the fourth quarter in the entire South Bay market.
John Eddy, senior vice president and industrial real estate broker for Coldwell Banker Commercial Blair Westmac, said the market for industrial property remains "incredibly tight." He said businesses related to the local ports are having trouble finding suitable properties.
"The amount of product that's on the market is just miniscule," Eddy said. "We have qualified buyers who are just unable to break through in the market."
Besides some new construction at Douglas Park, most new development of industrial property are "infill" projects in which existing structures are redesigned and in-filled with new product at a cheaper cost, he said.
Demand for industrial space is mostly driven by the area's proximity to the local ports, Eddy said, adding that corporations and small businesses have consistently grown over the past three to four years as interest rates have remained "low and advantageous."
The Carson Companies, meanwhile, has a 183,000-square-foot building that will be available for lease in the next couple months, Flynn said. Epson, which has a robotics division that manufactures printers and other electronics, is vacating the space and doubling in size to a 338,000-square-foot building, he said.
However, there remains very little available property for sale, Flynn said. With record prices for local land, The Carson Companies decided last year to expand into Houston, Philadelphia and New Jersey where there is more opportunity for investment, he said.
Although Boeing's C-17 assembly plant closed late last year while Toyota and other manufacturers announced their departure from California for more cost-effective states, demand from "trend-setting" companies, such as Virgin Galactic in Long Beach, has driven up prices and sent developers rushing to provide space, Carrillo said.
In addition, the announcement that the Rams professional football team will be moving to Inglewood and building a stadium there should make property even more valuable, he said.
Carrillo added that, with limited space available, local cities need to make it easier for companies, such as third party logistics firms and those that use trucks and trailers, to operate in heavy industrial-use zones. He said Long Beach's industrial zone, for instance, requires conditional use permits that range from $10,000 to $20,000 in cost.
"I hope cities remember that the port is our bread and butter," Carrillo said. "We need to find a way to make it more transparent and easier for companies with those uses to get approval in heavy industrial-use areas."
Long Beach Retail Market Experiencing
Strong Demand, Repositioning Of Properties
By Samantha Mehlinger
Senior Writer
Citywide, vacancy rates of retail properties are ticking down, with restaurants driving the most leasing activity, according to local real estate agents. There is high demand to purchase retail properties, but, as in other local market sectors, there is a lack of inventory to meet that demand. Meanwhile, a trend of repositioning older retail properties is gaining traction and introducing new product to the market.
In a word, activity in the Long Beach retail real estate market is "brisk," according to Brian Russell, vice president of Coldwell Banker Commercial BLAIR WESTMAC. "We're getting a lot of phone calls and doing a lot of showings," he said.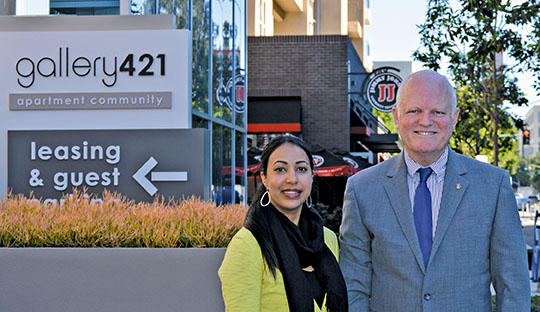 Brian Russell, vice president of Coldwell Banker Commercial BLAIR WESTMAC, said activity in Long Beach's retail market is "brisk," with strong demand in Belmont Shore, downtown and other areas. He is pictured with Sheva Hosseinzadeh, a Blair associate, at gallery421, a downtown apartment community for which they oversee ground floor retail leasing. (Photograph by the Business Journal's Larry Duncan)
Russell estimated that the citywide retail vacancy rate is nearing the single-digit range. "It's probably 10 to 12 percent, but I'd say it's getting close. What kind of skews it a little bit is all the new development going on at the Pike," he said, explaining that the rebranded The Pike Outlets still have a significant amount of square footage to lease out.
Restaurants are driving leasing activity, Russell said. He noted that this is a positive economic indicator, as it suggests that consumers feel comfortable spending money on going out to eat.
"There is a ton of activity in the restaurant realm," Doug Shea, president of INCO Commercial, said. "On January 1, the flood gates opened up. Our whole office is just humming."
Leasing activity is going strong in areas of town that typically have healthy retail activity, such as Belmont Shore, Los Altos and East Long Beach, Shea said. Russell noted the same areas, in addition to Downtown Long Beach.
Elizabeth Dana, a broker associate with INCO specializing in the downtown market, said she is seeing a trend of retailers moving to the area. "Pine Avenue is still a hot spot because of the foot traffic. You also have really great spots along Linden and 4th Street," she said.
The Promenade has been a hot spot of retail activity within the past month. A new chain restaurant specializing in hot dogs, Dog Haus, opened at the intersection of The Promenade North and 3rd Street last month, and city hall records indicate that Beer Belly, an L.A.-based craft beer joint, will soon open just around the corner at 3rd Street and Long Beach Boulevard. Plus, in late January, the Long Beach office of Lee & Associates closed a $5.2 million sale of a 27,173-square-foot office and retail space at 210-218 The Promenade North.
In areas with strong demand, lease rates are ticking up, Shea said. "Lease rates are still nudging up in East Long Beach and Belmont Shore," he said, adding that rates are flat in Bixby Knolls. Downtown lease rates are, overall, relatively flat in comparison to last year, with the exception of The Promenade. "The Promenade can command more money than the rest," he said.
There is a high demand to buy retail properties in Long Beach, but not enough inventory to meet that demand, Shea said. "Some of the older centers where you can come in, redevelop it and get higher rents, I mean there is huge developer demand for that. But there is not a lot for sale," he said. "It's really hard. There is just no product at all. I mean, if you know of any, tell me."
Single-tenant properties are also in high demand, according to Russell. "In fact, Carl's Jr. on Atlantic [Avenue] in Bixby Knolls just sold and closed in January," he said. That property sold at a capitalization rate – the ratio of net operating income to property value – of 3.5 percent, he added.
The repositioning of properties like The Pike Outlets is also driving activity in the retail market. Formerly a sleepy shopping center called the Pike at Rainbow Harbor, the waterfront center was recently rebranded and given a contemporary facelift by property management firm DDR Corp. Major tenants such as Gap Factory, F21 Red, H&M, Converse, Nike Factory and others have since moved in, and space is still available.
Further inland, work has begun to modernize the City Place shopping center based on the designs of local firm Studio One Eleven, a division of P+R Architects, which is also set to become a new tenant there. The first phase of construction has started on the north side of 3rd Street between The Promenade North and Long Beach Boulevard.
Other parts of town are seeing similar developments. In East Long Beach, Douglas Park is set to bring in a new retail development soon (see story here). And in Bixby Knolls, a major shopping center on Atlantic Avenue is steadily gaining a list of new tenants (see story here).