At its February 2 meeting, the Long Beach Planning Commission voted 5-1 to continue the discussion on the proposed Land Use Element and Urban Design Element to the General Plan. After more than an hour and a half of discussion and another hour of public comment, commissioners asked city staff to reconsider building heights and density in certain areas and requested more community outreach.
"I think it's a major planning document for the city that's going to affect the city for so long," Commissioner Richard Lewis said. "I think we just want to make sure that we have it right and [are] putting the time into it."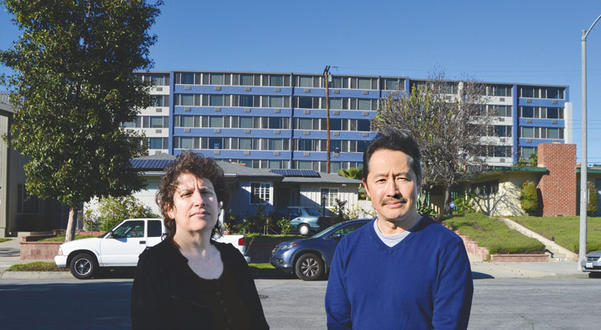 Mauna Eichner and Lee Fukui are 6th District residents who live near sites that would be allowed five-story buildings under the current Long Beach Land Use Element proposal. The residents claim that such tall buildings near single-story residential homes are imposing on occupants and point to this location on West 33rd Street near Pacific Avenue as an example. (Photograph by the Business Journal's Larry Duncan)
Lewis said he thinks city staff did a good job of spreading growth opportunities throughout the city but that the reality is that there is more developable land in areas closer to downtown near the Blueline. Because of this, proposed density is greater, and that is what is causing the concerns of the area's residents.
Many of the questions and concerns raised by residents, which were the basis of the commission's decision, were focused on proposed building heights, specifically in the Wrigley area in several locations along Pacific Avenue. The proposed land use would allow buildings up to five stories to be built near transit stations, while current zoning and land use does not allow for buildings of more than two stories.
"I think a lot of people were surprised by what the new building heights were going to be and what the new development was going to entail," Lee Fukui, a 6th District resident who supports the commission's decision, said. "We know that [city staff] want to motivate people to use the Blueline. But at the same time, we don't think they were considering other transit lines like bus lines, and it felt like it was being concentrated here."
Fukui and fellow 6th District resident Mauna Eichner said that while there are changes and additions to land use and density throughout the city to varying degrees, much of it seems to be focused in the Wrigley area near the Blueline. The residents said that having buildings taller than two stories in neighborhoods with single-story, single-family homes and in areas already impacted by density with regards to parking is illogical.
"We're not opposed to development, but it ought to be smarter," Fukui said. "There are already neighborhoods that are terribly impacted with parking, and if you add on more stories and multi-use buildings, that means more people need parking."
"There's this idealistic view that no one's ever going to have cars again, but that's never really shown to pan out in California," Eichner added. "People feel very unsafe on the Blueline. And until that gets turned around and people really do want to get rid of their cars, to idealize that this will happen is just not realistic, specifically in our neighborhood."
Fukui and Eichner said the proposal should work for everyone but that compromise would most likely be necessary. A previous version of the proposal of the Land Use Element had more areas along Pacific Avenue that would allow up to four-story buildings. However, after pushback from residents, city staff reduced them back to two stories.
When asked if this was the compromise needed to make the proposal acceptable, the residents said that it was not enough, and the five-story allowances that remained were not wanted. Eichner said eventually they may have to compromise with allowing three-story buildings but they will continue to try and convince city staff otherwise until then.
"So if they call us NIMBYs [an acronym for the phrase "Not In My Back Yard"], well, I could say the same thing about any community that cares about overdevelopment," Fukui said. "You've got to be smarter about development, and you've got to take into consideration your neighbors. That's all we're asking."
Christopher Koontz, advanced planning officer for the city, explained that the process for the proposal has been ongoing for 10 years, with a draft of the proposal posted in May 2015. In the past six months, Koontz said community outreach has been extensive and has included a citywide open house, more than 10 community meetings, a student focus group at Cal State Long Beach, public comments on the environmental impact report and e-mails being sent to more than 6,000 community members and leaders.
"A lot of work has gone into this plan. We were definitely disappointed not to move forward immediately, but it's not a big delay," Koontz said. "We will be back in April to give the commission some more information. We'll do a study session on April 6. If everything goes well there, we can go back in another month or two for a formal vote on approval."

Jay Davis owns five properties along Pacific Avenue and fully supported the Land Use Element's proposed five-story building allowances near transit stations. Davis said a two-story cap is not enticing to developers and keeps properties vacant and underutilized. (Photograph by the Business Journal's Larry Duncan)
When discussing resident concerns about increased density near the Blueline, Koontz pointed out that the current General Plan was adopted in 1989, two years prior to the opening of the Blueline. Additionally, since it was adopted, the city has gained 44,000 residents, the Aquarium of the Pacific was constructed, downtown has experienced a renaissance, and bike and pedestrian infrastructure has become more prominent in the area. All of these factors play a role in the proposed increased density of downtown and its adjacent neighborhoods.
Koontz noted that 58% of the housing stock is over 50 years old, and changes are needed soon to keep up with demand and prevent further drastic price increases for renters and homebuyers.
"We know that it is a big decision and a hard decision for the commission, so I totally understand them wanting more information and more time," Koontz said. "But I think we're going to still try to continue in an expedited fashion because we feel that it's a plan that needs to be adopted. And the city needs to move forward if we're going to be able to create jobs and housing opportunities for our residents."
Parallel to the planning commission's discussion is the city council's recent study session on housing affordability at its February 21 meeting. During a presentation, Amy Bodek, director of Long Beach Development Services, said that 38% of Long Beach residents are above moderate income, 17% are at moderate income and the remaining 45% are at low, very low or extremely low income levels. She said these numbers indicate there are great housing needs not only for low-income residents but also those above moderate income.
Bodek also spoke to low-paying jobs and poverty, noting that 47% of households are burdened; meaning more than 30% of income is spent on rent alone. Additionally, 24% of residents are considered overburdened, meaning they spend over 50% of their income on rent. These numbers, combined with the fact that around 60% of Long Beach residents are renters, indicate a need for the construction of housing at the market rate and affordable levels with increased density, not unlike the proposed Land Use Element.
Former Assemblymember and Long Beach Councilwoman Bonnie Lowenthal is the chair of the housing study group organized by Mayor Robert Garcia last year. The group was part of three community meetings with residents, housing advocates and developers. During the council meeting, she identified three steps to help during the housing crunch: prioritize and plan affordable housing; protect and preserve current affordable housing; and produce and promote new housing.
"It's an extremely difficult time to find funding," Lowenthal said. "That, indeed, is your biggest challenge. We hope that you're going to dig deep into every possible source of funding."
Not all community members share the same reservations about increased density in areas such as Pacific Avenue. Sam Portillo, a 6th District resident, said the area is long overdue for a change.
"The Wrigley area was built and designed a long time ago. At that time, what was there was conducive to what the environment was in the neighborhood. But now times are different, and needs are different," Portillo said. "So the buildings that are there and the regulations that we have for those areas really need to be changed so they catch up with the times."
Portillo said he is not upset with the decision to continue the discussion because he understands the concerns of some residents regarding building height limits. However, he said that as a resident with a home directly behind Pacific Avenue, he does not take issue with taller buildings being allowed in the area.
He noted that even if five-story buildings are allowed, individual developments are still subject to approval and pushback from the community and may result in smaller buildings. Portillo also acknowledged that more story allowances make opportunities more viable for developers. Property owners agree that larger-scale projects are the best way to encourage more development.
"Now we're getting to a point that we can do something that allows the opportunity for an investment that you can get a return on and not have it sit there and languish," Jay Davis, owner of five properties along Pacific Avenue, said. "The problem is you really can't make the investment in the current restrictions."
Davis said a balance needs to be found that preserves the community's character and tradition while allowing it to grow. He explained that people are focusing on what the community is today instead of what it could be in the future.
"Without being able to make changes and allow for something different, areas aren't going to flourish," Portillo said. "They're just going to die."