With a growing population of around 474,000 people and increasing rents, the need for affordable housing continues to escalate, while city leaders and community members work together to figure out how to tackle the issue.
"The average rent is right around $1,490 in L.A. County and Long Beach and metro areas. These are from national databases that we look at, and that's a two-bedroom cost," Suny Lay Chang, executive vice president of Long Beach-based LINC Housing, a nonprofit affordable housing developer, said. "And then if you look at how many units are available, there's a historically low vacancy in the city. So it's really an owner's market, if you will. It's very hard for people to find available units."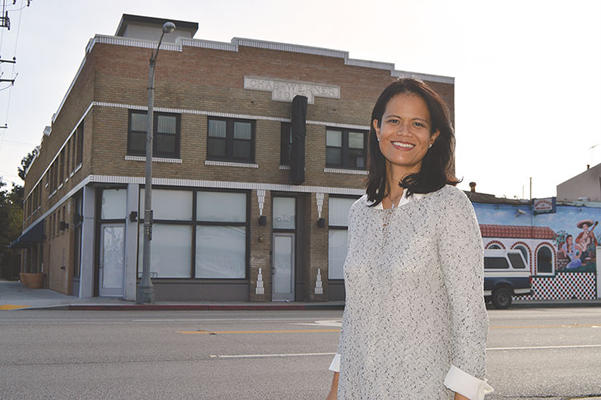 Suny Lay Chang, executive vice president of Long Beach-based LINC Housing, a nonprofit affordable housing developer, is pictured with the company's only Long Beach project at the historic Palace Hotel on Anaheim Street.  According to California Homeless Youth Project, one in four emancipated youth are homeless. The units are studio apartments and include the basic amenities necessary for everyday life. (Photographs by the Business Journal's Larry Duncan)
Despite Long Beach having 4,610 units of federally assisted, affordable rental units – 1,848 Section 8 units, 2,082 Low-Income Housing Tax Credit units, 573 Section 202 units, 55 Section 811 units and 52 public housing units – according to affordablehousingonline.com, Chang said Long Beach currently has 490 individuals approved for housing vouchers who are unable to find an available unit. She explained that spending 30% or less of a person's income on housing constitutes affordable housing, but many people are paying upward of 50% of their income. She also noted that housing is the number one driver of poverty.
When it comes to building affordable housing, Chang said the single greatest challenge a developer must overcome is acquiring a site to build on. Southern California land is very expensive, Chang explained, and when competing with market-rate developers for a property, affordable housing often loses.
Though Chang said an affordable housing developer often pays the same price for property, gathering funding from various government sites often leads to a longer escrow than a market-rate developer, which many sellers do not want to wait for.
"We put together funding from the city, from the county, from the state, from federal sources. So our development process can take a bit longer than a market-rate developer who's coming in with an investor who has equity and a lender," Chang said. She explained that an affordable housing developer's only option is to find private sellers or public agencies that are willing to engage in a longer escrow process.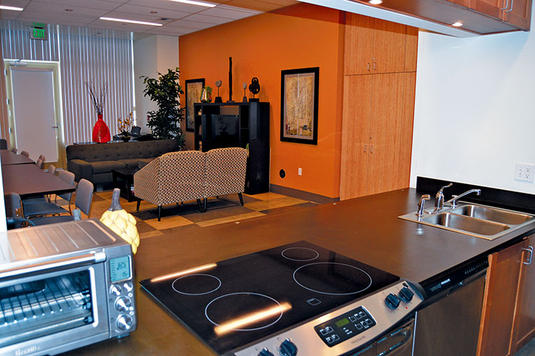 The 14-unit project is meant to house emancipated youth and includes common areas for socializing and hanging out. (Photographs by the Business Journal's Larry Duncan)
Another major challenge when attempting to develop affordable housing in densely populated areas such as Long Beach is parking. "It's always been a challenge because we love our cars," Chang said. "Parking also has the ability to really constrain the number of units that you build because they don't generate additional revenue. And a lot of times when you run the calculations on a site, that is the limiting factor."
Essentially, the more parking a project is required to have, the fewer units it is likely to have, according to Chang. She explained that this is not just because of space but also the high cost of providing parking, especially in densely populated areas that require subterranean parking. Chang argues that for certain types of housing, like for seniors or very low-income families, parking is not as important as for market-rate projects because many tenants do not own cars.
"When you're struggling to make ends meets, the gas payments, the insurance payments and the car payments can add up," Chang said. "So the people who are living in affordable housing with access to transit, it's been demonstrated that they actually are more willing and more likely to use the transit."
In light of this, Chang said there has been action taken by policymakers to ease parking requirements for certain developments. Assembly Bill 744, for example, which was approved in October 2015, reduces the parking requirement for affordable housing in California to 0.5 spaces per bedroom if the project is located within half a mile of a major transit stop. Though Chang admitted that LINC tries to stay above the minimum to accommodate families that still need their cars, she said actions such as this enable affordable housing developers to maximize the number of units, which is necessary to aid low- to very low-income families.
When talking about the overall construction process and the finished product, Chang explained that it is not uncommon for affordable housing to actually look nicer than market-rate projects. She said this is because developers are trying to overcome the idea that affordable housing is cheap and held to a lesser standard than market-rate housing.
"I wouldn't say that we go all out the way that a luxury apartment owner might go all out, but I wouldn't describe it as bare bones," Chang said. "Almost all of our projects have community rooms and amenities such as tot lots and computer centers. We . . . help provide life-enriching services, whether it's after-school programs, job readiness, or health and wellbeing and nutrition programs – we do all of that. Several of our properties have pools. They have gyms. It's really making sure that everybody is living in a place that everybody would be happy to call home."
Despite the hurdles in creating affordable housing, Chang commended Long Beach officials for focusing on the affordable housing crisis. In September, Mayor Robert Garcia formed the Affordable and Workforce Housing Study Group and hosted three community meetings through October to gather community input. Chang said even the recent homelessness study was valuable to the affordable housing conversation.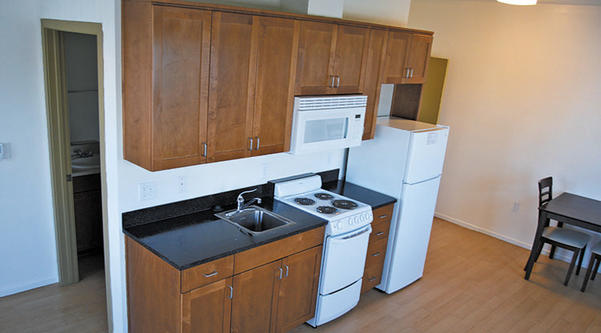 The units are studio apartments and include the basic amenities necessary for everyday life. (Photographs by the Business Journal's Larry Duncan)
LINC Housing's only current project in Long Beach consists of 14 studio units at the site of the historic Palace Hotel on Anaheim Street. This project was created for the sole purpose of housing emancipated youths, due to the extreme rate of homelessness among that demographic. According to the California Homeless Youth Project, one in four emancipated youths are homeless.
Another project has been proposed by LINC on a city-owned site at 19th Street and Long Beach Boulevard, which is still being evaluated. Chang said the company is continuing to look at sites throughout the city for possible affordable housing developments.
To help the process of creating affordable housing, Chang said all government agencies, not just Long Beach, must do everything they can to expedite the planning and entitlement processes, as well as allow for more density and continue to prioritize affordable housing.
Chang explained that affordable housing conversations encompass much more than just putting a roof over people's heads. She said a stable family home is most important because it is a safe and consistent environment for children to grow up healthy and succeed in school. A home that offers services and allows families the ability to work less and spend more time together is an opportunity everyone should enjoy.
"I love that we are talking about affordable housing because it is really important and really critical," Chang said. "For LINC Housing, and for those of us that live and breathe not just the housing but the community development piece of it, it's just the beginning of getting that flywheel of opportunity and economic growth to happen."