Third quarter data from real estate brokerage firms and organizations illustrate that all of Long Beach's residential and commercial submarkets are improving, although some are outpacing others in terms of development, sales transactions and property value gains.
The multi-family market is still leading the pack in real estate development. Long Beach Planning Commission agendas for this month reveal two new multi-family projects planned for the downtown area, adding to a slew of other projects that will eventually create more than 2,000 new residential units.
Sares-Regis Group, the same developer behind the mixed-use development Douglas Park, has submitted plans to the city for a 136-unit, seven-story condo complex at 101 Alamitos Ave. The planning commission is set to vote on the project on November 19.
The Long Beach City Council approved the sale of property on the south side of 3rd Street between Long Beach Boulevard and Elm Avenue, which was formerly owned by the Long Beach Redevelopment Agency, to Ratkovich Properties, LLC on November 3. A mixed-use building with apartment lofts, ground floor retail and creative office space will be built on empty space north of the Acres of Books building, according to city planning documents.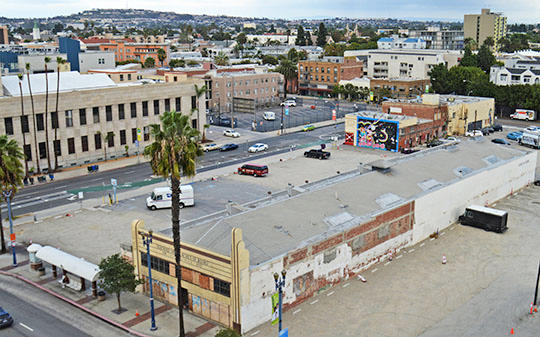 The Long Beach City Council approved the sale of several adjoining parcels of land on the south side of 3rd Street between Long Beach Boulevard and Elm Avenue to Ratkovich Properties, LLC, on November 3. The 52,500-square-foot plot includes the former Acres of Books building (pictured in foreground at left) and a parking lot to its north, as well as the ArtExchange building and adjacent parking spaces (pictured top right). City documents reveal that the developer intends to adaptively reuse the Acres of Books building and to convey the ArtExchange building to the current tenant. A mixed-used building with apartments, ground floor retail, creative office and gallery space is planned for the parking lot on the north side of Acres of Books. The entire property "will be organized around a common courtyard and pedestrian walkway," city documents said. Ratkovich Properties bought the property for $2.34 million. (Photograph by the Business Journal's Larry Duncan)
Meanwhile, current apartment developments are progressing, including the 222-unit Parc Broadway at 245 W. Broadway, the 156-unit Edison Lofts at 100 Long Beach Blvd., the 223-unit The Current at 707 E. Ocean Blvd., and others.
These projects, as well as the redevelopment of retail centers including the City Place shopping center and the nearly completed Pike Outlets at the former Pike at Rainbow Harbor, may be part of a nationwide trend. "If you look at big cities like New York, Chicago, Seattle and San Francisco, they have this very similar pattern over the past couple decades, which is the revival of the downtown," William Yu, economist for University of California, Los Angeles's Anderson Forecast, told the Business Journal.
According to Yu, younger generations are more attracted to live in areas where they can easily access amenities and live near work, which may be driving development in downtown areas.
"Before they get married, they want to live in those kind of vibrant, dynamic areas," he said.
Investor activity for existing multi-family properties throughout the city remains stronger than in the South Bay as a whole because revenue yields are higher among Long Beach properties, according to a third quarter Marcus & Millichap report.
With low vacancy rates and high demand, rental rates continue to increase, Robert Kleinhenz, chief economist for the Los Angeles County Economic Development Corporation, told the Business Journal. "We are looking at fairly hefty year-over-year increases in rents, which are symptomatic of a very tight market," he explained.
After years of lagging behind the post-recession rebounds experienced by all other real estate submarkets, Long Beach's office market is finally starting to pick up, thanks in part to office-related job gains. "Vacancy rates have finally budged, which is important," Kleinhenz said. The vacancy rate of office space in Downtown Long Beach is about 16 percent, down from about 21 percent this time last year, according to Cushman & Wakefield's third quarter report. The vacancy rate for office space in other areas of the city is about the same.
However, the decline in vacancy is somewhat misleading since a few office buildings have been taken off the market for conversion to residential. These include the Ocean Center Building at Pine Avenue and Ocean Boulevard, and the former Verizon building at 200 W. Ocean Blvd.
While some office-related sectors, such as finance and insurance, have consistently struggled to regain jobs lost in the recession, others are now making marked improvements. "Health care, like professional and business services, is setting new records [for job gains] with each passing month," Kleinhenz said. Firms such as Long Beach-based Molina Healthcare continue to take up office space in the city. Recently, Molina signed a lease for 73,486 square feet in downtown's World Trade Center.
From September 2014 to the same month this year, Long Beach's unemployment rate decreased from 8.8 percent to 6.8 percent, Kleinhenz noted.
The retail market in Long Beach also continues to improve, which Yu attributed to economic factors benefiting consumers. The vacancy rate of retail space in the South Bay and Long Beach combined is about 3.2 percent, which is lower than L.A. County's overall 5 percent rate, Yu pointed out. "Gasoline prices are much lower, so consumers have more disposable income to spend," which boosts retail activity, he explained.
"Retail, and specifically restaurant and eatery-type space, is in high demand in the Long Beach area," Kleinhenz said. "A huge variety of places, in terms of cuisine, seem to be popping up."
Long Beach is also expected to get its first new shopping center in a number of years when Newport Beach developer Burnham USA Equities Inc. moves forward with a planned development at Douglas Park at the southwest corner of Carson Street and Lakewood Boulevard.
The Long Beach industrial market's dynamics of low inventory and high demand continue to push more extreme limits. The vacancy rate of industrial properties in Long Beach is now less than 1 percent, according to multiple reports. By comparison, the overall Los Angeles County industrial market has a vacancy rate of about 2.5 percent, Kleinhenz said.
Brokers are having a tough time finding properties for buyers seeking facilities in the area to accommodate growth due to gains in cargo volumes at the San Pedro Bay ports, among other positive economic drivers. "It was already a very tight market, and now it is an extremely tight market with competition from the goods movement industry and manufacturing segments of the local economy," Kleinhenz said.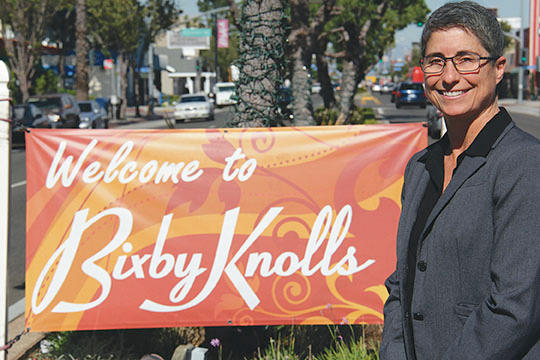 Andrea Testa, realtor for Keller Williams Realty, said Long Beach continues to experience a low inventory of homes on the market. She said there were 16 listings of homes in the 90807 ZIP code, which includes Bixby Knolls and California Heights, in October, down from about 22 listings in September. (Photograph by the Business Journal's Larry Duncan)
Trends in Long Beach's single-family market mirror what has been occurring for the past year or so, with continued high demand and low inventory driving up sales prices, although at a slower rate than last year, according to local brokers. Sales of single-family detached homes and condos both increased this year in comparison to last year, Kleinhenz said.
The combined median price of single-family homes and condos in Long Beach increased from $420,000 in September 2014 to $435,000 in the same month this year, he noted. The statewide median price is $500,000, which is about $100,000 shy of the pre-recession high.