Long Beach's multi-family market, which has been for the past several years characterized by high demand and a low supply of available properties, seems to have reached a peak and is now approaching an equilibrium, based on feedback from multiple apartment specialists interviewed by the Business Journal.
The first quarter of 2018 saw an increase in inventory of multi-family property listings in Long Beach, according to Steve Warshauer and George Bustamante, vice presidents of Coldwell Banker Commercial BLAIR WESTMAC. About 45 properties sold in the first quarter of each of the past three years, Warshauer said. "This year, it is down to 30. That is a one-third reduction. So things are definitely slowing down," he added.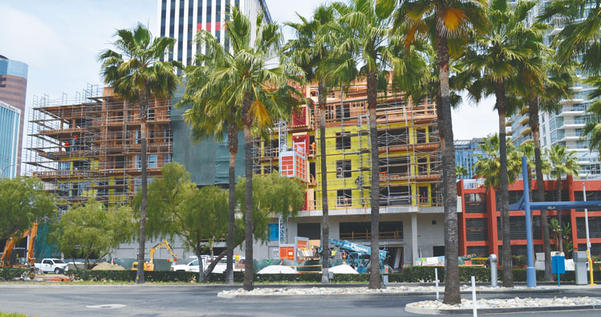 Ensemble Real Estate's Serenade Modern Flats at 442 W. Ocean Blvd. are under construction with a scheduled completion date set for some time in 2019. The 94-unit building will include a rooftop deck and outdoor kitchen, a plaza level paseo and a dog park. (Photograph by the Business Journal's Pat Flynn)
During the first quarter of 2017, 71 multi-family properties were sold in Long Beach for a total of $104 million in sales volume, Bustamante noted. "Now in 2018, we only had 51 transactions close during the same period. That's a 28% drop from the same period. And the sales volume went down to $92 million – that's a 12% drop in sales volume," he said. "The reason there is such a gap between the sales volume and the number of sales is because the pricing has still gone up. The price per unit went up 21% during that same time period," he explained.
Warshauer said that inventory is "starting to explode," in part due to the threat of rent control. A local signature-gathering campaign is underway to place a Long Beach rent control ordinance on the November ballot. The policy would roll rents back to January 1, 2017, levels for properties eligible for rent control under the state's Costa Hawkins Rental Housing Act. However, there is also likely to be a statewide ballot initiative going to voters in November to repeal Costa Hawkins, which would in effect make nearly every residential property eligible for rent control.
"We're being told by our clients that the threat of rent control has got them a lot more cautious about Long Beach. Some of them are saying they are just not going to invest here any longer," Warshauer said.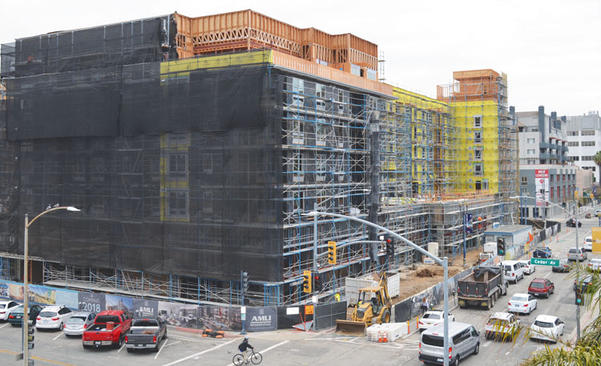 AMLI Residential's Park Broadway development at 245 W. Broadway is taking shape across from the city's development of the new Main Library. The seven-story building will feature 222 residential units, 6,007 square feet of groundfloor retail, an art gallery, a "bike kitchen" for bicycle maintenance and more. (Photograph by the Business Journal's Pat Flynn)
Rising interest rates for property loans are also likely to be playing into a slowdown of sales transactions, as higher interest rates reduce the rate of return on investment for buyers, Bustamante noted. "The good news is there is still a lot of money out there chasing deals, and there is still pricing power from the landlords from a rental standpoint, as long as they don't implement rent control," he said.
Eric Christopher, senior adviser and director at Centennial Advisers, observed that sales prices for Long Beach multi-family properties seem to have peaked and are now hovering slightly below that peak due to the increase in available inventory. "I don't think we're going to make all-time highs again on our buildings at this point," he said.
Steve Bogoyevac, senior vice president of investments at Marcus & Millichap, said that he reduced the list price of four multi-family properties in recent weeks. "We're still getting the properties sold. There have just been price adjustments in order to get to where they need to be to get them sold," he said.
"When it comes to specifically Long Beach, we have hit a threshold or a ceiling [on prices]," Bogoyevac said. "But I think that could change, too. If rent control doesn't get passed, that could change things quite a bit, depending on what happens with interest rates."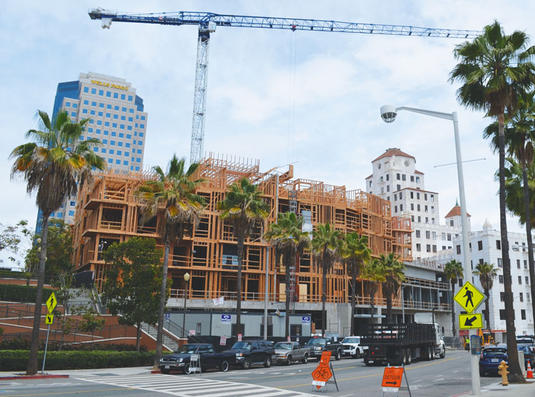 Lennar Multifamily Communities' Oceanaire development at 150 Ocean Blvd., which began construction in December 2016, has been built up to its fifth floor. The expected completion date of the 216-unit, seven-story apartment building is some time toward the end of 2018. The finished project will include a slide from Ocean Boulevard down to the back side of the property, which is located across the street from The Pike Outlets. (Photograph by the Business Journal's Pat Flynn)
Christopher noted that rents are still increasing in Long Beach. "The good news, at least until rent control takes effect if it does pass, is that the rents are still going up to a degree. So whatever offset in price you would have because of [lower] supply in the market will be somewhat offset by more income coming in the door from rents," he explained.
Some long-time property owners who have tended not to raise their rents are now doing so, Christopher observed. "What's happening now, and this is happening all over the city, is these massive rent increases are coming down [and] forcing people out of their apartments, because you don't want to get stuck when rent control hits at a rent that's under market," he said. Some property owners whose rental rates have remained about 20% to 30% below market are raising their rents to market level in order to force tenants out and avoid rent control, he explained. "If I am the landlord and I don't have any tenants that were in my building in 2017, I can put the rents wherever I want marketwise, then rise up with the regulated increase," he said.
Rents have been increasing due to a lack of availability and high demand, but Bustamante and Warshauer expect that the addition of thousands of residential units currently under construction and planned throughout the city will add supply in the market and help alleviate this issue. While many buildings are going to be high-end, they said that people currently occupying mid-market units would likely move up into those apartments, creating more supply at all levels. "You see all the cranes everywhere. These buildings are going to be online pretty soon, and we'll have some supply," Bustamante said.