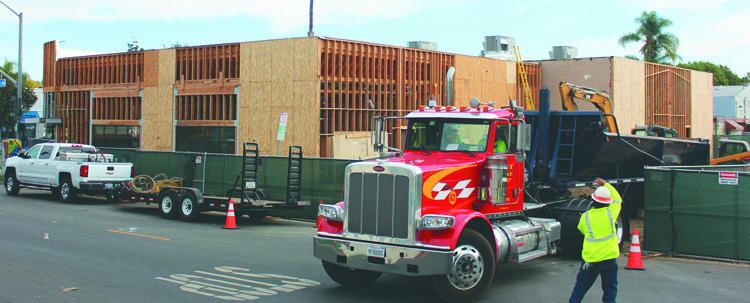 The neighborhood now known as Bixby Knolls was once a lima bean farm, according to the Bixby Knolls Business Improvement Association. Development began in the late 1910s after the land was parceled out by the affluent Bixby family.
Today, the 3.4-square-mile area boasts a lively commercial corridor and highly desirable real estate, according to local realtors who spoke with the Business Journal.
"It's an extremely established neighborhood," Tom Borcich, founder of Bixby Knolls Mortgage, said. "Very family oriented, very neighborly people."
Residential: Single-Family Homes
Andrea Testa, a local realtor for Keller Williams Realty Pacific Estates, said the Bixby Knolls area is currently in high demand for those looking to buy single-family homes. Families want to live there because schools are ranked high and above average, she said, while the local business association is "keeping dollars in Long Beach" by bringing in new and interesting retailers. "It's got lots of wonderful shops, eateries, breweries, personal services . . . and is all walkable from just about any area of 90807," Testa said.
The median price of single-family homes in Bixby's 90807 zip code is $653,000, Testa said, which is up from $614,000 in October of last year. The local market update, as reported by the Pacific West Association of Realtors, states that there are 2.6 months of inventory available. Testa noted that homes are staying on the market a bit longer than last year, at 33 days compared to 25 in October 2017.
The Bixby Knolls area offers more homes "in the middle of the road pricing," she added. "When I got started five years ago, entry level was just under $500,000. Now entry level is more like under $580,000 to $620,000."
"Some sellers have gotten a little bit aggressive on their pricing," Borcich said. "[During] the last five to six years . . . you could put a sign in the front lawn and sell the property in five to 10 days." As prices and interest rates have gone up, Borcich thinks the area has reached "a little bit of a plateau."
While interest rates are low compared to when she bought her house in 2003 at a rate of 6%, Testa noted that a quarter to a half percent change "can make enough of a difference in a mortgage payment for some buyers to think twice." Overall, however, she terms the current market as "great."
Multi-Family Homes
The high price of single-family homes and the potential for higher interest rates has led Steve Bogoyevac, senior managing director investments for Marcus & Millichap, to predict that more people would choose to rent in Bixby Knolls moving forward. "It's a great multi-family market for investors," Bogoyevac said. "It's a great place to live for tenants."
Robert Stepp, president and founder of multi-family brokerage firm Stepp Commercial, said that the area's appeal is growing with younger renters. "Bixby Knolls has definitely seen a younger, more affluent demographic come into the area," he said. "This is drawn by a strong arts and culture scene and [the] expansion of the Atlantic Corridor with the addition of more 'urban chic' amenities in the area over the past few years, such as Rasselbock Kitchen & Beer Garden and SteelCraft."
Stepp noted that Bixby Knolls is still predominantly populated by homeowners, at a ratio of roughly 75% homeowners to 25% renters. Rental costs are rising in the area, he added, at a rate of about 3% over the past four quarters.
"Rental rates are expected to increase slightly by 0.7% by year-end 2018," he said. The average cost of a one bedroom is now $1,534 per month, he noted. He placed the vacancy rate at about 4.7%.
Office And Retail
Changing demographics in Bixby Knolls are driving demand for retail and office space, Sean Liepmann, senior associate at the Long Beach office of Lee & Associates, told the Business Journal. "It's attracting a lot more younger families in this area, and that's had an effect on the commercial [side]."
Retail vacancies are trending around 3%, he said. "There's low turnover and low vacancy."
Sheva Hosseinzadeh, associate vice president with Coldwell Banker Commercial BLAIR WESTMAC, said that smaller retail spaces are in greater demand than larger ones. "If you have a 1,000 or maybe 1,500-square-foot space, I definitely do see activity there," she said. Hosseinzadeh added that this is true throughout Long Beach, not just in Bixby Knolls.
"A lot of these older buildings have larger space, and many of the owners are not willing to or don't have the funds to invest into their property," she said. "Overall, in the retail industry, operators are downsizing to cut costs." By outsourcing their services or operating online, retailers are cutting back on employees and "just not in need of large space," she said.
Hosseinzadeh contrasted that to office space in Bixby Knolls, which is in much higher demand. "I've done recently three leases in the office market in Bixby Knolls," she said. "A lot of the buildings there in [comparison] to the downtown area have parking, easy accessibility to the freeway, a lot of amenities and restaurants and . . . things that are within walking distance for their staff to go and grab a nice lunch."
On the southwest corner of Atlantic Avenue and East Roosevelt Road, the spot formerly occupied by Nino's Italian Restaurant is being rebuilt by TB Realty. Construction is slated to be completed by the end of this month, co-owner Ramin Tabibzadeh said, with spaces for four new tenants. One tenant, Medcompounders Pharmacy, is already confirmed. A variety of tenants are looking at the remaining spaces at the Atlantic and Roosevelt location, he said, which include a standalone 2,100-square-foot unit and a 4,900-square-foot space that can be subdivided into two.
The pharmacy was drawn to the location for its large size and accessibility to parking and busy streets, Tabibzadeh said.
Parking is a big factor for office operators, Hosseinzadeh commented. Many office spaces in Bixby Knolls have their own parking or freely available street parking. In downtown, that's much less common, and operators must resort to off-site parking or paid parking. "When you're looking at having 30 employees and having to pay $50 minimum per slot per employee, it just gets expensive," she said.
Bixby's neighborhood amenities and small mom and pop retailers are what get investors excited, Liepmann said.
Liepmann has worked with Blair Cohn, the executive director for the Bixby Knolls Business Improvement Association (BKBIA), to find new businesses and shops to enliven the neighborhood. The corridor now has a selection of breweries and eateries that are generating buzz.
"The area sells itself," Liepmann said. "People are familiar with the area and what's happening. . . . And are more interested in investing in this area or starting businesses."
"Wardlow corridor has been experiencing a renaissance as well," Lee & Associates Principal Noel Aguirre noted.
"Blair Cohn has been a major advocate and champion of the neighborhood, and he's been great." Aguirre said. "We utilize his services as a resource for clients that are going to be coming in to the area . . . to get a sense of what Bixby Knolls offers that other neighborhoods don't offer."
Borcich also complimented the BKBIA, as led by Cohn, for revitalizing the neighborhood. "He's unreal," Borcich said of Cohn. "He's got the community involved up here, brought in some very good commercial tenants."