Aquarium's New Wing, Pacific Visions, Celebrates
Completion Of Exterior Glass Facade Installation
During a ceremony for the placement of the final glass panel on the exterior of the new Pacific Visions wing at the Aquarium of the Pacific on October 17, the San Gabriel and Lower Los Angeles River and Mountains Conservancy announced a $1.9 million grant in support of the expansion.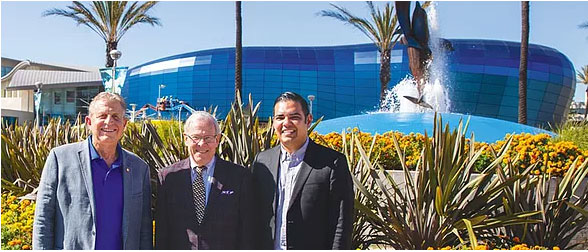 "With the new expansion, the Aquarium will . . . [be] the Aquarium of the future – a combination of museum, science center, art gallery, performing arts space, and a think tank to explore solutions to some of the world's biggest environmental issues," Aquarium President and CEO Dr. Jerry Schubel, stated. "The Rivers and Mountains Conservancy shares our vision of improving human connections to the natural environment and our use of natural resources. We are grateful for their support."
The new wing includes the two-story, 300-seat immersive Honda Pacific Visions Theater, special exhibition and art galleries, and live animal exhibits. The theater will feature a 180-degree arced screen that measures 130 feet wide by 32 feet tall, as well as a tilting 30-foot-diameter floor projection disc. The Aquarium and Cortina Productions are developing content for the theater in partnership with leading scientists, filmmakers, storytellers and digital artists. Aside from screenings, the theater will serve as a space for panel discussions, community meetings, educational seminars and as a performing arts venue.
"The Aquarium of the Pacific is the fourth most attended aquarium in the country, and the addition of Pacific Visions will boost attendance significantly, bringing many additional visitors to Long Beach," Steve Goodling, president and CEO of the Long Beach Area Convention & Visitors Bureau, stated in an e-mail to the Business Journal. "More than just a dramatic entertainment venue, the new wing will educate the public about our ocean environment."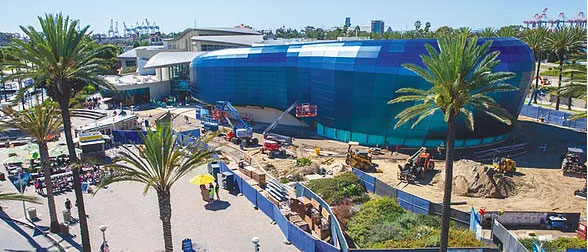 Designed by San Francisco-based EDHH, Pacific Visions is a biomorphic structure that pays homage to the Pacific Ocean's size and diversity. The exterior of the structure is made up of 839 colored, light-diffusing glass panels, all uniquely sized. The color of the panels changes throughout the day in response to shifts in lighting and climate conditions, resembling sunlight on the ocean's surface. Panel installation began in July 2018, with the new wing scheduled to open in spring 2019.
"Over its 20-year history, the Aquarium of the Pacific has become a leader in the Long Beach community and beyond through its commitment to educating the public about the ocean and how we, as humans, impact our world," Long Beach Mayor Robert Garcia stated. "We are grateful to the Aquarium and Dr. Jerry Schubel for their continued partnership with the city on our Sustainable Cities Initiative and are happy to support the institution and the Pacific Visions expansion, which will continue to inspire people to work toward a better future for our planet."
Pacific Visions, the Aquarium's first major expansion project since opening in 1998, is budgeted at $53 million, which includes the building and exhibitions. With the grant by the conservancy, along with previous donations, capital investment by the Aquarium and anticipated savings, the project is fully funded. Previous donations include: a $15 million matching grant from the City of Long Beach; $5 million from American Honda Motor Co. Inc.; a $5 million matching grant from John, Michelle, Mario and Therese Molina; and $1 million or more donations by James and Marilyn Simons, Dr. Allen and Charlotte Ginsburg, the Don Temple Family Charitable Foundation, Premier/SMG, and an anonymous donor. Additional funding has come from foundations, corporations, individual donors and anonymous gifts.
Local Church Buys Former Vault Building; Will Host Services And Entertainment Events
On October 11, Millworks announced that it sold 350 Pine Ave., a long-vacant former music venue, to Antioch Church of Long Beach. Antioch Senior Pastor Wayne Chaney, Jr., has already sold and vacated the church's previous location at 1535 Gundry Ave. in Central Long Beach, the same location where his grandfather founded the church 57 years ago.
"Our last service in the building was [October 7], and it was really emotional. You know, I have a lot of memories there," Chaney told the Business Journal. "I was baptized there. Two out of three of my children were baptized there. I met my wife there. To walk away from that place knowing that it'll never be the same wasn't easy, but it was necessary."
During the first phase of the buildout, Chaney's congregation of more than 2,000 people is meeting in the auditorium of Long Beach Polytechnic High School for several services on Sundays. Once the first phase is completed in 12 to 15 months, the 350 Pine Ave. location will seat between 900 and 1,100 people, and host two or three services Sunday mornings and occasionally on weekdays and Saturdays, Chaney said. Outside of nonprofit church functions, the space will operate as a for-profit venue and hopefully feature a coffee shop or other retail component, he explained, bringing in taxable income to stimulate the city's economy.
"Part of the vision is that this is not strictly a church building," Chaney said. "We want to honor the rhythm of the community and also have a full-fledged venue where there are still events, productions, concerts, as well as other activities outside of our local church context."
Chaney explained that the venue would not only be open to religious acts but also secular ones, include bands, comedy, plays and more. Chaney said a committee comprised of residents, a representative from the Downtown Long Beach Alliance, church representatives and people with event promotion experience will likely be formed to select future entertainment.
While many entertainment venues have permanent bars for the 21-and-over crowd, Chaney said that would not be the case here. However, he added that he is not opposed to promotion companies bringing in a temporary bar for events.
Aside from entertainment, Chaney explained that he wants the space to bring the community together through meetings, events and town halls. The space will likely not serve as a wedding venue, Chaney said, adding that it could "never compete" with The Loft on Pine up the street at 230 Pine Ave.
Along with generating tax revenue for the city, Chaney said he would encourage his congregation – which hails from all across Long Beach and surrounding cities – to be active in Downtown Long Beach. Michelle Molina, manager and co-owner of Millworks, said Sundays are the slowest day of the week for Pine Avenue businesses. Chaney plans to encourage his congregation eat at downtown restaurants and shop at nearby stores on Sundays following services.
Questions have been raised about the impact the church will have on downtown parking. Chaney said his would advocate for his congregation to use public transportation, carpooling or bikes to minimize the number of vehicles in the area. Additionally, he noted that the slow business day should reduce the chance of overcrowding. Chaney added that he is working with the city and will pay a fee for nearby parking lot space.
The former Vault building was purchased for $3.5 million in 2015 by Millworks, which had originally planned to return it to its former glory as a music venue. "Everyone in the music biz we met with passed on lease and sale opportunities. That was disappointing," Molina told the Business Journal via e-mail. "We were faced with retail options that would have put good friends out of business; we couldn't do that."
Though he did not want to disclose how much he paid for the building, Chaney said it was "quite a bit more" than what Molina paid for it three years ago. However, he noted that in the current real estate market it was a "fair" price. The full buildout of the space could take several years and will cost between $3.5 and $5 million, Chaney added.
"Everything we do is done in excellence; better than the marketplace standard. With that said, quality takes time," Chaney said. "This is going to be one of the best-looking buildings on Pine Avenue and one of the most functional spaces in downtown. I think this space needs what we're bringing to the table – not only in terms of the project, but the hope and inspiration that we want to bring, as well."
The transaction was handled by Becky Blair, president and principal of Coldwell Banker Commercial Blair WESTMAC, and Sheva Hosseinzadeh, an associate of Blair WESTMAC.
2nd & PCH Retail Center Development Update
The 220,000-square-foot 2nd & PCH retail center has passed several construction milestones, according Barret Bradley, a development associate with developer CenterCal Properties LLC.
"We celebrated a huge milestone on September 12, which was the topping out of our structural steel. In the construction business, that is always seen as a significant milestone and a celebration time when you complete the highest structural element of a project," Bradley said. "The two-level buildings along Marina Drive are the steel buildings – we're now beginning on framing those buildings. They have moved very quickly, and we are very happy with the timeline and the progress there."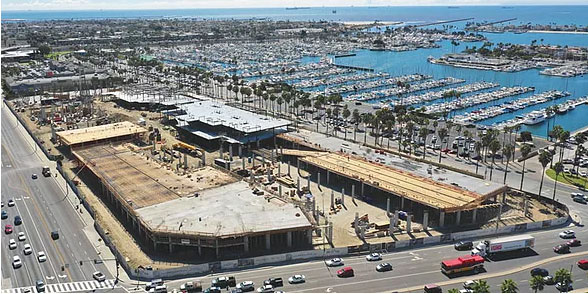 The concrete buildings have also made significant progress. The form work is up for Whole Foods' building on the corner of 2nd Street and Pacific Coast Highway (PCH), and the concrete slab on grade in front of the store has been poured. Work is underway on the elevated deck pours, which will serve as the upper level of the parking deck adjacent to Whole Foods, the mezzanine and the roof of Whole Foods itself.
The concrete slab for the southeast parking deck and the ramp on the first level has been built. The foundation and structural columns are complete for the building that runs along PCH, Bradley added. Overall, he said the project is about 50% complete.
The retail center was originally slated for a late summer 2019 opening, which has since been pushed back to late October 2019, Bradley said. "There was some front-end ground improvement work that we needed to complete," he explained. "We ran into a couple issues underground that were unexpected that simply required us to spend a little more time on that, which prevents you from going vertical for a while."
Previously announced tenants for 2nd & PCH include women's clothing store Free People; Ola Mexican Kitchen; organic fast-casual Mexican restaurant Tocaya Organica; high-end nail lounge and spa Holly & Hudson; women's fashion store Linne's Boutique; makeup and hair salon Cotton Blow Dry Bar; and Motion Stretch Studio. Bradley said several more tenants have signed on, and an announcement of 10 to 14 more will be made in the next month or two. Once fully leased, 2nd & PCH will house approximately 60 tenants, he added.
"We've been having a lot of conversations with a lot of great tenants, a lot of great brands that we are excited to bring here to Long Beach," Bradley said.
Smart & Final Extra! Opens In Bixby Knolls
Smart & Final Extra!, an upscale spin on the Smart & Final warehouse stores, opened on October 17 at 4480 Atlantic Ave. in Bixby Knolls. The concept features an expanded selection of products for businesses and households, including organic and natural groceries, to-go containers, janitorial supplies and food service items.
"We have deep roots in the community of Long Beach, where we opened our very first Smart & Final location, so it's fitting that we celebrate our 200th Extra! store here," Store Manager Jason Oliva stated. "We look forward to welcoming our friends and neighbors and showing them that they'll find much more than a traditional grocery store. Whether they're shopping for their family, business or organization, or looking to host a memorable event, we can be their one-stop shop for farm-fresh produce, organic foods, party supplies and bulk-sizes on hard-to-find items."
The 30,000-square-foot store is the former site of Orchard Supply Hardware. Store hours are 6 a.m. to 10 p.m. every day. During the grand opening and ribbon cutting event, the Smart & Final Charitable Foundation presented $2,500 donations to the Boys & Girls Club of Long Beach and Dare to Care for the Homeless.
Real Estate Transactions
The following is a list of transactions recently closed in Long Beach by agents at INCO Commercial, Lee & Associates Commercial Real Estate Services, Marcus & Millichap's Bogie Investment Group and William Morris Commercial:
• 2119 W. Gaylord St. – Case Family Trust leased an industrial contractors' yard, including 6,504 square feet of land with 1,559 square feet of improvements, to A+ Portables for three years. INCO Brokers Bill Townsend and Jay Price represented both parties.
• 245 W. Wardlow Rd. – INCO Brokers Bill Townsend, Paul Phillips and Jerry Ristrom represented American MOA Foundations Inc. in the $2,450,000 purchase of the 1.07-acre property with approximately 9,800 square feet of improvements. Chris Bury of Foundry Commercial represented the seller.
• 1336 Gladys Ave. – Lee & Associates Principal Brandon Carrillo recently leased the site of the Gladys Avenue Urban Farm to Long Beach-based Algalita Marine Research and Education. Since the nonprofit recently opened a retail store in its 148 N. Marina Dr. facility, Algalita Executive Director Katie Allen said the new space will be used as an extended workspace to put together teaching kits and as storage for 20 years' worth of samples collected from the North Pacific Gyre, a field of trash in the Pacific Ocean. Algalita is subleasing the farm area, which takes up two-thirds of the property, to Long Beach-based MAYE Center for its work with survivors of the Cambodian genocide. Allen said MAYE will pay a reduced rent.
• William Morris Commercial leased 4,341 square feet to law firm Peacock Piper Tong & Voss and 2,573 square feet to software company OSHYN at The Hubb, 100 W. Broadway. The agency also closed the following leases: 3,149 square feet in Landmark Square, 111 W. Ocean Blvd., to BNG Engineering; 1,917 square feet to swimsuit design company SCC at 211 E. Ocean Blvd.; and 1,400 square feet to advertising company ItBrands at 130 Pine Ave.
• Catherine Morris of William Morris Commercial recently closed a 480-square-foot lease at 345 Promenade N. with Churrinho, a new gourmet dessert company that is expected to open in the coming months.
• 1912 E. 2nd St. –  Bogie Investment Group's Steve Bogoyevac and Shane Young represented the buyer and seller in the $4.12 million sale of the 19-unit apartment complex. The 1923 building consists of 11 studio and eight one-bedroom units.
• 1540 Stanley Ave. – Bogoyevac was the listing agent for the nearly $900,000 sale of the one bedroom, one bath cottage with three single-car garages in the Zaferia District.
• 730 Magnolia Ave. – Bogoyevac and Young represented the seller in the nearly $4.5 million sale of the 25-unit complex. The renovated 1985 construction building consists of 20 studio and five one-bedroom units.
New Report Forecasts Rent Increases Through 2020
Average rents are expected to increase $91 in Los Angeles County by 2020, according to the University of Southern California (USC) Casden Economics Forecast released October 17 by the USC Lusk Center for Real Estate, in partnership with Beacon Economics. "There is a poor match between people's housing cost and incomes right now, and no amount of sorting will, by itself, fix this issue," Richard Green, director of the USC Lusk Center, who co-authored the study, stated. "One of the striking results we found is that where vacancy has increased slightly, there is a relief in rental increases. The way to raise vacancy rates is to build more."