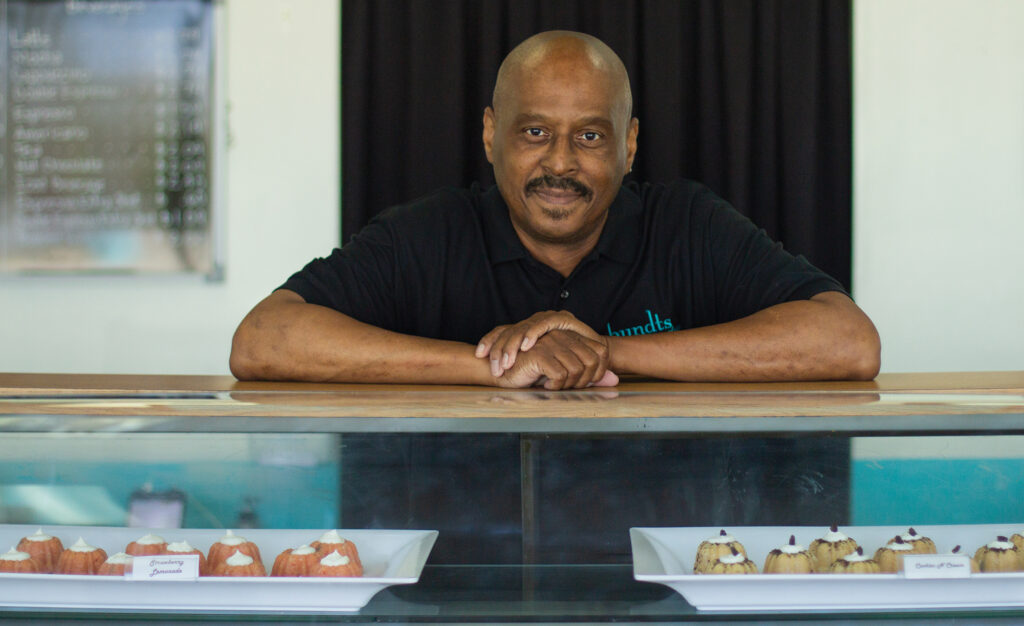 Getting a hold of Bundts on Melrose owner Jeff Beasley these days is challenging. "I've been putting out a few fires," he said after apologizing for the delay in responding to calls and emails.
Short on workers who didn't return after the pandemic—a problem many business owners are facing—he is also in the midst of a surge in orders for his palm-sized baked goods as the economy begins to reopen.
Beasley said he lost several large accounts due to pandemic-related business closures, but now orders have picked up so quickly that he's had to step back into the kitchen himself, whipping up batter and piping cream cheese frosting onto his creations.
Beasley doesn't mind being back in between the mixing bowls; he's spent nearly five decades in the cake business.
"I don't think I would change it for anything," Beasley said.
His career started as a baker for Ralphs supermarkets in the late 1970s, but his passion for baking goes back even farther, to a time when he was a little boy following his grandmother around the kitchen.
"That's where I found the fascination of watching the ingredients come together," Beasley remembers. "It's one of those things you can't explain, I was just totally captivated by it."
Soon enough, his aunt asked him to bake a cake for her social club and offered to pay him, too. But it wasn't cash that drew the young baker in. "It was the look and the expression on anyone's face who tasted my cake, that gave me a feeling that I still get to this day," he said.
After working at the Ralphs central baking facility in Glendale for 14 years before operations were outsourced, and another 17 years at an upscale bakery in L.A., Beasley found himself unemployed for the first time ever when that business was sold in 2011.
It was during a job interview that he realized it was time to start his own business.
"A light that was flickering in the back of my head started flashing," he said. So he went home and began experimenting.
"I went out into the garage, pulled out the mixer and I started working on the recipes that were in my head already," Beasley remembers.
His wife was supportive of his plans from the start, Beasley said, even if the endeavor seemed daunting at first.
"Honestly, it was very scary," Amanda Beasley remembers. But, "I trusted that he could do it. I never doubted that he would be successful."
Years later, she said her instincts were right. "I know that he will put his all into what he's doing," she said. "I've seen him do nothing but prosper."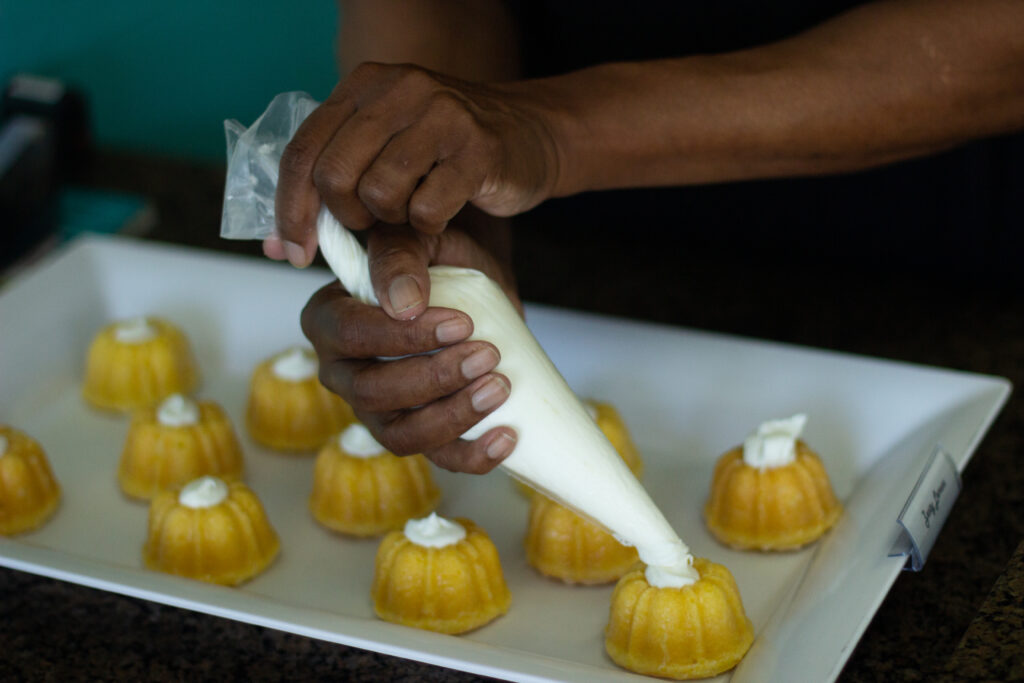 From selecting the name—Beasley said it just had an undeniably upscale ring to it—to running the business, Bundts on Melrose has always been a family affair. When he suffered two subsequent strokes in 2018, his youngest daughter took over operations for a while.
"I would have lost it if she had not stepped in," he said. "She put her life on hold."
Then, when the pandemic hit, the two ran the business together, with the elder Beasley baking the cakes and his daughter manning the counter.
Throughout the tribulations of the pandemic, his family and the community that have helped Bundts on Melrose survive, said Beasley.
"The journey, the support that I've had from the community—I couldn't even put that into words," he said.
One customer, who preferred to remain anonymous, ordered a Bundt cake for every worker at MemorialCare Long Beach Medical Center. When he delivered the order, Beasley received a standing ovation from everyone, including the hospital's CEO. He remembers breaking into tears.
"I was so touched," he said.
Despite a difficult year and his previous health issues, the 61-year-old is nowhere near ready to retire.
"My wife says I'm a control freak," Beasley said.
Passing the baton won't be easy, he said: "There's a lot of blood, a lot of sweat and a lot of tears."
But once the time comes for him to retire, he's hoping his grandchildren will take over.
"During the summertime, when they're here, they'll come and work the counter," he said. "They actually learned the [point of sale system] faster than I did."