When Long Beach-based architecture firm Environ Architecture was founded in 1992, the memory of the 1990 spike in oil prices caused by Saddam Hussein's invasion of Kuwait was still fresh on American minds. Back then, Environ Vice President Willetta McCulloh remembered, sustainable practices were all about conserving energy to help the U.S. become less dependent on foreign oil.
Today, the objective behind sustainable business practices is much broader, but the seed was planted then. Since the 1990s, the company has focused on sustainability, both in its own practices and in the spaces it designs for clients. "All of our design work has a sustainability, wellness and climate change aspect to it," President and Director of Architecture Alan Burks pointed out. Most of Environ Architecture's employees are certified through the Leadership in Energy and Environmental Design (LEED) program.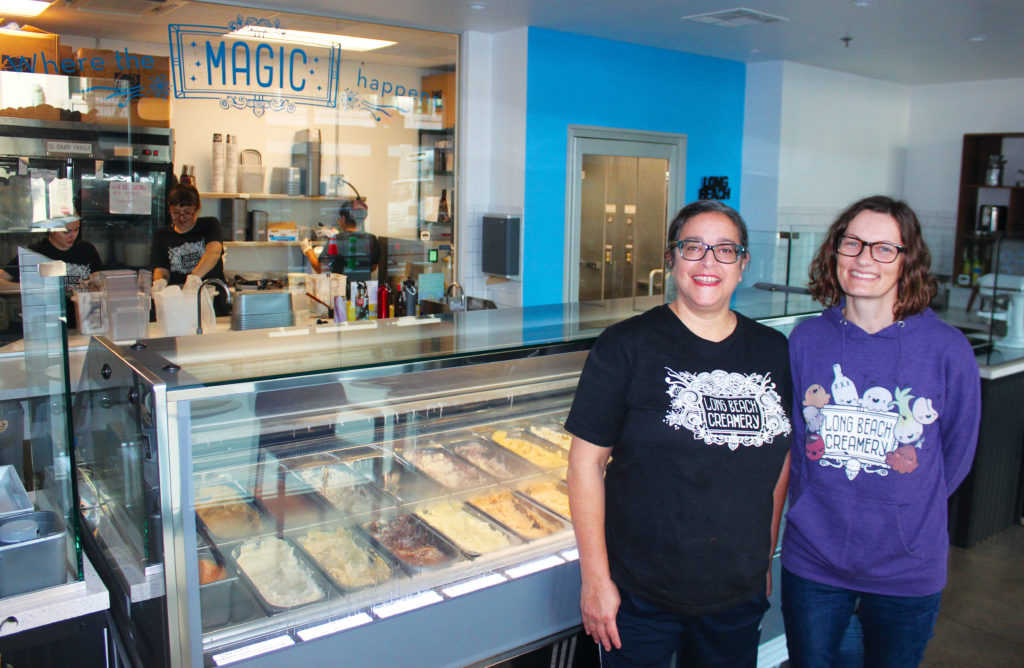 One of the companies in Downtown Long Beach that has long had an explicit focus on sustainability, Environ encourages staff to attend workshops and meetings on sustainable practices to help them stay up to date on the newest techniques and technologies. "Being architects, we're always exposed to better ways of doing things," Burks noted, highlighting workshops offered by the local chapter of the American Institute of Architects as an example.
In addition to creating sustainable spaces for clients, the company has taken steps to make its own offices more environmentally friendly. Carpets have been removed to reduce dust, thereby reducing the amount of energy necessary to clean the office space. Incandescent bulbs have been replaced by energy-efficient LED lights. "As a company, it has definitely improved our bottom line," McCulloh pointed out. The new-and-improved office space has benefited employees as well, she noted. "It's just a happier space and it reduces downtime from being sick."
Jay Dysart, principal of East Village-based JLOOP, said the needs and preferences of his employees have played a role in the firm's transition toward more sustainable business practices. Staff often work from home, cutting down on car use. "We try to keep people working where it's most efficient," Dysart explained. The office of JLOOP, a web and app development firm, is located in a LEED Gold-certified building on 4th Street. Dysart noted that he strives to go paperless whenever possible.
Like Environ Architecture, Dysart's company is part of the Long Beach Sustainable Business Network. The group meets monthly and aims to be a resource for businesses hoping to improve their practices as they relate to sustainability. "It really is about raising the [level] of dialogue in our community about sustainable business on all fronts," he noted. "Our city is just exploding all around us, and it feels super important for entities like this to exist and for these conversations to happen."
One way to drum up interest in sustainability is by directly involving customers in a company's efforts to conserve and protect environmental resources. Long Beach Creamery, a local ice cream manufacturer with three retail locations, including one near the Promenade in downtown, has done just that. Going beyond the city's ban on Styrofoam food packaging and regulations on single-use plastic, leadership at Long Beach Creamery decided to replace plastic spoons with wooden ones and encourage customers to bring their own bowls to hold the company's creamy scoops.
"As a business, it's one of our core values, respecting the earth," owner Dina Amadril told the Business Journal. "People think it's kind of fun too," she noted. One day, Amadril and her team hope to offer customers the option of taking home ice cream in their own reusable containers as well. "There are health department challenges, but we're trying to see if there are ways to work around them or work with them in the future," Amadril explained.
Tracee Schmidt, Long Beach Creamery's operations manager, said her role with the company presented a welcome opportunity to put her concern for the environment to good use by implementing eco-conscious business practices. "Being higher up in a company like this one, it gave me the opportunity to try to move forward with that stuff," Schmidt said. "And if you have multiple businesses in the same city, you want to think about what you're doing, what you're using, what you're putting into your products."
Clients in Downtown Long Beach have been particularly engaged with the Bring Your Own Bowl program, Amadril noted. "The population here is a little bit different," she said. "They're really thinking about sustainability." Some customers even bring their own straws and utensils, she recounted.
Alternatively, Long Beach Creamery offers paper straws, the quality of which has improved dramatically, Amadril pointed out. "The first paper straws we introduced, they broke down before somebody had even gotten halfway through their milkshake," Amadril said. "Now they're getting better and better." The novelty of bringing your own bowl or using utensils made from alternative materials is appealing to some customers. "People are really appreciative of us being one of the first [businesses] taking that kind of step," Amadril explained.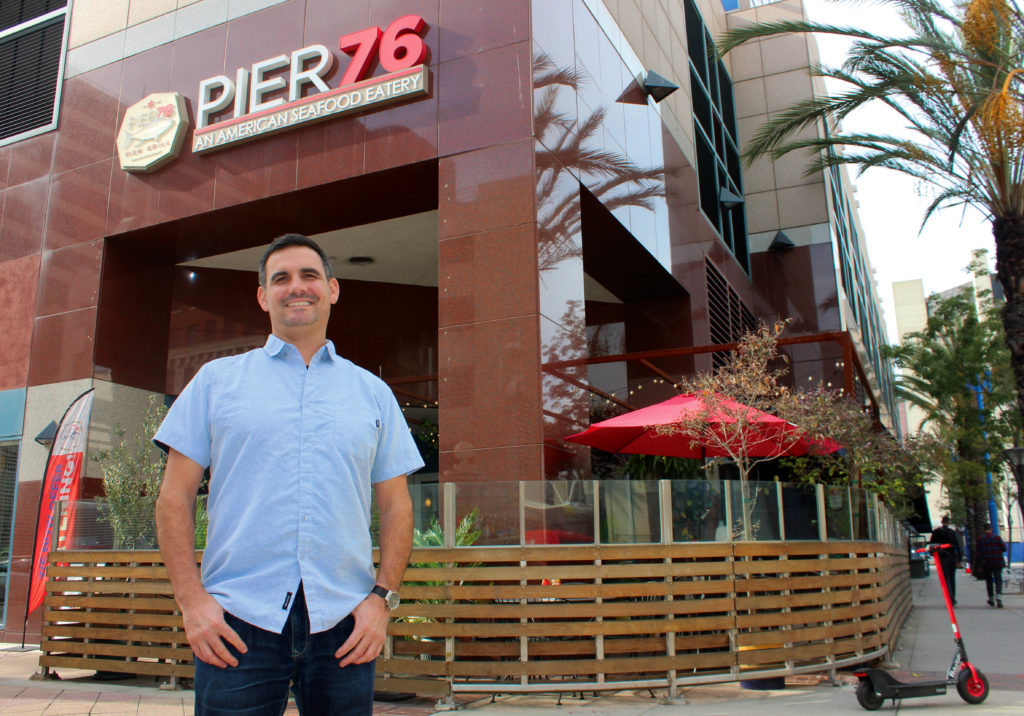 It will probably be a while until customers can have their favorite bowl filled with nearby Pier 76 Fish Grill's creamy clam chowder, but owner Chris Krajacic said he strives to be as sustainable as possible. Within the past year, Krajacic received the Long Beach Water Department's Blue Certified badge for both his seafood restaurant and downtown bar.
Getting his newer establishment, a bar and restaurant dubbed The Harbor, certified and up to snuff on environmental standards was a challenge, especially because it's located in a historic building. "We took over a building that had been seriously neglected," Krajacic explained. "So it took us a little more time to get there."
The effort was worth it. "From the business side, it makes sense," Krajacic said. "It makes sense from a financial standpoint; it makes sense from an efficiency standpoint." While he's not sure if individual customers are aware of the city's certification program and specifically seek out businesses that have been certified, he sees a reputational benefit in being a good neighbor and an economic benefit in protecting the marine habitats Pier 76 relies on, Krajacic noted. "We're a seafood restaurant and we depend highly on those resources," he explained.
Entrepreneurs like Krajacic, who see a connection between the success of their business and the protection of natural resources, underline a point made by Burks: sustainable business practices have progressed far beyond the objective of energy conservation alone. "Our offices, our homes, businesses, industries – they're really micro-environments. And the larger environment feeds into that," Burks noted. "[Sustainability] has gone from simply conserving energy to saving the world."