Long Beach's major attractions are receiving an injection of investment and development, with the renovation of the Queen Mary, a new wing of the Aquarium and an expanded terminal for Carnival Cruise Line all underway. Meanwhile, tourism-driven businesses and corridors are reporting optimism for the summer and remainder of the year, now that the rainy season is over.
The Queen Mary is in the beginning phases of exterior refurbishments and painting, which will be followed by interior, structural work to the ship deemed necessary by the results of an assessment released earlier this year, according to General Manager Stephen Sowards. The ship's hotel rooms, restaurants and ballrooms are also all slated for renovations and restorations.

(Photograph by the Business Journal's Larry Duncan)
Earlier this year, Queen Mary leaseholder Urban Commons released plans to develop the land surrounding the ship into a concept dubbed Queen Mary Island, which would include shops, an outdoor amphitheater, a new marina, a complex featuring a variety of sports activities like zip lining and rock climbing, and more. "That's in the early stages, but we are partnered already with some groups," Sowards said.
"With the development of Queen Mary Island, I think the next five or seven years of us developing the island and people seeing what's going on with the ship, it's going to become quite the entertainment hub over here," Sowards said.
In the meantime, Evolution Hospitality, the Queen Mary's management firm, has been growing the ship's events schedule. An early June concert, "Rock the Queen," attracted more than 5,000 people to see bands like Smash Mouth and Sugar Ray. The ship also recently hosted its first Mixed Martial Arts (MMA) event and already has more on the books. For more information on events at the Queen Mary, visit www.queenmary.com/events/calendar-of-events.
The long-running "Diana: Legacy of a Princess" exhibit is slated to make its exit by the end of the year, according to Sowards. Two new historical-themed exhibits related to the Queen Mary's past include an exhibit based upon the war rooms used by Winston Churchill to shelter and strategize during World War II and an exhibit about the Titanic.
For the war rooms exhibit, the Queen Mary purchased movie sets replicating the rooms. The debut of the exhibit, which is planned for December, should coincide with the release of a Focus Features film about Churchill and the historic war rooms, Sowards noted. The Titanic exhibit will be smaller in scale and should be open by mid-August, he said.
"I think it's an exciting time for Long Beach," Sowards said. "I have lived in Los Angeles for seven years and worked in Santa Monica and a few other places around town. But I really see Long Beach as the next great boom."
Sowards noted that Carnival Cruise Line's expansion within the dome to create a larger terminal and bring in a larger ship is also good for the Queen Mary. "They are a great complement. They bring people to the island to get on and off the ships, and that not only brings more customers to see the beautiful Queen Mary [but also] gives us the opportunity to grow our business as well, which is exciting."
Fred Stein, vice president of revenue planning and fleet deployment for Carnival, said the expanded terminal should be complete by the end of this year. The cruise company currently operates three ships out of Long Beach, including the Carnival Inspiration and Carnival Imagination, which take short three- to four-day trips to Ensenada and Catalina Island. The third vessel is the Carnival Miracle, which offers seven-day cruises to the Mexican Riviera, 15-day Hawaii cruises and a new 14-day Alaska cruise debuting in September. That cruise is selling well, Stein noted.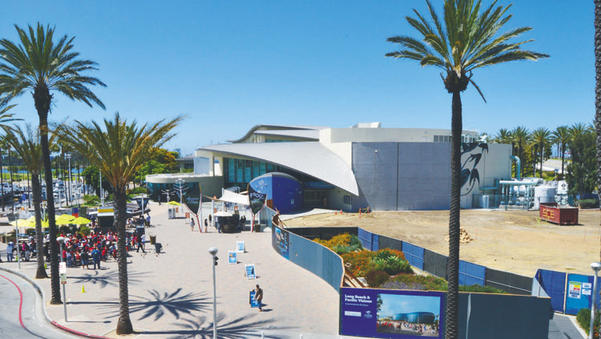 Construction is underway on the expansion of the Aquarium of the Pacific, which will include a new interactive theater, art gallery and exhibit space. President and CEO Jerry Schubel expects the new wing to be open by late spring 2019. (Photograph by the Business Journal's Larry Duncan)
When the expansion is complete, Carnival will replace the Miracle with the Carnival Splendor, which is almost double the capacity, according to Stein. "It's going to be sailing the same rough itineraries that Miracle is," he said.
Stein said that Carnival's operations primarily bring in guests who have driven from the Greater Southern California region and even as far as Arizona. The longer cruises, however, draw some visitors who fly into the city, he noted. "We bring in guests who sometimes extend their stay either before or after and, therefore, have an economic impact in the local market," he said.
Stein said Carnival is doing well in Long Beach. "We are really excited to move forward with the terminal expansion that is going to have a lot of great things to offer our guests. And we are excited about being there," he said. For information about cruises out of Long Beach, visit www.carnival.com/cruise-from/long-beach-los-angeles.aspx.
The Aquarium of the Pacific, located on the waterfront at Rainbow Harbor, just began its own expansion to build a 300-seat interactive theater, a pre-theater entry orientation space, an art gallery and an exhibition area. President and CEO Jerry Schubel said the 23,000-square-foot expansion will open in 2019.
"When the Aquarium expansion opens, we expect our attendance will get to more than two million a year," Schubel said. "And most of those people will come from outside of Long Beach, so they will buy some things here, they will eat meals in the Pike and other places. I am very bullish on the tourism industry in Long Beach."
The Aquarium set record attendance last year with 1.72 million visitors and is currently pacing 4% ahead of last year. "I think we're going to knock it out of the park," Schubel said of 2017. He noted that the expansion construction will result in the closure of the changing exhibit gallery in September. "That may be a deterrent to some people, but I think we'll still have a great summer," he said. He expects the Aquarium to bring in $36 million in revenue this year.
The Aquarium recently opened a new exhibit, "FROGS: Dazzling and Disappearing," which features two-dozen species of frogs, toads and other amphibians. "It's an extension of our changing exhibit called 'Vanishing Animals' because there is no group of animals on the planet that is more threatened than amphibians," Schubel said.
There are a number of reasons frogs are vulnerable. They breathe through their skin and are therefore highly susceptible to contaminants, Schubel explained. "We have destroyed a lot of the habitats they depend upon: ponds, creeks, rivers and freshwater wetlands," he said. "And then there have been some diseases that have taken a big toll on many species of amphibians."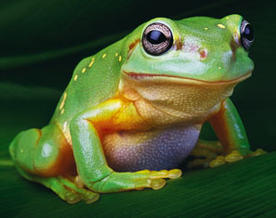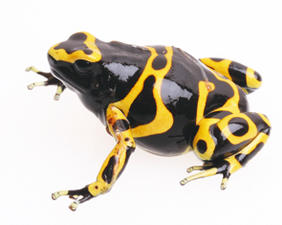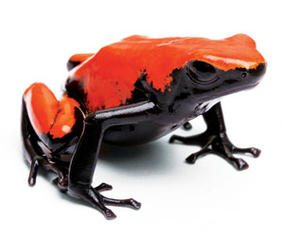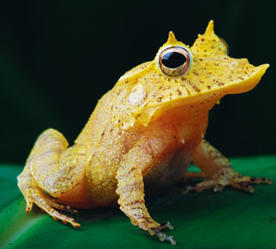 The new "FROGS: Dazzling And Disappearing" exhibit at the Aquarium of the Pacific features almost two-dozen species of frogs, including these, pictured from left: the Amazon milk frog, the Solomon Island leaf frog, the splash-backed poison dart frog, and the yellow-banded poison dart frog. (Photographs courtesy of the Aquarium of the Pacific)
A new exhibit featuring archerfish – a species that spits water at insects to knock them into the water to eat – also recently debuted. "They can spit as much as five feet. So when you see these fish come to the surface and actually spit at an insect and knock it off a branch and then gobble it up when it hits the water, it really is quite an amazing experience," Schubel said.
The Aquarium also continues to host a variety of ongoing events, including a lecture series, festivals, outdoor live music and more. For dates, visit www.aquariumofpacific.org/events.
Nearby, Shoreline Village is ready for summer with its own calendar of events. Assistant Property Manager Sergio Gonzalez said the boardwalk is hosting weekly events through the end of August. "We're going to be running what we call the '5 Days of Fun' here at Shoreline Village. . . . From Wednesday to Sunday throughout the summer, there is going to be some sort of activity or event going on down here," he said.
On Wednesdays, guests to Shoreline Village will receive a free 30-minute harbor cruise with the purchase of lunch from a participating restaurant, Gonzalez said. "The boat takes off at noon from July 12 through August 30," he noted. On Thursdays, the boardwalk is hosting "Shoreline's Got Talent," a talent competition for competitors aged five and older, through August 29. Contestants and attendees get the chance to win raffle prizes, he added. "Then Friday, Saturday and Sunday we are going to be having live music here at Shoreline."
The shops at Shoreline Village have been doing well this year, and two new shops – a candle shop and middle Eastern decor store – are in the midst of setting up, Gonzalez said. For more information about events and shops at Shoreline Village, visit www.shorelinevillage.com.
Water transit-related companies had a bit of a dip in activity thanks to the rainy weather in the winter but are now looking forward to busy summers.
"Our first quarter of the year, we saw a pretty good downturn in Long Beach just in general with the tourists and the crowds coming around," Dan Salas, owner of Harbor Breeze Cruises, said. Harbor Breeze offers whale watching tours daily, as well as tours of the Long Beach harbor.
"We have got more competitors coming into the market, especially the next couple of harbors down south to us," Salas said. "And they have inundated the market with Groupon and $16, $15, $10 tickets. . . . So that has kind of taken a toll on us a bit."
To make sure Harbor Breeze stays competitive, the company has revamped its website, www.2seewhales.com, and has invested in advertising outside of the Long Beach area. "Through everything, we have been able to maintain our numbers from last year," Salas said. "So even though we have had some issues with weather and strong competition coming on from the South of us that are really going after the Long Beach market, we have managed to hold solid through that. But it has been very difficult."
Salas said that Harbor Breeze Cruises has been experiencing steady business from tourists since the weather improved. "It's like it used to be years ago when the original Pike was here," Salas said. "When it got hot, inland people would jump on the Red Car and come to Long Beach. That was the thing to do to escape the heat. And we're starting to see that again." He added that he is hoping for "solid 10% to 15% growth this year."
Greg Bombard, president of Catalina Express, said the company – which takes passengers to and from Catalina Island – is pacing about 2% behind last year's ridership figures due to rainy weather in previous months. "Basically, as far as I'm concerned, we needed that rain. We needed the island to get green like it is. It looks fantastic," he said.
Catalina Express offers 12 round trips per day out of Long Beach. The company continues to offer its Ride Free on Your Birthday promotion, Bombard noted. More information is available at www.catalinaexpress.com.
Since the sun has been out in the past couple of months, Bombard said traffic to the island has picked up. "I think we will probably do as well or better this year than we have been in the past year or two," he speculated.
Bombard said businesses on the island are continuing to refresh their offerings, giving returning visitors something new to experience. "There is just a lot more to do there today than there was back in '08 or '09 when the economy was in trouble there," he said. "They have built right on through that period and upgraded a lot of the facilities, as well as hotels."