Greg Bombard's life has been hewn from the rocky, sunny slopes and harbor waters of Santa Catalina Island. Born on the island, educated at the schools there, and raised in a family that operated the west end of the channel isle, Bombard is at home there – and is equally at home traversing the ocean that separates Catalina from the shores of Long Beach.
That is because, for nearly three and a half decades, Bombard has made his living crossing that stretch of ocean, and making it possible for others to do so, in speed and comfort.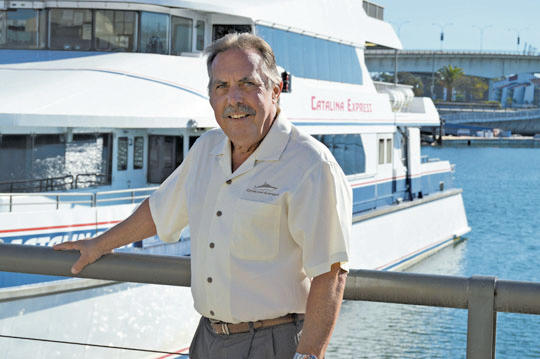 Greg Bombard, president of Catalina Express, this year expects his company to match or exceed its record of 1.2 million passengers – a far cry from the company's first year nearly 35 years ago when a single vessel transported 2,500 people. (Photograph by the Business Journal's Larry Duncan)
Bombard's company, Catalina Express, is set to celebrate its 35th year in business. What started out as an operation with a single boat, designed to fill a specific need for transportation between Catalina and the mainland, has expanded into a fleet of eight highly modernized vessels, three ports on the mainland servicing the landing at Avalon, and a service that is set this year to match or exceed its record of 1.2 million annual bookings.
Bombard says the formula for success hasn't changed in all these years: Provide the service that is needed, and do it with speed, style and safety.
"We're doing something special. When you have the loyal employees that we have and the things we've worked through together, I think that says a lot for any company," Bombard says. "I think with all of that going for us, and the fact that the model was right on time and gets developed to be better and better every year, that is really what makes this place tick."
Bombard's father, Doug, operated the west end of Catalina Island for 40 years, starting as a manager for the Santa Catalina Island Company, then leasing and developing the Two Harbors region.
"A lot of yachting, a lot of camping took place over there. He developed a restaurant, Doug's Harbor Reef. He built it into a real nice little community. Very, very popular for the yachting community and the yacht clubs," Bombard says.
"It had a general store, and we also had a hunting lodge which we ran during the winter months when yachting wasn't as popular. Back in the day, there [were] boar, there were goats, there were deer; quail hunting was popular."
As the region developed, a need for transportation of a particular type grew – and various attempts to meet that need ran into obstacles, Bombard says.
"Part of what happened was that the main transportation was the big Catalina cruise boats, roughly 700 passengers. They didn't really have the ability to come in with a small group of hunters like 25 people," Bombard says. "So we used to use the seaplanes. And the seaplanes were a great part of Catalina's history. It was a great novelty to land on the water.
"But at one point, the parts for that airplane became so scarce that the (Federal Aviation Administration) was having a problem with them, the owners were having a problem with them, so they kind of pulled those out of the air, and they started operating helicopters. The problem with helicopters was that most of them only carried about five passengers. And especially for hunters, the (helicopters) couldn't handle the luggage.
"So my dad asked me, I think we need to start our own little boat, back and forth."
The niche that needed to be filled was the need for the islander to be able to get back and forth from the mainland in one day.
"There was no way for an islander to really be able to come and go from the island for a day – to come over here to the mainland, do their business, their banking, whatever, and then get back on a boat and come back home. There was no way to commute," Bombard says.
"So we picked up a small boat, put it together, a 56-foot Westport. We ended up with 54 passengers. Our route was, we're going to leave the mainland at 6 a.m., get the commuter in Avalon by 8 a.m., be back here by 9:30 a.m. to get the hunters who were going to Two Harbors. We'd go to Two Harbors at noon, come out of there at 2 o'clock, get back here and take the Avalon folks back by 4:30. That was us. We carried a whopping 2,500 people our first year."
It wasn't much. But it was a solid base onto which the rest of the business has been built. Starting from there, the passenger line would grow into serving the visitor market, Bombard says.
"We've bought a lot of boats. We've built a lot of boats. We're now a fleet of eight vessels. They all can do more than 30 knots and they all can do the run in just over an hour – if we push them, they can do it in an hour or less. We do 30 runs a day in the summer months," Bombard says.
"Today, we still leave the mainland at 6 o'clock in the morning. We take commuters to work – Edison employees, the school teachers, people like that. And we turn around and take them back. We're still doing the same thing, just on a bigger scale."
Today, Catalina Express offers service out of Dana Point, Long Beach and Los Angeles. Part of the reason for the company's success is that it has pursued technological advancements, such as stabilization technology, that made the crossing a more comfortable experience for commuters and travelers, Bombard says.
Lured by the promise of speed and efficiency, the company invested in its first catamaran back in the early 1990s. But the craft didn't provide the necessary ride quality, so it was sold off.
"We got out of that boat and we built two more monohulls in 1994. Then along came a group called Maritime Dynamics. They were creating a ride control system for the Navy frigates. Congress likes to see something they developed come into the private sector," Bombard says.
"We were one of the first companies in the United States to work with those folks and put full ride controls on the 100-foot monohulls that we built back in 1994. These ride controls are sophisticated, like an airplane. It's reading pitch and roll at all times. They'll counter a roll, numerous times a second. Once we put that on the monohulls, we said, man, this is unbelievable. We noticed such a difference in the monohulls that we built another catamaran and we put T-foils under the water. They keep the sensitivity of roll and pitch to almost nothing. This has been a huge win for us."
In addition, cabin comfort has been key to making the crossing as enticing as the vacation destination on the island, Bombard says.
"We wanted to have people sit back, relax, enjoy the water, not have to get up and wander around. I wanted them to relax, get ready for their vacation," he says, explaining the genesis of the cabin attendant service concept. "Sit back, have a cabin attendant come by, offer you a cocktail or a light snack – it just felt to us like a better idea."
What the company's success means for the tourism industry in the greater Long Beach area is that Catalina Island is easily and casually accessible for anyone, Bombard says.
"We offer an opportunity," Bombard says. "A day trip for people who are here for a convention – we can be part of their post- or pre-tour – we've got some real nice availability for that. And for the people who live here in this community, we offer them an out. A day away from downtown. A day to go lay on the beach, relax, get into a water sport – all of those things can take you away for a minute and let you forget what yesterday was and let you think about today and feel better when you go home."
And as for Bombard – well, there's an old saying about doing what you love to do . . .
"We're having a great time," Bombard says. "We have great partnerships in the community, and we like to get out there and take people where they want to go."