After nearly a decade as the official airline and a sponsor of the Long Beach Marathon, JetBlue Airways has signed on as the marathon's title sponsor for the next three years beginning with the 2015 event, now dubbed the JetBlue Long Beach Marathon & Half Marathon.
"Increasing our sponsorship and coming on as the title sponsor was really exciting for us because [at] JetBlue our overall mission is 'inspire humanity.' That's what we try to do with everything from delivering great customer service in the air to volunteer projects here on the ground," Jace Hieda, JetBlue's Western and Central Region manager of marketing, reflected. "It's all about making the communities that we serve here better.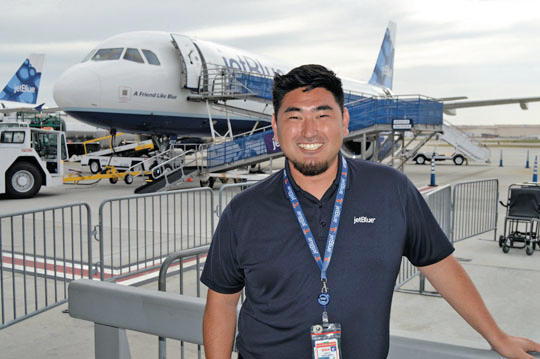 Jace Hieda, pictured at the Long Beach Airport, is JetBlue's Western and Central Region manager of marketing. He said that becoming title sponsor of the marathon reinforces the company's commitment to the Long Beach community. (Photograph by the Business Journal's Larry Duncan)
"We are a national brand but, at the same time, we think local. We serve specific communities and we strive to be a part of those," Hieda continued. "Sponsoring the marathon and coming on as the title sponsor allows us to be a part of the community here, reinforce our community ties to Long Beach and be part of what's a really fun event."
Having the airline as a title sponsor ought to bring more exposure both to JetBlue and the marathon, Hieda pointed out. "It is one of Long Beach's biggest events, so it behooves us as the airline of Long Beach to be a part of it. Primarily it's exposure driven," he said. "Being the [title] sponsor for the marathon I think allows JetBlue to elevate the marathon to a national status," he noted. "With us on board, hopefully more people will come."
As one of the city's largest events – drawing about 25,000 participants – Hieda said the marathon provides a platform to showcase what the city has to offer. "It brings people in and serves as a means to get people to experience the city," he said. This year, at least 60 of the marathon participants are JetBlue crewmembers from across the United States, he added.
"One of the fun things that we have always done and will continue to do this year is JetBlue is at the finish line giving out the medals to every finisher. That was something that the organizers had proposed to us years ago," Hieda said. "Not being a runner, I didn't know the emotional gravity behind it, but [for] people crossing the line, it's an emotional moment. So JetBlue being there as part of that reinforces that kind of human connection that we are striving to do with everything."
Now that the airline is the marathon's title sponsor, it has even more in store for the event. "For everyone when they finish the race, they can enjoy the JetBlue Leg Room," Hieda said. "People might have known about the massage tents that are usually at the end of a race, but we're taking it over and turning it into the JetBlue ­­Leg Room, so you can get massages, charge up your phones and recover from the marathon," he explained.
New seats featured on JetBlue's airplanes will be stationed in the Leg Room to give runners a feel for the generous amount of legroom the airline offers on its flights, Hieda said.
For JetBlue, being title sponsor means more than attaching its name and logo to the event; actively contributing to the event is a priority for the company. "We have partnered with an organization named Blind Start. They bring together volunteers and visually impaired runners, and JetBlue crewmembers are volunteering to escort blind runners in the marathon," Hieda said. "There is fundraising component to that as well. That has been a really meaningful partnership that has been led by one of our crewmembers."
JetBlue also places emphasis on charitable giving through the marathon. "What we are going to do is for every mile that is run by a participant, JetBlue will donate 10 cents to the Long Beach Education Foundation's Joan Van Blom Memorial Scholarship Fund [named for the Olympic medalist in rowing], up to a maximum of $30,000," Hieda said. Additionally, Run Racing has agreed to match JetBlue's commitment, making the donation up to a maximum of $60,000.
"That way, for every participant, their miles count." Youth & Education is one of three commitments to social responsibility made by JetBlue Airways, he noted.
Working with Run Racing, which puts on the JetBlue Long Beach Marathon, has been eye opening, Hieda said. "Bob [Seagren, president and CEO of Run Racing] and his team are extremely well-connected. . . . Putting this race on requires support and camaraderie with many different departments and entities and organizations in Long Beach."
The fact that Run Racing has placed an emphasis on charitable giving, raising millions of dollars over the years, is admirable to Hieda. "Kudos to them for making that an objective."