As Long Beach marathon weekend participants fly around the picturesque circuit – whether running, walking or biking – they will be greeted by a new title sponsor: JetBlue Airways. The air carrier, which offers the most flights from Long Beach Airport, signed a three-year contract to serve as the main sponsor.
In its 31st year, the JetBlue Long Beach Marathon & Half Marathon has a series of events scheduled for the October 10-11 weekend, which expects to attract upwards of 22,000 participants of all ages.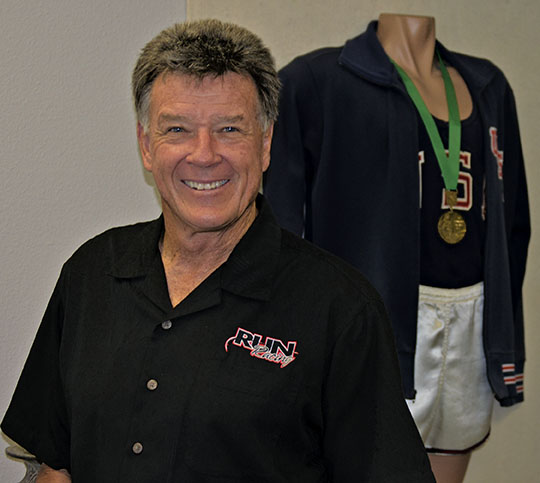 (Bob Seagren is president and CEO of Run Racing, which operates the annual JetBlue Long Beach Marathon & Half Marathon. Seagren won an Olypmic gold medal in pole vaulting at the 1968 Olypmic Games in Mexico City and a silver at the 1972 Munich Olypmic Games. Photograph by the Business Journal's Larry Duncan)
"We signed the agreement with them last year," said Bob Seagren, Olympic gold and silver medalist in the pole vault and president and CEO of Run Racing, which operates the event. "We had been talking with them for a number of months, even before last year's event was over. We knew the past title sponsor was going to step back, so we started looking at our existing sponsors to see if anyone wanted to step up."
Seagren noted that JetBlue has been a sponsor – the official airline – for about nine years. "They've had a long association with us, so they were certainly a prime candidate for title sponsorship," he said. "So I was very pleased that they were interested when we approached them and they took a good look at it. They decided to go, and we've got a three-year contract with them through 2017. We're excited, and hopefully it goes well for them and they'll be the sponsor for many years."
Adding to the interest in this year's event is the timing to the Olympic games of 2016. To have a shot at qualifying for the U.S. Olympic team, runners have to complete a marathon or half marathon within the cutoff time and within a specified period prior to the qualifying event, scheduled for February 13 in Los Angeles. With time running out and the Long Beach course known as a good place to set a quick time, this year's JetBlue Long Beach Marathon is expected to attract some international-level competitors, Seagren said.
"We have a very flat course, flat and fast," Seagren said. "I think that's why a lot of people like and run our event. We have a number of runners who are right on the bubble [for Olympic trial qualification]. We're getting toward the end of when they can get a time. It's crunch time for some of the runners."
This year, Seagren expects about 3,500 marathoners, divided about 60/40 between male and female runners. The half marathon will draw about 15,000 runners, split about 40/60 between male and female. The 5K – which also has a new sponsor, the Aquarium of the Pacific – has been moved to Saturday and is expected to draw between 2,500 and 2,600 participants. The bicycle tour is expected to attract approximately 3,000 participants.
Last year, organizers offered a combo package for athletes who wanted to ride the bicycle tour and run in the half marathon. This year, organizers are offering for the first time the Super Combo: athletes compete in the 5K on Saturday, ride the bike tour on Sunday morning and then knock out the half marathon.
"There's time to complete the bike tour – it's only 20 miles long. A good rider can ride that easily in under an hour. The bike tour starts at 6 [a.m.], and the half marathon goes off at 7:30 [a.m.]. We've got about 500 or more people doing the bike tour/half marathon combo," Seagren said.
"We have a number of people doing the 5K on Saturday and then the half marathon on Sunday. And then we have what we call the Super Combo – they have the 5K on Saturday, the bike tour on Sunday and then the half-marathon. We have people doing all three. We limited that to about 50. We already have 55 people in it. We had to order a few more medals."
Growing participation in the combos reflects a growing interest in triathlon-type multi-discipline events, Seagren said.
"More and more people are doing triathlons. It's a younger (demographic), to some degree.  . . . Marathon participation is kind of slowing down. Half marathon is still growing at a pretty good rate. And triathlon participation is growing on a national level," Seagren said.
"It's one of those bucket list things. And they're not training for the Ironman [Triathlon] distances. They're doing the Olympic and sprint distances. A little more doable – it's not a nine- or ten-hour ordeal like the Ironman. That's why there's the interest in our events – they don't have a triathlon scheduled, they can come in and do the bike and run parts."
The Long Beach Marathon's shifting offerings also reflect a recognition that both the competition for athletes and the dollars a race event brings to a community is growing.
"Obviously, the running market has really spiked in the past 10 years. All indications are that it will continue to grow," Seagren said. "The negative side is that there are more and more running events. Just in the U.S., there are almost 800 marathons. Ten years ago, it was half of that. There are more and more races. 5Ks and 10Ks are still the base of the pyramid, and there are thousands and thousands of those. You don't have to drive more than five miles to get to one," Seagren said.
"And with more events, they're starting to cannibalize everybody else. Our industry, there will probably be a falling out, and some of the races will either be bought out by bigger races or they will just go away. They're saying there will be a period when the growth will really flatten. We're not seeing it yet. The big events still are doing quite well. Los Angeles, Boston, Chicago, New York, and thank goodness Long Beach, we're still hanging in there.
"People put a lot of time and effort into preparing for a marathon or half marathon, and it's not cheap. Race fees have gone up over the years. They have a right to expect to get their money's worth. So we try hard to give a good, quality shirt, a great finisher's medal, make sure the event starts on time and they have plenty of course support – water and medical and other needs. And make a great after party! I think all of that (effort) shows through."