A vicious, persistent drought and a battle for talented water managers are among two of the challenges facing longtime city administrator Chris Garner as he takes the reins of the Long Beach Water Department this month.
Garner, who started his career with the city back in 1984 and has been with the Long Beach Gas & Oil Department for 28 years, is replacing the retiring water department general manager, Kevin Wattier, effective yesterday, September 14.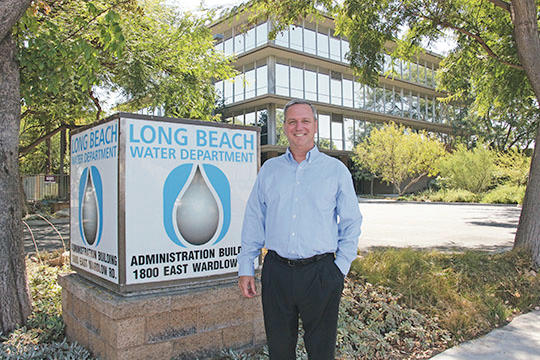 New Long Beach Water Department General Manager Chris Garner is pictured outside administration offices on Wardlow Road. The former head of the city's oil and gas department faces several challenges in the new job. (Photograph by the Business Journal's Evan Patrick Kelly)
Garner, who rose to the position of Director of Gas and Oil, steps into the Water department at a time of significant challenges to the water industry in the West.
"Obviously, from an industry standpoint, the drought is front and center as far as the attention on the water side. I need to continue the good work that they've been doing as far as getting the message out to Long Beach residents on conserving," Garner told the Business Journal. "I've met with some of the senior staff over there already to try to get up to speed on their plans going forward. So we'll implement that – with the blessing of the commission – and continue that process."
The commission is the five-member Long Beach Board of Water Commissioners, which oversees the department, including the hiring of the general manager. The board is appointed by the mayor and approved by the city council.
As water supplies get tighter and the demands for efficient management of those dwindling resources increase, the competition for not just good but excellent and experienced water managers also increases. Wattier recently told city councilmembers that his department's success has had the effect of making its employees highly desirable to other water departments – and that is creating a "brain drain" of knowledge from the city.
A longtime administrator, Garner knows how critical keeping knowledgeable and effective employees is to the efficient operation of any municipal department.
"When I get over there I will certainly sit down with the water commissioners and discuss that. I need to get a better feel of who the competition is for the talent and how we compete with that," Garner said.
"It's not always money. It's work environment and promotional opportunities. I'll be looking at the entire package. It's a major concern with the Los Angeles Department of Water and Power, which basically surrounds us, and their ability to throw money at this can be pretty scary in the scheme of things! We have in the city done a pretty good job at retaining talent, because we understand that it's our most important resource. Sometimes you have to spend a little bit more to keep that. It pays dividends in the long run."
Garner''s lengthy term in gas and oil led him to consider new challenges, and right now, water definitely offers challenges. But that experience in gas and oil has tested his administrative skills in equally challenging circumstances. Go back and track the swings of crude oil prices over the past decade and imagine trying to run a department in that economic environment.
"I've been at the gas and oil utility for 28 years now. We've accomplished quite a bit here. We've changed the culture. Things are running fairly smoothly. I've built up a team of managers that is working very well," Garner said.
"I've looked at what's going on with water, with what's going on with the drought, and it looked like a good challenge. I faced a similar challenge back in 2000, 2001, when we had the energy crisis in California. And I think I can take some of the lessons I learned then and bring them over to water and help them to survive this."
Indeed, the stability that Garner and his team have brought to city residents is among his proudest achievements at the utility.
"We've completely changed the culture of the gas utility. When I came here in 1987, the gas industry was just restructuring, or deregulating," Garner said. "And we were really the same model that we had been since the 1920s. We weren't investing much in the infrastructure. Over the past 28 years, we're putting in, I think, between 10 and 15 times as much pipeline replacement as we did when I first started.
"And our gas bills today are lower than they were five, 10, 15 years ago. We have a 30-year long-term gas supply contract, which we used to buy on the spot market. So we have locked in our gas supply at a significant discount. We'll save the residents of Long Beach something like $200 million just from that contract alone. On the gas side, we've instituted new technology, so we're much more efficient. We've brought over the call center to the gas department from city hall so we can really get on top of customer service. I think we've really improved that quite a bit.
"On the oil side, we've gone through the highs and lows of oil prices. We've entered into long-term contracts with the state and our oil contractor to sort of buffer against the highs and lows and protect the city's interests. And I tell you, I think that was huge for our peace of mind."
Garner faces a new management challenge – for most of his career, he has reported to a single manager directly above him. For the first time, he will be reporting to a political entity, the board of water commissioners. Garner is aware that things will be different. He is confident that he is up to the challenge, in large part because his goals and the board's goals are the same, he said.
"It's a new concept for me. I've been able to run Long Beach Gas & Oil – obviously with the blessing of the city manager and the city council – but they've let me run the organization pretty much as I see fit," Garner said. "And that (serving a commission) is going to be a little bit of a different environment for me. The good thing is that the commissioners are going to be focused in the same direction as me – what's best for the City of Long Beach and the residents and the water department. So, I don't see a problem with that."
Garner is looking forward to his challenge and bringing his experience to bear at a time when effective leadership is critical.
"Hopefully, an old dog can learn some new tricks," Garner said. "I'm going over there with a set of fresh eyes. I'll try to build on what they've done well, tweak some things and hopefully make it an even better water utility."