According to Lead Contingency Planning Specialist Robert Kestenbaum, earthquakes, tsunamis, fires and floods are the main types of natural disasters  that his company, petroleum refining firm  Andeavor, takes into consideration when protecting its California refineries.
Andeavor works with the United States Geological Survey to determine the location, magnitude and severity of any earthquakes, according to Kestenbaum. That way, the refinery can pinpoint which oil pipelines to shut down. There are also expansion loops in the piping to allow for ground movement, he said.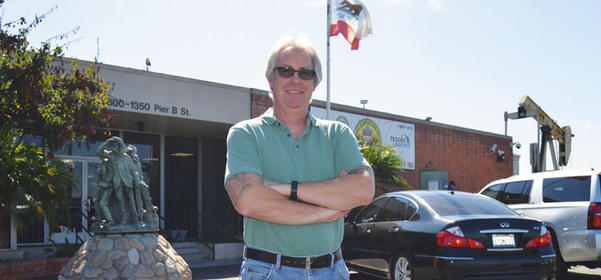 Robert Kestenbaum is the lead contingency planning specialist for Andeavor. He said earthquakes, tsunamis, floods and fires are the main types of natural disasters his company takes into consideration when protecting its operations in California. (Photograph by the Business Journal's Larry Duncan)
"Within our refineries, a lot of our units have vibration equipment for the pumps and compressors, so they would shut down for a major vibration," he said. But, he added, there haven't been any major earthquakes over the last 20 years that have impacted facilities.
Long Beach Gas and Oil Department Director Robert Dowell said that building codes establish provisions for the above-ground facilities in the case of a seismic event.
"Tanks and pipelines all have a consideration for seismic activities, such as spill-containment provisions and movement considerations," he said.
He also said the city's oil facilities conduct spill drills on an annual basis. They also replace 40,000 to 60,000 feet of older gas pipelines every year in an "ongoing process to modernize the system."
"The City of Long Beach is very fortunate that we don't have [significant] seismic activity," he said. "But we have plans in place to mitigate earthquakes."
He said that, while some oil pipelines ruptured due to seismic activity from the Northridge Earthquake of 1994, the system now utilizes lower-pressure delivery lines than the ones that ruptured.
According to Signal Hill Petroleum Executive Vice- President David Slater, the biggest risk to his operations in Southern California are "major earthquakes," but that the facilities stood up to the test of the Northridge emergency.
"Our industry is very robustly prepared. The one concern is loss of utility electric power, which typically happens," he said. "There was one pipeline failure in the Northridge quake. It was a decades-old pipeline that utilized old technology for welding. That one has since been taken out of service."
According to Slater, the most important aspect of preparation in the case of any natural disaster is ensuring that there are multiple channels of communication, not just between employees, but also between employees and their families.
"The biggest lesson in the last 20 years has been a communication issue," he said. "You can guarantee your cell phone won't work."
Slater said the company plans to act as a first responder for any petroleum leak in the area, which has happened in the past. But, he said, "We've never failed to get reimbursed."
As for tsunamis and floods, Kestenbaum said in the worst-case tsunami scenario, "the only option we have is to protect our employees since the Port of Long Beach will be wiped out." If there is heavy rainfall, the management team examines each site on an individual basis.
"There's only so much you can do ahead of time," he said. "How we protect our employees is first and foremost."
Kestenbaum said Andeavor's Southern California oil refineries and truck terminals are not much at risk for wildfires. But the refineries in Carson and Wilmington have a volunteer fire department equipped with between 130 and 160 members who are qualified industrial firefighters, according to Kestenbaum. The company is also a partner of the Southern California Industrial Mutual Aid Organization, which is made up of the major refineries including Chevron, Valero and Phillips 66.
Andeavor also has a partnership with the Long Beach and Los Angeles Fire Departments and conducts regular inspections. "We do everything we can to keep the dragon in the pipe," Kestenbaum said.
In addition, California Resources Corporation Director of Security Bill Blair wrote in an e-mail statement to the Business Journal that the operations based in Long Beach are equipped with fire suppression systems, and they maintain emergency shutdown systems.
"Our employees and contractors are trained in emergency response procedures through real-time scenario drills," he stated. "The exercises are conducted and coordinated with local public safety agencies."