Roger Penske's name is synonymous with racing at the very highest levels of the sport. If you've heard of the race or the series, Penske likely has been there and won – or had a damned good shot at a win.
Daytona 500? Won it twice. Formula One? Won there. Long Beach Grand Prix? Multiple wins, multiple series. 24 Hours of Daytona, the 12 Hours of Sebring? Check. Indy 500? Won that one 16 times.
For more than half a century, Penske's immaculately turned-out vehicles have raced into the record books and into legend around the world. The Penske Camaro and AMC Javelin Trans-Am cars are objects of mythical proportions in racing circles. The elegant Sunoco-liveried McLaren M-16B that Mark Donohue raced to the 1972 Indy 500 win for Penske defined the shape of open-wheeled race cars in the U.S. for years. And the mere mention of the turbocharged flat-12 Porsche 917-30 that Penske and Donohue developed in conjunction with the German manufacturer will make the hair stand on the arms of motorsports fans. Seriously – that thing was a flat-out beast.
Today, Penske races in a wide variety of series, from sports cars to open-wheelers to stock cars in North America and Australia.
"We certainly have a full plate right now. Our teams are competing in more series than we ever have at one time," Penske told the Business Journal via e-mail. "Currently, Team Penske is racing in the Monster Energy NASCAR Cup Series, the NASCAR XFINITY Series, the Verizon IndyCar Series and the IMSA WeatherTech SportsCar Championship here in North America. We also partner with Dick Johnson Racing in Australia on our DJR Team Penske Shell V-Power team that races in the Virgin Australia Supercars Championship."
Racing teaches you lessons, usually hard ones about how easy it is to lose and how much work it takes to win. Penske says the racing operation – which alone employs more than 500 people – sets the tone for Penske Corporation, a $29 billion transportation, auto retailing and racing conglomerate with operations around the world and 59,000 employees.
"Racing is [the] common thread in our company, and we take the lessons we learn in motorsports and apply it across all of our businesses – from teamwork, to persistence and attention to detail. We enjoy the competition, and each racing series where we compete provides a different and unique challenge," Penske says. "The one thing about racing that I enjoy the most is that you get your quarterly report every week. You learn each race where you stack up against the competition, so you have to stay on top of your game."
Racing in so many different series with such a wide range of technology, vehicle configurations and circuits present opportunities and challenges, Penske says. IndyCar is an open-wheel series with small-displacement turbocharged engines. NASCAR's sedans are powered by big-bore V8s. The Acura ARX-05 in the IMSA WeatherTech SportsCar Championship is a high-tech prototype closed-wheel, closed-cockpit sports racer. They are widely different cars, run on widely different tracks from the high banks of Daytona to the tight streets of Long Beach.
The biggest opportunity is the accumulation of so much technology and knowledge in one facility. And for several years now, that has been literally true – Penske's North American racing operations are now all located in one building.
"All of our North American race teams are based out of one shop in Mooresville, North Carolina, about an hour north of Charlotte," Penske says. "For many years we operated our IndyCar program in Reading, Pennsylvania, but in 2005 we began the process of bringing everyone together into our new facility in Mooresville, where our NASCAR teams called home.
"The move to bring all our teams under one roof has been terrific for our organization overall. There are a lot of synergies between our teams, from personnel to fabrication and design and even in training and how our pit crews work to improve their performance. Our teams push each other, and it has raised our level of competition across the board."
Motorsport looks like a solo effort, as at the end of the day there is only the driver, the car and the track. But there are few human endeavors where a team is needed from bottom to top to achieve success, and Penske says the biggest challenge is putting the team in place.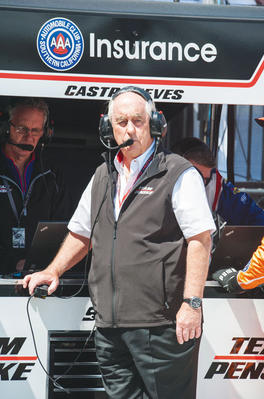 Roger Penske, owner of racing empire Team Penske, talks over the radio during an IndyCar race at a past Toyota Grand Prix of Long Beach. As a team owner, Penske has won the Indianapolis 500 16 times. Team Penske also operates race teams for other series, including the NASCAR XFINITY Series. (Photograph provided by the Grand Prix Association of Long Beach)
"We've always said that our greatest resource is our people. We believe we work with the best in the business," Penske says. "One of the biggest challenges we face as we have continued to expand our racing teams is making sure that we have the best people working in the right positions within our company. It is always something that we focus on as we continue to try and improve our overall performance."
Donohue's autobiography, "The Unfair Advantage," details the way that Penske does racing. It's a well-funded, fully professional attack on the goal, with the team looking for every edge, every development that gives it an advantage over the field. Penske is always looking to the future of motorsport and feels that is the only way to remain successful. The history of racing is littered with the remnants of teams, companies and race operations that simply failed to keep up with technology or the business needs of the sport.
Penske has survived those challenges for decades and intends to continue to do so. His son, Jay Penske, chairman and CEO of Penske Media Group, also owns Dragon Racing, which competed in IndyCar for several years before making the switch to the all-electric Formula E series. Penske says he is keeping an eye on that series as well as looking for other emerging opportunities.
"There are many unique forms of motorsports today and it is interesting to see what appeals to the different fan bases and manufacturers," Penske says. "In any business you always need to pay attention to the changing trends and opportunities, and that is certainly true in motorsports."