The Long Beach community is addressing the complexities of combating ocean pollution in numerous ways: raising awareness, creating dialogue, encouraging individuals to change their habits and instituting initiatives to mitigate future pollution.
In short, organizations in Long Beach are making waves – throughout the community and among various industries – in order to turn the tide when it comes to what Aquarium of the Pacific President and CEO Jerry Schubel calls "a human behavioral problem."
Aquarium Of The Pacific
Given its location at the bottom of a large urban watershed, Schubel and local industry experts say the City of Long Beach is at a natural disadvantage of inheriting pollutants from upstream areas. Still, Schubel notes that the last decade has seen progress on near field effects, or those things that influence the ocean originating from within the community and the region, as a result of a combination of small actions together that are beginning to make a difference when it comes to improved water quality.
Far field effects, however – those aspects of ocean pollution that emanate from sources around the world – continue to pose problems, he says.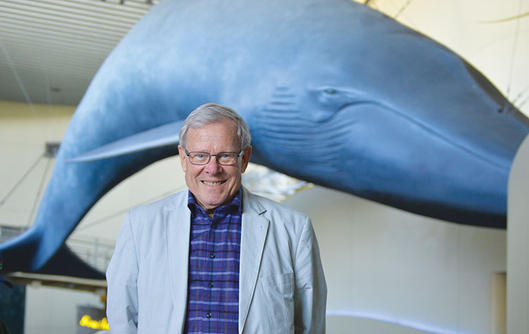 Jerry Schubel, president/CEO of the Aquarium of the Pacific, said one of his institution's missions is to educate the community about environmental stewardship. (Photograph by the Business Journal's Larry Duncan)
"There's no indication that we've slowed down releases of greenhouse gases, and as a result, the ocean is getting warmer, it is getting more acidic and sea level is rising," Schubel says. "All of those will have an effect not only on Long Beach but on all of coastal California and other coastal regions around the world. The problem in dealing with them is you can't see ocean acidification, and so they appear to be far off in distance and in time."
But that's where the Aquarium plays a particularly important role, he notes.
"It's our responsibility to make the people who visit the Aquarium in person and who visit virtually to be better environmental stewards," Schubel says. "The ocean doesn't belong to anyone; it belongs to everyone. And if we can make the 1.6 million people who come in person – and the millions more who come virtually – better environmental stewards, then we will have a better ocean, both in terms of the things that originate locally and those that originate globally."
The Aquarium is playing a leading role in public education and outreach on the "Pacific Rising" project of Conservation International, which is working with the governments of low-lying Pacific nations such as Kiribati, Tuvalu and the Marshall Islands to develop the world's largest marine protected area, as well as to address the future environmental, social and cultural disruptions those communities will face as a result of climate change and sea-level rise.
"They wanted to work together to find homes for the hundreds of thousands of people who live on these islands, whose homes will be underwater by the end of this century – and they will become environmental refugees," Schubel explains. "This [project] combines all the things that we believe in. And it's not just about saving fish – it's about saving human culture."
"Pacific Visions," meanwhile, is the Aquarium's planned $53 million, 23,000-square-foot expansion, which will be designed to tell the story of the changing relationship of people with the planet, including the world ocean. Expected to break ground within a year, it will feature a 300-seat theater, art and orientation galleries, and an exhibition space.
"We've got 7.3 billion people now. We're going to have 10 billion by the end of the century," Schubel says. "How are we going to accommodate an increase in the global population by 50% – give them food, energy [and] places to live? That requires that we challenge many of the beliefs that we've had because a lot of the strategies that brought us prosperity over the last couple hundred years won't work with a population that's 50% larger.
"This Aquarium has always been a leader in encouraging people to challenge their ideas, to be open to new strategies," he adds, "and we will continue to do that."
Algalita
Increasing education and awareness is also on the agenda of Long Beach-based marine research and education organization Algalita. Its hope, according to Executive Director Katie Allen, is to create a cultural shift in which individuals change their habits and subsequently force the plastics industry to re-examine how products can be designed in a more sustainable manner.
The nonprofit – credited with discovering a vortex of plastic debris in the Pacific Ocean's northeastern gyre in 1997 – is preparing to release a 15-year retrospective study outlining trends and changes in the gyre, commonly known as the Great Pacific Garbage Patch.
"We're seeing very significant increases in the amount of plastic that is building up in the world's oceans," Allen says, noting that a lack of waste management infrastructure in developing countries such as those in Southeast Asia contribute significantly to plastics pollution. While Allen notes that enhanced infrastructure can help mitigate pollution, she stresses it is not the solution.
"We only recycle 3-5% of the plastics that we generate, because it's not valuable," Allen says. "The ultimate solution to this problem will lie within creating a circular waste economy – creating waste that potentially can be recovered as a resource, whether it's through recycling or whether it's through the type of material it's made out of it. That's not going to happen at the production level until customers demand it. So the key to igniting that change in production and igniting the narrative and conversation around a circular economy is to get people interested in the solution at the consumer level."
One product redesign that Algalita is focusing on is bottle caps. In collaboration with Surfrider Foundation, Algalita will gather data on the number of bottle caps collected through beach cleanups in order to not only convey to producers how many are lost in the environment but also to push for producers to put a leash on bottle caps – similar to aluminum cans – in order to lessen the environmental impact.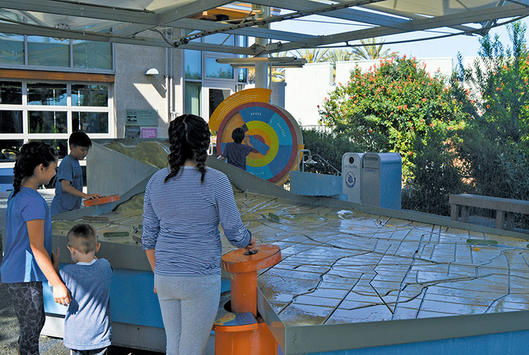 Children visit the Aquarium of the Pacific's interactive exhibit, Our Watersheds: Pathway to the Pacific. Water flows over a 3-D model of Long Beach and surrounding cities to show how water runoff from the region eventually ends up in the San Pedro Bay. (Photograph by the Business Journal's Larry Duncan)
Styrofoam is also on the organization's agenda. As part of Algalita's Ship-2-Shore Program, Long Beach high school teachers and students have conducted plastics pollution research aboard a vessel in the San Pedro Bay since November. Of particular focus is the prevalence of Styrofoam. Data analysis, which is likely to be completed at year's end, will be used to examine the possibility of using alternative products, Allen says. "It may be time to talk about phasing out Styrofoam, since it is so extremely prevalent and very harmful for the environment," she says.
Phasing out single-use plastics, Allen stresses, is an important way of moving the needle. The City of Long Beach's plastic bag ban, for instance, has been effective in reducing the amount of plastic bags found on our local beaches, she says. "I think this city in particular has shown that it has been a really beautiful thing," she says of the ban. "It is the best example of culture change that we have ever seen."
Still, there is more work to be done, Allen says.
Leveraging the success of the plastic bag ban, Algalita is preparing to launch culturally specific campaigns focusing on other types of plastics, partnering with local influencers such as churches and community leaders throughout Long Beach in an effort to encourage individuals to change their habits. Algalita's new retail store, located at its office at 148 N. Marina Dr., carries alternatives to single-use plastics, including bags, bottles, bamboo utensils and bamboo toothbrushes.
Additionally, the organization is currently working in the 3rd Council District to explore the possibility of building a coalition of restaurants that would be willing to transition to using paper straws and to provide straws upon request.
The organization has also registered as a TerraCycle partner, and starting July 1, Algalita will collect hard-to-recycle waste, such as personal care products and office supplies (including writing utensils and tape dispensers), that will be sent to TerraCycle for recycling.
"We're trying to change the way that people are thinking about waste," Allen says, noting that the organization will also begin to offer workshops for the community at its offices, beginning with a July 2 workshop focusing on family waste management practices.
The Port Of Long Beach
A culture change has certainly taken place at the Port of Long Beach, which has over recent years become widely recognized as an environmental leader in the industry.
In 2009, the ports of Long Beach and Los Angeles released a coordinated Water Resources Action Plan to outline measures addressing water pollutants within the San Pedro Bay, including legacy sediments, ships and storm water runoff.
The harbor department's environmental planning team of four full-time staff, along with an array of inspectors, engineers, terminal operators and other stakeholders throughout the port, are tasked with ensuring compliance with regulatory requirements and best management practices, according to Heather Tomley, the Port of Long Beach's director of planning and environmental affairs.
One of the department's current primary focuses when it comes to mitigating water pollution is preparing implementation plans to be in compliance with the Los Angeles Regional Water Quality Control Board and U.S. Environmental Protection Agency's adopted total maximum daily load regulation for the harbor waters.
"We have to work together on plans to reduce the contaminants in fish tissue and in the sediment," Tomley says. "So we've been working very closely with the regulatory agencies on the ways that we can go about doing that, from studying the system and making sure that we understand how pollutants move around and how they're accumulated, and then also working on developing additional monitoring and coming up with plans for how to address the contamination."
The port is also working with the city on developing a watershed management program – outlining plans for implementing best management practices to reduce storm water pollutant runoff, as well as a rigorous inspection program for the industrial and commercial facilities and construction sites that are operating within its jurisdiction.
Additionally, as part of its Middle Harbor Terminal Redevelopment Project, which will combine two aging shipping terminals into a modern, environmentally friendly container terminal, the port removed contaminated sediment from within the harbor area, as well as from the cities of Newport Beach and Marina del Rey, and locked it away as part of the landfill process.
"What that provided for the region was a way for folks to clean up sediment that had some contamination in it and lock it away in a landfill, which is a safe way to dispose of those contaminants and get them away from the water environment," Tomley explains.
The port's efforts over the years have proven successful in improving water quality, Tomley says, pointing to the port's biological monitoring, which occurs roughly every five years. These surveys document the various types of species and population numbers of plant species, such as kelp and eel grass, as well as mammals, fish and other sediment-based organisms in the harbor waters.
"We've been noticing since we've started this survey a couple decades ago that we've been seeing increases in biodiversity and population numbers in the species, so that's an indication of a habitat that's getting healthier and thriving," Tomley says.
Tomley adds that the port's water quality analyses show that all of the water in the harbor meets water quality standards, while sediment samplings also show increasing compliance. The port's latest survey showed that 80% of samples collected were considered protective of the environment, up from a 1998 survey showing only 50% of the samples met that standard, she notes.
"Through our efforts, we're continuing to see improvements in reductions in contamination and also in the indicators of how healthy the environment is from the organisms that are living there," Tomley says.
Still, Tomley stresses the need for coordinated regional efforts to stem the flow of pollutants.
"If we're continuing to see runoff and continuing to see pollutants and contaminants coming down through the rivers into the harbor area, it's just going to continue to contaminate the area," she says. "So we need to continue working throughout the entire region – working with the upstream cities and coordinating with the regulatory agencies – on the approaches that are being taken regionally and statewide, so that we can make sure we don't have continuing, ongoing inputs that are continuing to affect the environment."
"It's a priority for us," Tomley adds of the port's water quality efforts. "It's a part of our environmental programs and our Green Port Policy, and we're working hard to make sure we continue to focus on it."