Mobile applications and online platforms offering more access to data and greater autonomy to real estate buyers and sellers are becoming increasingly prevalent. In doing so they're reshaping the role of real estate professionals to an extent – but they're also assisting those in the industry by improving communication between parties and streamlining transaction processes.
"The consumer is much more educated now before they even contact somebody about looking for property, which is a very good thing," Geoff McIntosh, president-elect of the California Association of Realtors and owner of Long Beach-based Main Street Realtors, told the Business Journal.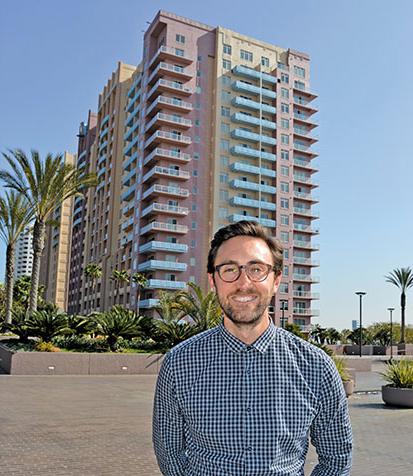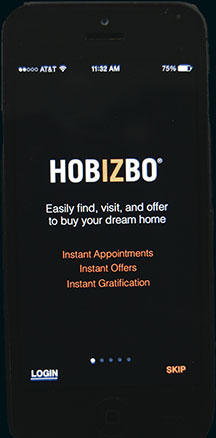 Real estate and technology professionals agree: technology is shaping the real estate industry now and for the future. Matthew Firth is one of the drivers of that change. His Long Beach-based tech firm, Hobizbo, has pioneered a mobile application that allows buyers, sellers and real estate agents instant access to tools previous only available by appointment and once involving complex paper trails. (Photograph by the Business Journal's Larry Duncan)
Websites and mobile applications such as Zillow or Trulia not only give homebuyers access to home listings and photos, they also provide data about the areas they're searching in. "Now 47 percent of real estate searches by consumers are done on mobile [devices]," McIntosh said. "Because of the new apps that are available, I can be standing in front of a property that has a for sale sign on it, open an app, and it will give me all the information about the house before I ever go inside. That's pretty cool."
Technology that provides buyers access to average and median price points for certain areas helps keep their expectations in line with reality – a bonus for real estate professionals.
"One of the things that used to happen to us back in the dark ages in the real estate business was we would get calls from people who wanted the $150,000 house in Belmont Shore, which never existed," McIntosh recalled. "And they would think we were hiding it. Well, now they have full access to all the data. They can see exactly what's available and what isn't."
Being able to search for properties online enables buyers to narrow the criteria of what they're looking for in advance of consulting with a real estate professional.
"When I started selling real estate in the '80s, it was not unusual to show someone 25 to 30 houses before they found one they wanted," McIntosh said. "Now, because of the change in technology, frequently people will find a house in five or 10 showing appointments because they've already eliminated what they didn't want."
As a result, agents are "doing less driving people around on a Saturday and telling them which homes they should buy," according to Matthew Firth, CEO of Long Beach-based Hobizbo, a real estate technology company. Hobizbo launched a beta platform for its mobile application in 2014, and officially launched in 2015.
Hobizbo allows users to search the regional multiple listing service (MLS), which aggregates information about listings in Orange and Los Angeles Counties. "It allows buyers to search the MLS and make appointments with agents on demand," Firth said. Through a partnership with Newport Beach-based The Boutique Real Estate Group, Hobizbo is able to send out an agent on demand to meet with users and show them a home.
"The main functionality is geared toward the consumer in searching for properties and making an appointment with an agent," Firth said. But it's also useful for agents. "Agents can write offers back and forth to each other. The buyer can also obviously write their own offer, but it's not as common."
Hobizbo was partially born out of Firth's own experience as a real estate agent trying to contend with complex paperwork and communication between buyers, sellers and other agents. In one instance, a home he had listed for sale received 25 offers, resulting in mountains of paperwork – but none of the offers even panned out. Hobizbo allows users to solidify key points of a deal before moving forward, such as price, an end date for closing escrow, how much money will be put down, closing costs, and so on.
"If you go through the app you can very simply enter those data points, and once terms are agreed upon then it goes to a binding, legal purchase contract," Firth explained. "It's the same one that everyone uses from the California Association of Realtors. So we aren't trying to circumvent their forms or anything, we're just trying to make the initial negotiation easier."
For single-family real estate, nearly all aspects of transactions are done digitally now, according to McIntosh. "Back in the olden days, it was pretty common to have a 60-day escrow because it took that long to generate paperwork and hand deliver it or wait for the mail to come," he said. "Now something I might have waited three or four days for, I can have in a few minutes."
Most transactions are done through digital signature programs such as DocuSign, which allows official transactions to take place online or through mobile devices without generating any actual paper, McIntosh noted.
Similar trends are taking place in commercial real estate, according to Garrett Massaro, principal with the Long Beach office of Lee & Associates. Massaro specializes in the industrial market. Unlike when he started in the business 10 years ago, all the information and data he needs is readily available through mobile applications and online notifications, he said.
"I would say in a typical transaction, your face-to-face [interaction] is going to happen in the beginning to get the ball rolling, but then the minutiae of the transaction like the exchange of paperwork . . . that happen along the way, that's all done digitally" Massaro said. "It's very streamlined. Then you are going to get your face-to-face back at the end when you have your final document signing for either a lease or a sale."
Massaro pointed out that, in commercial real estate transactions, digital signature platforms are not yet in common use. "In commercial we still don't do that. Leases are originally signed. . . . And then for purchase and sale agreements, people actually print them, sign them, scan them and then e-mail them," he explained.
"I would say if this trend continues to happen, the face-to-face may become less and less," Massaro said. "There is this theory that brokerage is going to change over the next 20 to 30 years, that it's going to become more of a corporate-based business, and technology will have a lot to do with that the more it is streamlined."
Hobizbo is currently developing a tool called Hobizbox that will enable homebuyers to access and view homes without an agent. The concept is similar to the traditional lockbox used by real estate agents to access properties, but hooked up to Hobizbo technology.
"Think of a homebuilder's community where a buyer can go through that model home without the pressure, even though it is unintended . . . where you can go through and experience the home in the way that you want without someone trying to sell you or trying to represent you to buy it," he said.
The Hobizbox could also be a useful tool for agents because, when potential buyers use it, they would also be submitting information about their viewing experience to Hobizbo. "Collecting feedback on what they liked . . . helps them to be able to market the home better and maybe understand why the home isn't selling, if it isn't," Firth said.
McIntosh said the fear that real estate professionals could eventually be made obsolete by technology is one that is now in the past. "Realtors, like most everybody else, aren't always anxious to embrace change. And so there is some discomfort in that," he said. "Technology always alters something. The reality is that, cumulatively, these tools are a tremendous benefit."
"We have always been of the mind that people will never be replaced," Firth said. "We think their role in the transaction has certainly changed. In a way, we're kind of championing that change."
He continued, "This is kind of our message to them: don't fear the technology, just embrace it. Focus on what you do really well that no one could possibly replace, which is, in our opinion, their breadth of knowledge."